If you're among the millions of Part Time Network Marketers who are struggling to find the time and focus to grow your business, you're not alone.
In fact, you're probably in the majority.
I was in the same boat, pulling my hair out (or what's left of it!) trying to figure it all out.   I knew I had limited time to devote to my business.
What I didn't know was how to best use that time.
It got to the point where I couldn't sleep at night.  I had all sorts of ideas whirling around in my head and had no focus whatsoever.
Finally, I threw my arms up in the air in disgust and gave up.
Well, not totally, but for a while.
Instead of throwing in the towel and accepting a life of mediocrity working for a company that will spit me out when they're done with me, I went looking for answers.
I talked to every Part Time Network Marketer I could find… those that were having success and those that weren't.
And one thing became abundantly clear.
The people who were having success were using a system.
They also had a powerful business model that was working behind the scenes to make them money, even when they weren't able to work on their business.
Curious?
Let me show you the business model first, and then I'll share the system I'm using.
A Time and Energy-Saving Business Model For Part Time Network Marketers
It's a simple, 3-step business model that anyone can use, regardless of experience. 
It's based on the following truths:
Not everyone will be interested in your primary MLM business.

What all Part Time Networkers CAN use is top-notch training and a ready-to-use system to build THEIR business.

People buy from people they know and trust.
So let me show you the model: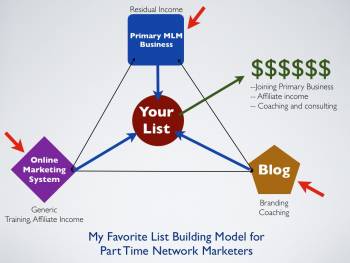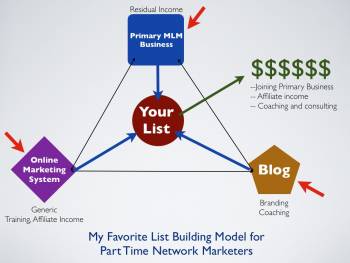 I did a detailed training on this model in a previous post, but here is the simplified explanation:
Step 1.  Your Primary MLM Business
The great thing about this business model is that it doesn't matter what your primary business is.  You can be selling nutritional supplements, greeting cards, weight loss products, etc.
You continue to prospect and show your opportunity as you've already been doing.
Step 2:  Online Attraction Marketing System
95% of the people who look at your primary business will not be interested.  For many, it will be because they already have a primary business of their own.
But what if you could show them a system that would help them build THEIR business?  
You think they'd be interested in that?  
Do you think they'd want to talk to you then?
Of course they would.
Step 3:  Your Blog
Although this isn't an absolute requirement to make this business model work, it helps because your blog will serve to brand you and to help others get to know you.
The key word is TRUST.  Your blog will show your prospects that you are a serious marketer.
They will come to like you, and that's the final piece of the puzzle.
Fitting the Pieces Together
Look at the picture of the model.  What do you see?
Hopefully, you see the leverage that's built into it — leverage of your time and your effort.
You see, your prospects might find you through advertising of your business, or they might be interested in growing their own business using an online marketing system that you've promoted.
Or they might find you directly through your blog.
It doesn't matter.  You capture their information at any of the 3 points and you are growing YOUR LIST, the biggest asset of your business.
Your prospects go from place to place — your MLM business website, your attraction marketing system website and your blog — and your chances of making money just skyrocketed!
Here's How It Might Work
Here's just one scenario where this model will leverage your time:

Mr. Prospect fills out his information on your Primary MLM Company website, indicating he wants more information.

You call your new prospect, but soon discover that he isn't interested.  He tells you he has his own business.

You ask, "Great!  Let me show you a system I'm using that will help you monetize the people who DON'T join your business"

Mr. Prospect's ears perk up.

Now you've got his attention.

Because now you're talking about something that will benefit HIM, not you.

See the difference?

But wait, he doesn't want to buy from you until he knows you a bit better.

But you're smart.  You've provided a link to your blog in your email and he heads on over to check you out.

Pretty soon you get an email from the guys over at your Marketing System saying… "You've made a commission".
See how that works?
One lead who wasn't interested turned into a buyer, simply by having more options to offer.
That, my friend is called LEVERAGE.
What does MY Business Model Include?
The Online Attraction Marketing System I use is powerful and easy-to-use.  
This will help people with ANY business, and is even helpful to those who have yet to choose a business because of the training.
I am talking about My Lead System PRO.
Perhaps you've heard of it. 
If you have a business and you're sick and tired of losing lead after lead because they didn't like your primary business, I encourage you to check it out.
They are currently offering a 2-week trial for $9.97.  A no brainer if you're interested.
In my next post, I will reveal exactly WHY I chose MLSP over their competitors.
Your Turn
What's your experience?  Are you using a system for monetizing the leads that aren't interested in your business?
LEAVE A COMMENT below.
It's Your Time to SHINE!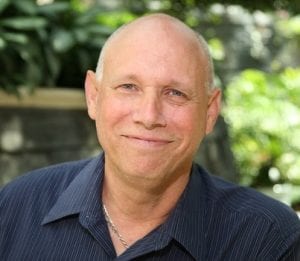 Dr. Bob Clarke
Email: Bob@BobandRosemary.com
Join our Side Hustle Facebook Group
P.S.  Need more leads for your business?  I recommend you start here and learn the fastest way to attract new prospects to YOU with timely strategies that are Working Right Now.
This post may contain affiliate links to products or services that I trust.  This means that if you make a purchase using the links included in this post, I may receive a commission at no extra cost to you.  Thank you for the support!
Recommended Courses To Jumpstart Your Business
Crush Consistency NOW! - if you find yourself lacking consistency in your business, you must own this course!
Focus and Implementation Challenge - learn how to dramatically improve the focus in your business and become an implementation machine!
Part-Time Shortcuts - who says there are no shortcuts to success? This course reveals 4 shortcuts that will cut your learning curve in half.
Part-Time Mastery - if you're short on time for your business, this course is the answer!
Part-Time Profit Machine - my flagship course, this 7-module course covers all aspects of your Side Business, from mindset, time and focus, prospecting, lead generation, building a list and selling to your audience... all using the most time-effective strategies.