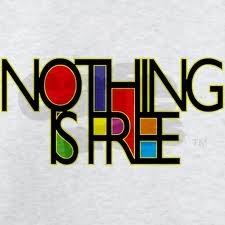 There's something so attractive about the word "free".
Let's face it. We all love free things.
In our personal life, we love the "buy one get one free" offers at the grocery store.
We love the free car wash with a fill up of gas.
We love the free hotel nights at the casinos.
In our business, we love the free trainings, the free trials, free leads from social media and the free coaching.
But here's the reality …. NOTHING IS FREE.
It's a fallacy.
Why "Free" is Anything But
Listen, I have nothing against free stuff. In fact, I'm a big fan.
But let's understand the underlying cost.
You see, there's always a trade off. When something is free in terms of money, there's another cost involved that most of us don't think too much about.
For the Part Time Marketer, this cost may turn out to be disastrous in the long run.
It's the cost of TIME.
The Drawbacks of Free Training
Let's take free trainings as an example.
Free training can be great!
And with so many Top Marketers competing with one another for your attention (and ultimately your money), the quality of that training can be outstanding.
But if you're not careful, you can get caught up in the vicious circle of watching free training after training, not so much because it will benefit your business right now, but because it might help "someday"… and besides, it's FREE!
And the true cost, of course is your valuable time.
As Part Time Marketers, we have but a few hours a day (at most) to devote to our businesses, so to spend it on trainings that don't directly impact your business TODAY is just too high a price.
It's never free.
What About Free Social Media Leads?
People trying to build a business with little to no money for marketing are in a bit of a bind. For these folks, social media can be a great way to begin building relationships, trust and in time, business prospects.
But again, the cost is TIME.
You can spend hours on social media sites getting to know others and start the process of building trust.  It can suck hours out of your day, time you don't have.
I've referred to it before as the "social media hamster wheel."
Here's the reality — Social media marketing is a much slower process than paid advertising.
If you have all the time in the world, you may be able to use social media as the primary lead source for your business.
But when time is an issue in the first place, building your business with social media is not realistic.
It just isn't.
Should you use social media if you're a Part Time Marketer?
Of course.
But don't rely on it as the primary lead generation source for your business. It just takes too much time… and time is what you don't have.
Key Takeaway
There really is NO such thing as FREE, especially in business. Everything comes at a cost… and for the Part Time Marketer that cost is TIME.
Be just as guarded with your time as you are with your money. Understand that sometimes it's much better to pay for something that will help you move forward in your business today… than to watch hours of free training that won't.
It's all about the tradeoff… TIME vs. MONEY.
There's always a cost.