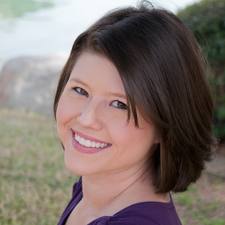 I can't believe I pulled this one off.
If you are a regular reader here of this blog, you know that I've committed to finding and interviewing some of the top part time blogging and marketing experts in the World.  By this, I mean that these people have excelled and succeeded in their niche while building their business part time — just like many of you.
The first interview in this series was published last week —  11 Questions for Part Time Blogging Expert Jane Sheeba.
Today, as another Halloween has come and gone, I have one last tasty treat for you.
In fact, I am still amazed that I pulled this one off.
It is my pleasure to introduce to you a person who has had a huge influence on me as a part time blogger.  Until recently, she has balanced a full time job, family, and writing one of the most popular blogs in our niche.  She has always been there to lend advice or a helping hand, and for that I am extremely grateful.
 [Note: As this interview goes to press, Kristi related to me that she has just recently joined the league of the unemployable, having left her full time job for full time entrepreneurship. Congrats, Kristi!]
Today, I give you….
Kristi Hines – An Interview with a Part Time Blogging Superstar
Prepare to be blown away!  🙂
Q:  Tell us a little about Kristi Hines, the person and the blogger?
 My 160 character summary is that I'm a freelance writer, online marketing consultant, blogger, and social media enthusiast who enjoys photography, tennis, and salsa dancing. 
Q:  Your blog, Kikolani is hugely popular in the blogging world.  To what do you attribute this success?
 I attribute the popularity of my blog to three things – when I started out, I spent a lot of time connecting with other bloggers through commenting and social sharing. 

I always strive to create the best content possible for my own site, and in the last year, I have spent a lot of time creating awesome content for other sites which has expanded my reach considerably.
 Q:  As a Part Time Blogger, can you share with us your 3 top time management tips?
 The three things that have added more time to my already hectic schedule was learning to get up earlier in the day (adding an extra two hours a day), canceling the cable subscription (adding probably two to three hours a day), and learning to say no to things that are not absolutely critical (adding a countless amount of hours over the course of the week).  
 Q:  There are so many distractions to deal with on a daily basis.  What are your biggest distractions and how do you deal with them?
 I'm someone who works best in a library-like environment, so any types of noise will get my brain off track.  A quality investment has been some noise-canceling headphones (expensive if you want Bose quality, but at least it comes with easy payments) and RainyMood.com (free).
 Q:  How do you deal with overwhelm?
 I used to freak out about my schedule, and if I think about it as a whole even now, I'll get a bit anxious.  Then I started to not think too far ahead and just order my projects in order of priority. 

Sometimes it's good to know who you have to be on time for and who is able to make some adjustments to the schedule when you're running behind.
 Q:  Do you use any online or offline resources that have helped you become more productive?
I'm pretty dependent on Google products.  I have a nice organizational system built up using:

Google Docs to organize all of my writing gigs, social profiles, income and expenses, etc. 

Google Calendar to set reminders for when blog posts are due, Twitter chats are scheduled, advertisements on my websites expire, etc.

Gmail to be able to search through all of my correspondence quickly and efficiently.  I have a LOT of labels and filters enabled so only the most priority items come through my inbox, and the rest can be saved for later when I have "free time."
Q:  What has been the biggest setback in your business so far, and how did you rebound from it?
 My biggest setback thus far was coming down with mono.  I had a pretty good productivity flow going for a few months where I was cranking out a lot of articles a week. 

Then I spent a few months where I was too tired to do anything.  Fortunately my system rebounded, and although I'm not fully up to speed (lost that ability to get up at 5 AM and stay up till 11 PM), I'm almost there and caught back up again. 

The key was to be understanding with myself and not get burnt out again the second I got back in form.
 Q:  As a successful part-time blogger, you are a role model for many of our readers.  For those that are not yet successful, can you tell them the 1 or 2 most important things you did on a daily basis that helped you achieve success?
 Probably the most important thing is to do everything you do for people.  Search engine optimization and active social profiles are important to an extent, but if you aren't creating your blog posts, status updates, and products with the intention of helping people learn, then you won't get anywhere.  

People are smart now-a-days, and they can sniff out someone who's only in it for the money right away.  If you are putting people first, then they won't see your monetization as a bad thing – they will just see the value in it.
 Q:  Do you have mentors who have helped you along the way?  If so, where did you find them?
 I follow a ton of people online, learn various things from them, and then adapt what I see that works best to my own strategy. 

There are so many amazing people, I couldn't point out just one that was my inspiration.  I have an RSS reader full of over 500 blogs, and I have learned something from people who have been at it for years all the way down to people who just started out a few months ago. 

If I could suggest anything to people, it's that they don't get stuck trying to emulate one person – follow as many people as you can handle and learn something from them all.
 Q:  For our readers who are struggling with their blog popularity, what would you say are the 3 most important things they need to be doing to improve their blog?
 The first is going to be content.  If you look at truly successful blogs that generate a huge readership, they aren't doing so with barely 300 word posts or posts that are just regurgitations of what other people have written.  The blogs that are successful are ones with some crazy in-depth content that can't be pumped out in fifteen minutes.  

 The second is promotion.  Don't expect reciprocation, but promote content to your audience that you know they will like.  Once you become known for only promoting great content, you can promote your own in the mix and it will be regarded as high quality as well.

 The third is people.  Engage with people.  Create Twitter streams of bloggers in your niche and watch their conversations.  Don't just retweets them, but answer their questions if they ask them.  Answering a question, whether it has something to do with your niche or is just random and personal, can make you a new friend faster than retweeting all of that person's posts.  
 Q:  We teach our readers to focus their limited time on things that will matter most to their business.  What do you feel are the most important skills to master to become a successful blogger?
Aside from previously mentioned creating awesome content, learning how to promote your content, and networking, the most important skill could be finding a need in your niche.  If you want to create a business, you have to be able to offer something that no one else does.  Or if it's something other people do, you have to find a way to do it better.  

 My first eBook was on blog post promotion.  Click here to view more details.

There are tons of eBooks out there on promoting your blog as a whole, but not as many on just promoting an individual piece of content.  That advice is extremely important if you're entering a blogging contest or writing for a blog that pays you based on the social engagement of your post.

[Bob's Note: Kristi's ebook is probably the most informative book on blog promotion out there. If you are a blogger of any sort, you need to have this resource!]
  Q:  Monetizing a blog can be a difficult hurdle for many bloggers.  How have you monetized your blog and where is the best place to start for those that are struggling making any money with their blog?
 Monetization is a beast – it depends on a myriad of things including your niche and how much traffic you are generating.  

For me, I found that advertising and AdSense didn't work as well for my site.   But in the process of just cranking out blog content, I built a great reputation that has led to a ton of freelance writing opportunities. 

So it is indirect monetization, but still income based on my blogging.
 Q:  Do you outsource?  If so, what?
 I don't outsource.  I don't want to bad-mouth it as it does seem to work for others, but I'm just not a fan.  If I can't do it myself, it just isn't going to get done.
Q:  Is there anything that you recommend people DO NOT outsource related to their blog?
 Don't outsource anything you are going to put your name on. 

I'm always surprised when I see bloggers whose writing and commenting style I know very well all of the sudden "change."  With the commenting, it becomes painfully obvious if I know the blogger lives in London but his comments start flowing in from the Philippines.  And with blog posts, you can tell when the English isn't quite right anymore as when the blog started. 

If you want to buy posts for your blog just to up the content volume, at least don't sign your name to them.  Make them guest posts.  And if you don't have time to comment, just don't do it.  But don't let someone damage your reputation by paying someone to pretend to be you.
 Q:   If you had to start all over and knowing what you now know, how would you build an online business with limited time?  Would you change anything from what you did previously?
 I'm actually pretty happy with the way I did things.   I didn't start out blogging with the goal of creating a business, and I think because of that, I spent the first year and a half just enjoying the writing process and talking to people.  

If I hadn't done those things, I wouldn't have learned so much and wouldn't have as much to share as I do now.  All of the experience is going to lead to a lot of great eBooks and a few other projects I have up my sleeve for the near future.
Wow, we can't wait!  Thank you Kristi for taking us inside your world and revealing your top secrets and strategies.
I'm sure I can speak for our readers when I say that you are an inspiration to all those who seek to break away from the 9-5 grind by building an online business…. on the way to living the life of their dreams.
You are truly a part time blogging superstar!
Your Next Steps
If you enjoyed this interview with part time blogging superstar Kristi Hines…
LEAVE A COMMENT and thank her!  
Tell us your story, your obstacles and struggles… and of course, your successes!
And of course, please SHARE with your social circle of friends and followers!