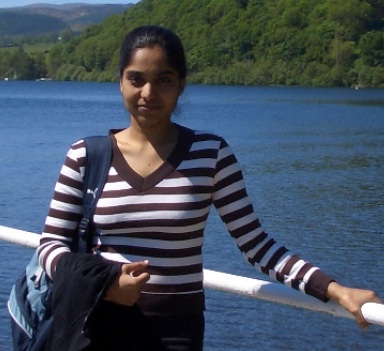 As a Part Time Blogging expert, Jane Sheeba is one of my heroes.  Not only does she write for 4 amazing blogs (difficult for anyone), but she does so while working a full time job.
Now that's amazing!
I "met" Jane several months ago in a Blog Commenting Group.  I could immediately sense that Jane was well respected within the group and I soon understood why.  Jane is incredibly knowledgable in many diverse areas and her writing style makes it easy for all to learn from her, regardless of their level or circumstances.
In other words, Jane is a person you can go to for ANSWERS [the name of Jane's first blog was appropriately called "Find All Answers."]  🙂
Jane graciously agreed to answer my (and your) most pressing questions about her part time blogging success.

I am so pleased that you get the chance to learn about Jane and what she does.  She is truly inspirational.
Without further adieu, I give you…
11 Questions For Part Time Blogging Expert Jane Sheeba
The questions that I asked Jane are a combination of questions that I've always wanted to ask her together with questions that you, our readers suggested.
Enjoy!
1.  Tell us a little about Jane Sheeba the person and part-time blogger
Sure Bob. I'm a full time Scientist working in the field of Medical Physics. I'm a bit of an introvert and camera shy (that's why not making much videos LOL)!

I love to spend time with my family, although I'm not currently doing it as much as I want to. But I do hope to get into full-time blogging quite soon 🙂

I love my hubby and my little son (currently 1+ year old). They are my motivators 🙂

I am good at doing things in an organized and systematic manner. But I easily get tensed when I have to face an unexpected situation, even though I have a plan B!

As to blogging, it is my passion. And my passion is what helps me to keep blogging until now. I see blogging as my business and hence I'm committed to it.
2.  As a part time blogging expert, how do you best organize your time to get the most done?
I spend about 2 hours in the morning before work and 4 hours in the evening after work, on blogging.

I spread the time between all my blogging activities including writing blog posts, leaving comments on other blogs, networking, dealing with freelance writing gigs, and the services I offer at my blog.

I don't follow a strict regular pattern, but I always start a day with a to-do list written on the previous night. So when I sit at my table in the morning I know what I have to accomplish on that day.

Having a 1+year old around is quite distracting. Yet I manage to concentrate on my blogging activities somehow. However I make sure that I don't leave my son un-attended, so I take little 10 minute breaks in between to stretch and at that time, play little games with him.

My hubby supports me a lot! I wouldn't be able to accomplish so much without his support.
3.  Do you have a system in place that helps you best prioritize your time and accomplish your goals?
I use Google's products a lot to manage my activities. Google docs, in the first place. I manage just about everything over there, especially for my guest posting.

I manage all drafts of my submitted posts and posts to submit. I also maintain a list of guest post titles with the names of the blogs they're submitted to. This helps me to easily follow up on those posts that are not published for quite a while.

I also manage a spreadsheet for ideas that pop in all the time 🙂

Apart from that, I use Google calendar to organize my day job and blogging activities.
4.  What has been the biggest setback in your business so far, and how did you rebound from it?
What has been the biggest setback in your business so far, and how did you rebound from it?

I've had a couple of setbacks while I was severely ill once and another when I had to be in the hospital for delivering my son.

The latter was the time when it took quite a while to get back on my foot with business because of the time and energy it takes until up to 4/5 months with the just born.

But I wouldn't complain since the experience was great and I could easily bring it all up with the support from my family and online buddies 🙂
5.   As a successful part-time blogger, you are a role model for many of our readers.  For those that are not yet successful, can you tell them the 1 or 2 most important things you did on a daily basis that helped you achieve success?
Passion: Blogging is not easy peasy and it can make you feel frustrated quite easily. Passion is the only thing that can help you going. I knew this right from the start and I know that I am only doing what I am passionate about. So, I am not doing blogging as a "job", there is no pressure or compulsion. Even if I stopped blogging now, my life will go on smoothly. But I am still doing it among all the hurdles and time factors just because I am passionate about it.

Commitment: At the same time, I give myself no excuses. I do what I am supposed and committed to do. Even though, it is not a job and no one is there to question me, I don't take advantage of that. I take my commitment seriously. This "commitment" factor could bring in some contradictions to what I said earlier on passion that I work without pressure.

I don't let either passion or commitment to take over completely.

Sometimes too much passion could be a lame excuse for not making money while spending extra hours on a computer. Too much commitment could make you feel that a day job could be a lot better. So you need to find the margin!
6.  Do you have mentors who have helped you along the way?  If so, where did you find them?
Well, I did not have any "official" mentor. I did not pay anyone to be my mentor. But I did follow the advice of some of the awesome bloggers around. They've been so helpful to me since my earlier days.

In particular, I'd like to mention

I wish I could mention all my dear buddies, but Bob, you'll have a space issue here.
7.   We teach our readers to focus their limited time on things that will matter most to their business.  What do you feel are the most important skills to master to become a successful blogger?
Bob, that's a great question. In my opinion, how much time a person has is not proportional to his/her success in a business (although, the amount of time available is a crucial factor, it need not directly affect business success). Everyone has 24 hours and yet some could achieve a lot more than the others.

I insist on practicing and mastering the necessary skills needed for any type of business. For instance, a freelance writer should practice quick typing, ability to pitch convincing emails to get potential gigs (that's a skill), good command of language, getting familiar with rare vocabulary etc. These are all the skills needed to "speed up" their regular writing job.

A writer who doesn't have these skills will also write and earn, but he won't be making as much money as another skilled writer who has the same amount of time to work.

The skill itself differs from the type of business every blogger is associated with. So mastering on the "essential" skills will help a blogger to achieve more in less time – that's optimal usage of time.
8.  You have a new product!  Tell us about it!
Problogging Action Plan is my first premium project, an ebook, which is focused on sharing actionable strategies for new, aspiring and even  established bloggers to achieve a professional blogging success. The book is special because it has stuff I found out from my personal experience – not theories, not researched stuff from the internet. Everything I share in the book are strategies that worked for me.

I initially aimed the book for newbies (when I started out the first draft), then I also found that even some established bloggers are struggling quite a bit with blogging success, and the whole concept of "blogging without a clear goal" is so popular.

So this book will tell people how to identify their blogging goal and then provide them with an action plan to achieve that goal.

The only thing that I'm not very happy with is that I launched the book and then I changed the domain of my blog. In all the chaos and business I couldn't promote the book so well; even though the book is doing good in sales, it is not quite popular as I expected, since not many know about it.

I plan to do some extra promotion of the book in the following months and I'm also going to launch a Kindle version of the book quite soon.
 [Bob's Note:  I purchased Jane's  Problogging Action Plan and it is the real deal — hugely valuable for all levels of bloggers at an incredibly low cost.  It would be a really good idea to pick it up!]
9.  You recently changed the name and URL of your blog. Why was this important to you?
The name change and splitting of the blog was very important to me since I see my blog as a place to promote my business.

Find All Answers was doing great, being a multi-niche blog. The visitors loved it that way as well. But I had really a hard time with coping things up on one blog with a variety. The biggest problem was the niches were really totally different, so that I couldn't pull in any sort of "order" in the blog. I'm a person who likes things to be neat and systematic.

Plus I found that it was really hard for me to rank for the kind of keywords I wanted to rank for. And I was ranking for keywords which I did not intend to rank for. So I had to make the decision. I'm so glad I did it.

Now Find All Answers is Problogging Success and the relationships posts are on a new blog Merry Relationships. I also run a tech blog, Tech Buzz Online and have started setting up my personal blog, Jane Sheeba.

Now I see that each of my blogs have a clear niche.
10.   Having multiple streams of income is important for any blogger or marketer.  What are the income streams for your business, and which income stream has been most profitable for you?
Multiple streams of income is indeed a "must". Not just with blogging but with any other business, it is not wise to rely only on one source. If that particular source fails for a short while, we will be in trouble.

Plus having multiple sources is a nice thing to test the waters. If only one source helps us to make money, we won't be bold enough to try out new things on that; the new thing might either help us make even more money or collapse the system altogether, but that needs to be found out.

When there are multiple sources, we can put anyone on test at a time.

As to my income streams, freelance writing occupies the major portion of the pie. The other streams are my services (consulting, blog maintenance, thesis customization etc), my product, affiliate promotions and a very very little contribution from Adsense (I'm testing the waters here).
11.  As a Part Time Blogging expert, do you have any parting advice for those struggling to make any money in their online business?
"Make money blogging" is not only a popular search term but it is also one of the most obsessed and most misunderstood terms. Most people start blogging thinking that they can write a few blog posts, put up a few (or a lot of) adsense units and then start receiving cheques every month.

Blogging is very far from that myth. You have to earn every penny by putting in a lot of hard and solid work, consistently. In addition, the blogosphere is over crowded now, and getting noticed is much harder now than it used to be 10 years ago. So it indeed is HARD work.

Two things I want to mention –

There is no push button to get rich with blogging, quickly.

Consistency is the key.

I thank Bob very much for giving me this opportunity to speak out. Bob has a wonderful blog here. He is accomplishing a lot being a part time blogger and I really admire him for his networking trait. I'm proud to be able to voice out my thoughts at his blog.
Thank you SO much, Jane.  I know our readers have learned a great deal from your insights today! 
Stay tuned, folks because this is just the first of many planned interviews with top flight part time blogging and business experts from around the blogosphere.
Have more questions for Jane, or just want to say thanks? 
Leave a Comment below and join in the Discussion.
And PLEASE show your appreciation for Jane by SHARING this post with your social friends and followers!