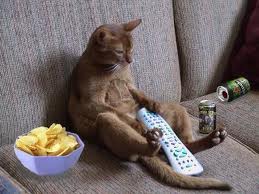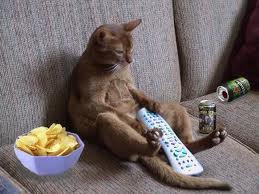 Maybe you've noticed I've been a bit quiet lately.
I haven't been posting here as regularly as usual.
I've fallen behind in my blog comment responses.
My Facebook wall is starting to look like a barren desert.
Some people have been asking if everything is okay, and I want to assure you that Rosemary and I are both alive and well… and looking forward to the holidays.
What Have I Been Up To?
So what have I been doing with my time?
What if I told you that I've been lounging on my couch eating junk food and watching endless reruns of The Beverly Hillbillies on TVLand?
I'd be lying of course.
No, I haven't been taking it easy… in fact, I've been working behind the scenes on some really cool new projects.
I'm not ready to release any of these projects just yet… but soon, very soon.
And when they are released, YOU will be the one who benefits in a very big way.
Want a Sneak Peek?
Let me give you a glimpse of the 3 projects I've been working on:

Experts Speak Blogging Collaboration Project
I'll be doing a much more detailed blog post on this project in a few days, but let's just say that this is one incredible venture.
What is it?
Simply put, I've pulled off a coup of sorts.
15 Expert Bloggers (16 including me :-)) who have agreed to come together to answer your MOST BURNING BLOGGING QUESTIONS all in one place… HERE!
So if you're a struggling blogger or just someone who is thinking of starting to blog, this will be one feature you won't want to miss.
The First Question in due to come out next week, so stay tuned.
My New Ebook Giveaway
You may remember a few weeks ago that I Asked a Question to gain more insight into your needs and wants.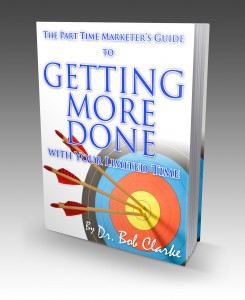 Many of you answered the question, "What do you want to learn more about?"
The winner?  How to Be More Productive with My Time.
Thus, the reason why I've put this Ebook together for you:
The Part Time Marketer's Guide to Getting More Done with Your Limited Time
The cost?  Zero, Nada, Zilch.
You get it just for coming to our blog.
Coming soon.
Top 50 MLM Blogs Contest
Many of you voted for our blog in the Top 50 MLM Blogs Contest.
It was a great experience and I learned a lot about myself in the process.
As a bit of an enticement for voting, I promised you a Private Invitation to a Special All Access Q&A Blogging Webinar with 4 other bloggers in the contest:  Mavis Nong, Ken Pickard, VaNessa Duplessie and Sandy Moore.
We are finalizing the date of this webinar — it  will be held next week  — and everyone who voted for us will receive an invitation?
Didn't get a chance to vote for us?  Shame on You! 🙂
No worries.
Although you won't get a chance to ask your blogging questions to us Live, I will be writing a review post summarizing the 5 best questions and our answers.
I can't wait for this one… don't miss it.
There You Have It
So there you have it, 3 Holiday Gifts from our home to yours… just for being our loyal readers.
We are so grateful that you spend your valuable time here with us.
We consider you family, a very large, warm family. 🙂
HAPPY HOLIDAYS!