Finding blogging experts to learn from is hard work! I've spent hours going from blog to blog looking for tips and secrets that can help me become a better blogger and make my blog more popular with my readers.
Have you ever thought, "If only there was one place I could get some answers!"
So did I, and that's why I've created a resource that will help.
Introducing Experts Speak
A few months ago, I was attending a live event called Collaboration Live, the brainchild of Richard Goutal.  Richard and I had become social media buddies a few months before.
Being of the same generation and with similar goals, we instantly clicked and Richard was gracious enough to invite me to speak at his event.
What happened is another story and you can read it here.
During one of Richard's presentations, he was talking about the need to brainstorm about ways we can collaborate with others in our businesses.  
He really got me to thinking about my blog and how I could involve other bloggers.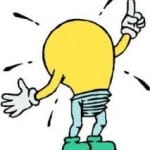 And the light bulb went off.
What if I invited other expert bloggers to collaborate with me on a project that would totally benefit everyone?
What if our readers could get their common questions answered by several expert bloggers in one place?
What if the other bloggers could gain exposure to new readers and some link juice in the process?
Would others bloggers be interested?
The answer was YES, and Experts Speak was born.
How Did I Find the Blogging Experts in Experts Speak?
I started out with the intention of asking 10 other bloggers to collaborate, but the list grew and we are currently up to 18 expert bloggers who have agreed to share their secret strategies to common problems that all bloggers experience.
Some of the people on the list below I asked directly.
I found others through the wonders of social networking.  
When I asked Emma Tiebens to join, she immediately agreed.  I asked her for some recommendations of other outstanding bloggers she knew.
To my delight, Emma suggested I also ask Jerry Chen, George Fourie, and Eric Walker.
Now if you know Emma, you know she is a masterful relational marketer, and although Emma had not been in touch with Jerry, George and Eric in a while, she knew due to her relationship with them that her recommendation would carry some weight.  
This is why building powerful, positive relationships is so important. folks!  
I had no direct relationship with Jerry, George or Eric, but by telling them that Emma Tiebens had recommended them, they readily agreed.
That, my friends is the power of building relationships.
Who are the Blogging Experts in Experts Speak?
Our list of blogging experts in this Collaborative Project is impressive.
Introducing our blogging experts (in alphabetical order):

Janet Callaway of The Natural Networker

Kim Casteberry of Just-Ask-Kim.com

Jerry Chen of Build a Magnetic Network.com

VaNessa Duplessie of VanessaDuplessie.com

George Fourie of ThatMLMBeat.com

Richard Goutal of Fitting The Pieces.com

Timo Kiander of TimoKiander.com

Natasha Nassar of NatashaNassar.com

Mavis Nong of Attraction Marketing Online.com

Ken Pickard of The Network Dad.com

Jane Sheeba of Problogging Success

Adrienne Smith of AdrienneSmith.net

Oliver Tausend of AskOliverTausend.com

Emma Tiebens of The Relational Marketer

Eric Walker of EricLWalker.com

Hmmm… I seem to be missing one.

Oh yeah … me! 🙂
These expert bloggers represent years and years of blogging experience and all are excited to share their strategies with you!
.
What Can You Expect From Experts Speak?
Once or twice each month, these expert bloggers will share their secrets regarding a common question that I've heard among struggling bloggers.
The goal here is to give you several perspectives on every day issues you are facing with your blogs, whether you are a beginner or someone who has been blogging a while without much success.
Our goal is to help you in any way we can.
The first question has been submitted to our experts and the answers so far are amazing.
Look for the post to be published next week, the inaugural edition of Experts Speak!
Don't Miss a Single Post of Experts Speak
To be sure you don't miss a single installment of this incredibly valuable blogging expert series, subscribe here.
Have a Question You Want to Ask the Blogging Experts?
Have a burning question you've been dying to ask?
Have a problem you just can't seem to break through?
Ask it here — comment below!