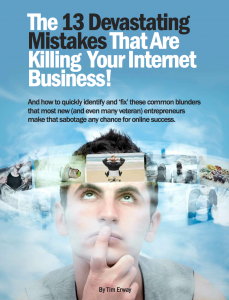 There are a ton of mistakes you can make when building a home business.
Things like:
not focusing your efforts

failing to build a list right away

spamming on social media
While these are mistakes that will set you back, no mistake has been more costly to me than what I am about to describe.
Last week, I was given this free report by Tim Erway, a huge leader in the home business space.
And as I skimmed through it, I came across #6 and 
my heart skipped a beat, because I remembered…
I remembered a time in my business that I am NOT 
very proud of.
Many of you know that I build by business part time.
In fact, I sometimes work 50, 60 or even 70 hrs/wk  
at my job.
So I knew when I started a business that I needed 
to leverage technology BIG TIME!
My mantra back then was "Just One Click!"
One click to send a broadcast email.

One click to place an internet ad.

One click to spam 50 FB groups at the same time.
I didn't know any better, but that's no excuse.
I was forgetting the CARDINAL rule of business.
Your leads are PEOPLE.

Your customers are PEOPLE.

Your business IS PEOPLE.
I was SO busy trying to leverage technology that I forgot 
to treat people like people.
Instead, I'd make a sale and think… NEXT!
As you can imagine, my results SUCKED.
Thankfully, I got mentors in my life who straightened 
me out quick and I've now made a total 180 degree turn.
Now, people are the FOCUS of all I do.
And my business has flourished.
I'm revealing this SHAMEFUL part of my past 
because I'm hoping it will help you if you're making a  
similar mistake.
Speaking of mistakes, as I skimmed this report I saw 
at least 3 other mistakes that I had made, and it took me 
YEARS to figure them out.
I'm betting 90% of you guys are making  Mistakes 8 and 11, and probably #12, too.
Even if you don't have time right now, download it 
and print it out for later.  
It's free and, as I said it's written by Tim Erway, the cofounder 
of Magnetic Sponsoring and…
The mentor of MIKE DILLARD, for goodness sake.
When someone like that talks, I tend to listen 🙂
Grab the report and while you're there,  be sure to 
REGISTER for his webinar Thursday at 9pm ET.
He's gonna provide SOLUTIONS to all these mistakes 
and I for one, will be grabbing a front row seat.