Do you ever wonder why you don't get more comments on your blog?  You've worked hard getting more traffic – solid keyword research, on-page and off-page SEO, and promoting your posts in your social networks.
Heck, you've even spent a lot of time commenting on posts in important blogs in your niche.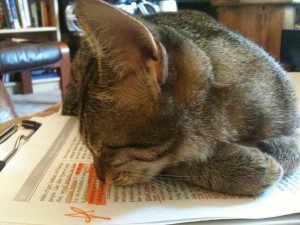 The traffic is coming, but still very few comments?
What's wrong?
The problem might be right in front of your nose.
Maybe — just maybe — you need to look at things from your reader's point of view.
.
5 Reasons I Don't Comment on Your Blog Posts

1.  You Don't Ask

Seems obvious enough, but I can't tell you how many blogs I've visited where the blog owner never ASKS people to comment.

I've found that if you don't ask, people are less likely to do something.

Make it a habit at the end of each blog post to ask your readers to comment.

Even better, ask them a lead-in question or what their opinion and viewpoint followed by the words, "Please Leave a Comment and Join in the Discussion."

You'll find this phrase at the end of almost every post I write.

2.  You Don't Make it Easy

Making a comment can be time consuming.  First you have to fill in your name, email and website and then write the body of your comment.

Since I am huge on time efficiency, you can imagine my delight when I see that my personal information has already been filled in the comment area.  All I need to do is make my comment and I'm done!

I use a plugin called MaxBlogPress Subscriber Magnet for this purpose.  It's a great little plugin with many features, like auto-fill, sure to keep your readers happy.

Any time you can make your reader's lives a little simpler, you should jump at the chance.

3.  You Don't Make It Worth my While

Let's face it — many blog commenters are self serving, looking for links back to their own blog.  There's nothing wrong with that, and as a blog owner you'd best be ready to help them out.

I use CommentLuv, a neat plugin that gives the commenter a link back to their site and the ability to choose up to 10 of their previous posts to be displayed at the end of their comment.

This results in double the exposure and blog commenters love it.

4.  You Don't Interact

If I see a blog where there are no replies in the Comments section, I wonder about the dedication of the blogger.

When I make a blog comment, I always subscribe to the comment thread when possible to receive any replies to my comments.  At the very least, I expect the blog owner to reply and can use this to continue the discussion.

If you don't take the time to reply to all of your comments, you're missing out on a huge opportunity to interact with and build a relationship with your readers.

5.  You Don't Reward Me

People love recognition and blog commenters are no different.

Too many blog owners fail to recognize their top blog commenters and that's too bad, because it's very easy to do so.

Installing a Top Commenters widget on your WordPress blog will allow your readers to see their names on your sidebar as being a commenter on your blog.  You can choose to display the number of comments as well, so they'll know how far behind they are from the top commenter.

You can also do a Top Commenter Post at the end of each month with links back to their blog (see below).  This is a great way to highlight and reward your top commenters.
These are the 5 reasons I don't leave comments on your blog.  They're easily fixed with a little effort and a couple of plugins.
Top Commenters for June 2011
The Top Commenter for June:
Oliver takes over the top spot this month, advancing from #2 last month.  Oliver provides insightful comments to our blog and we are very appreciative of his contributions.
You are the best, Oliver!
If you haven't yet visited Oliver's superb Personal Development and Financial Intelligence blog, you're in for a treat.
Head on over there right after you finish reading this post (and commenting of course!)
Oliver Tausend's Blog – Thanks to the Top Commentators in June
MLM Success with Think and Grow Rich and Oliver Tausend, Part 9
Copyright and Privacy Infringements –  Capital Crimes of the 21st Century?
Others on the List of Top Commenters for the month:
Dennis Latest Post:  Never Stop Pushing Your Business Forward

Adrienne's Latest Post:  Wow, Google Doesn't Like Me Anymore


Janet's Last Post:  The Hidden Benefit of Blogging
Thanks to all of our great commenters for June!
Now It's Your Turn!
Would you like to be spotlighted in next month's Top Blog Commenters Award post?
It's easy and simple —>  Add a Comment and Join in the Discussion!