I can't tell you how many people I've talked to over the last few months who have one simple request:
"TELL ME THE TRUTH…. that's all I want!"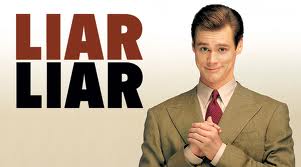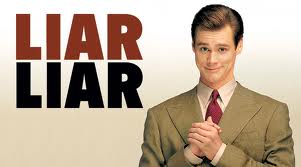 And I totally get their frustration.
Have you ever seen that Jim Carrey movie, Liar Liar?

If not, you should go rent it… what a blast!

In a nutshell, Jim Carrey's character was a sleazy lawyer who lied his way to the top.

I mean, he was SLIMY!

Then someone caste a spell on him, and for 24 hours he was unable to lie — he HAD TO TELL THE TRUTH!

Don't you wish a spell like this existed on Facebook and in business?

How cool would that be?
Unfortunately, many in MLM/Network Marketing are basically taught to mislead;
they PITCH their business as soon as possible and generate excitement through hype.
But people nowadays are more cynical and can spot an amateur very quickly — and mistrust naturally follows.
All people want is the truth.
What do I need to do to succeed?

How much time will it take me to start making money?

How much money will I need to invest?
Why Can't People Just Be Real?
I got to thinking about the topic of TRUTH today because of a post I saw on Facebook…
started by one of my mentors, Diane Hochman.
Diane asked the simple question…. Can't we just be real?
And as you can see below, the response was huge.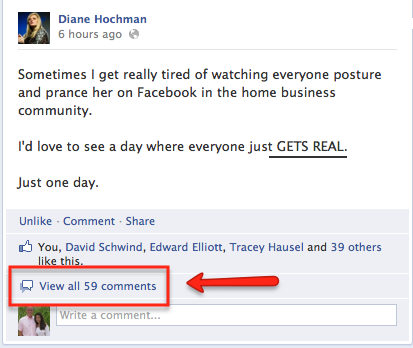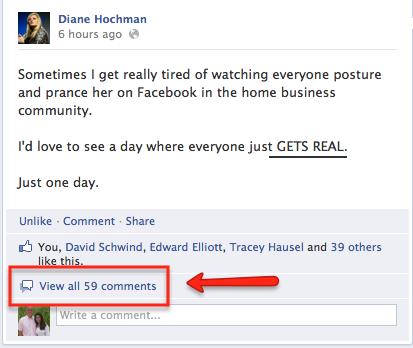 Some agreeing, some defending but definitely a hot topic.
When I saw this, I knew it was time to tackle the topic here.
So here ya go….
Some straight answers to your biggest questions.
Let's get to it.
 23 Seldom Revealed Truths about Network Marketing
How Do I Succeed?
1.  Network Marketing works.  Affiliate marketing works.  Internet Marketing works.  Information Marketing works.  It ALL works… if you know what you're doing.
2.  Your success will depend on your value to the Marketplace…. that is, what skills you bring to the table.
3.  You build up your skills by attending trainings and implementing what you learn.  Most free trainings give you just enough information to want the paid trainings.
4.  You build up your influence by helping others, showing them you truly care and that you're in it for the long haul.
5.  Success is NOT automated.  Systems can help, but in the end the difference is YOU. 
6.  The best way to realize success is to STUDY success.  Don't copy unskilled marketers looking for a fast buck.
The Unfortunate Reality is…
7.  Most people don't stick around long enough to realize their success.
8.  Most people aren't willing to work hard enough to realize their success.
9.  Most people aren't willing to sacrifice what's needed to realize their success.
10.  Most people don't want it bad enough to realize their success.
How Much Money Will it REALLY Cost?
11.  The biggest attraction of starting an MLM business (low start up costs) is also one of the biggest reasons for it's high failure rate.
12.  The Industry is full of people looking for the easy money.  They will never find it.  If you're looking for a quick hit, play the Lottery.
13.  Once in a while someone will get a quick hit and make some money, but more often than not they can't repeat it because they have no idea how they did it.
14.  If you don't invest in your business and yourself, you will never make the money you seek…. there are no free passes.
15.  The less money you have to invest in your business, the longer it will take you to find success…. that's just the way it is.
16.  Investing in YOURSELF is almost always better than buying leads.
How Much Time Will it Take to Become Successful?
17.  The more time you have to devote to your business, the faster you'll see results (maybe).
18.  How you spend your business time is MUCH MORE IMPORTANT than the total time you devote to your business.
19.  Part Time Marketers can become very successful when they use their time doing the right things.
20.  The fastest path to success is to find someone who knows how to do what you want and is willing to show you (in other words, finding a mentor).
But Don't I Just Need More Leads?
21.  Most people want more leads but have no idea what to do with them… and are scared to call them.
22.  Converting leads to sales is a SKILL you learn — most people start with convincing and fail miserably.
23.  More LEADS are not what most  people need; BETTER SKILLS are what they need.
Feeling Disappointed or Excited?
Now that I've pulled back the curtain and revealed these 23 truths about Network Marketing, how are you feeling?
Are you excited, energized, and enlightened or disappointed, frustrated and feeling like you want to give up?
If you truly want to change your life, here's my advice:  DON'T GIVE UP!
The bad news is that there are millions of people each year trying their hand at Network Marketing.
The good news?  The majority of them do nothing or very little once they realize these truths about the industry.
YOU have the ability to make this happen.
Everyone does.
Don't give up!  Go make your fortune!
Time for Action!
ACTION 1:  DECIDE if you're willing to do what it takes to succeed in MLM.

ACTION 2:  DETERMINE YOUR BUDGET and allocate it most effectively (hint:  invest in yourself first).

ACTION 3:  BLOCK OUT TIME for your business and work with a mentor or coach to use it most effectively.

ACTION 4:  If you need help, GET IN TOUCH with me and I'll see if I can help you out.
It's YOUR time to get excited… your future is in your hands!