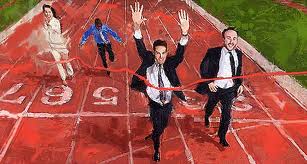 It's that time of year again.
Along with cold weather here in the Northeast US, beautiful Christmas light displays and one of our favorite radio stations playing Christmas music 24/7 since Thanksgiving, it's again time for the Top 50 MLM Blogs Contest.
This is the first year I joined the contest and it was only with some arm twisting from some well meaning friends.
I hate contests because I don't like to measure my success against someone else.
But I entered our blog and have been pleasantly surprised at the response.
But besides that, I've learned a few weird things about myself by going through this experience… things that surprised me!
4 Weird Things I Learned About Myself
1.  I LIKE Contests!
It turns out I really like being involved in contests.  I don't know what it is, but it's exciting!
It's fun to get votes from people who you didn't expect and some you never heard of.
2.  I am Super Competitive
I always knew that I like to compete for things, but my reaction to this contest surprised even me.
At times during this contest, I felt like Obama and the other candidates hawking for votes.
I'm not that proud of it, but I can see how politicians can go overboard very easily.
3.  I Have A Lot More Readers Than I Thought
Many times when you blog, you have no idea the extent of your readership.  You see, only a small handful of your actual readers will actually leave a comment, and that's about the only way you really know if someone is reading your stuff.
It turns out that I have more readers than I thought.   What a nice feeling! 🙂
4.  You Can Create Friendships and Collaborations with Your Competition
This one I never expected.  After all, I'm competing against other bloggers, who would have thought I'd make some great friends during this contest… and even create a collaboration.
Here's what I'm talking about.
I was speaking with Mavis Nong, a blogging rockstar and a dear friend about ways to improve our standing in the contest (she is also entered).
We came up with a rather unique idea.
We've teamed up with 2 other top bloggers in the contest to offer anyone who votes for any one of us a Free Personal Invitation to a webinar in December.
This webinar will be exclusively for people who vote.
We are calling it the All Access Blogging Q&A Webinar
Here we are going to spill the beans about what has made us successful bloggers, give up some of our secrets that we don't talk about publicly, and answer each and every question that attendees have.
It will be great for everyone — experienced bloggers looking to up their game, struggling bloggers looking for more readers, and even people who haven't started blogging yet and don't know where to start.
It will be a really cool event, and it wouldn't have happened without this contest.
Very cool.
If you are reading this post before Midnight EST on December 2, 2011, there's still time to Vote and Get Your Invitation.
We'll know automatically who votes for us and you will get your invitation to join us.
And if you're reading this AFTER the deadline, sorry you'll have to wait for next year.
Because that's another weird thing I learned about myself:  I'm actually LOOKING FORWARD to the next contest!
How weird.
What about you?  Do you like contests or competitions?