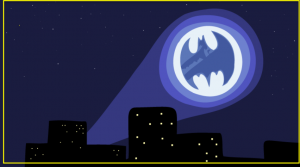 I sent out a survey the other day to my list and followers, and one of the questions I asked was…
"What Do You Need The Most Help With?"
Lots of great answers, but one that kept showing up again and again was…
HELP ME FIND AND BUILD MY AUDIENCE!
If you're having trouble finding your audience and trying to figure out who you're trying to attract, I promise you one thing:  
You're thinking too much!
Finding your audience is the simple part.  Building it up is what takes time.  
I'll give you a resource at the end that will help with that part.
3 Steps To Find Your Audience
1.  Be Yourself
Sounds stupidly simple, but it really is.  Be yourself!  Stop trying to be the kind of marketer you THINK you should be, either by your own beliefs or from what you think others expect of you.
Be yourself.
Be quirky.  
Be weird.  
Be funny.  
Be serious.  
Be honest.  
Be vulnerable.  
Be YOU!
SHINE YOUR BAT SIGNAL!
The other day, I heard this from someone who watched my videos…

"I don't know why, but I really feel drawn to you!"
It's extremely POWERFUL, this attraction stuff.
Be yourself…
Be WILLING to show others that side of you that maybe you try to hide in public.  It's all part of who you are. 
And I PROMISE YOU…
There are people JUST LIKE YOU… who will be drawn to who you are.
2.  Make Them Feel Glad They Found You!
This part's easy, too.  Once someone reaches out to you, either on social media, forums or even in the "real" world, make them feel happy they took the time to connect.
What does this look like?
A simple private message on Facebook, Twitter, etc. saying how happy you are to have connected.  Maybe you can talk briefly about what drew that person to you (common interests, experiences, etc.). 
In other words, make them feel welcome…
And COMFORTABLE!  
This is NOT the time to be weird, asking all kinds of probing questions.
And it's DEFINITELY not the time to pitch them your biz opp.  
NO NO NO NO NO!!
Think of this in terms of meeting a new friend in your life.  
Have fun, get to know each other, share slowly, be yourself.
SHINE YOUR BAT SIGNAL!
Again, you can ramp this up by leveraging technology but when you're first trying to find your audience, it often happens one-by-one.
3.  Be Willing To Share Your Successes… And Failures
You're on a journey.  You'll have your ups and downs.
Some may be amazing successes worth screaming from the mountaintops.
Others may be miserable failures that may be both demoralizing and embarrassing.
Share both.
Be real.
Be willing to become vulnerable in order to help others on the same path.
Be YOU…
SHINE YOUR BAT SIGNAL!
.
Want more?
To ramp up building your audience and use the MAGIC of Attraction Marketing in your MLM, I recommend…

An Easy Way To Recruit People Into Your MLM Business Online – REJECTION FREE- Without Wasting Your Time and Money Chasing Dead Beat Prospects!
.