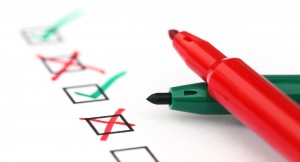 BUILD A LIST!… If you've heard it once, you've heard it a million times.
What you've heard about the importance of having your own list is all true.  If all else fails — if your MLM closes its doors, if your company changes its compensation plan, if Facebook decided tomorrow to boot you off and never let you run ads, again, you always have YOUR LIST.
And if you have a list, you have a way to build a business.  
You can add value, build relationships, build trust and make offers… in other words, you have a BUSINESS.
Build A List From Scratch – How Hard Is It?
It's one of the most common questions I get…
"I want to build a list, but where do you start?"
The good news is…
It's simple, it's fast, and it's very inexpensive.
All you need is an email management service (I recommend Aweber) and a willingness to get your hands dirty.  
Here's what you DON'T need:  A blog, a website, or fancy copywriting skills.
Build A List From Scratch:  4 Easy Steps
I've broken down the process into 4 simple steps.  It should take you no more than 2 hours from start to finish, from the idea for your first email to getting your first lead.
Step 1:  Create Your First Training
Don't get hung up on this.  Lots of folks get overwhelmed or intimidated when they think about creating a training like an ebook or video series.
Here's the best way to create useful training that others will want —
What QUESTIONS do YOU have that you'd like answered?
What PROBLEMS have you encountered and found solutions you can share?
What's something COOL that you learned recently that will help others?
IMPORTANT:  You are not trying to get "everybody" on your list, just those that will benefit from what you have to say.  There are always (and I mean ALWAYS) people a step below you who NEED your help and guidance… write to them!)
ALSO IMPORTANT:  You will probably need to do some searching for the answer to some of your questions.  You may not have learned the answer yet.  
That's fine — roll up your sleeves, do some research, ask questions in forums, in Facebook groups, or even ask your sponsor if you have one.
Don't skimp on this part.  You want to provide good value here.  Just dig in and get 'er done!
Step 2:  Open an account with Aweber and Create Your First List
The first step is to open up a free account with Aweber or the email management software company of your choice.  
I prefer Aweber because it's easy to use with great customer service and reasonable pricing.
GO HERE TO OPEN AN AWEBER ACCOUNT and follow the simple instructions for creating your first list.  
As I said, the video tutorials make it simple and painless.  
If you're using a different email service, no problem – just follow the directions provided.
Step 3:  Create A Way For People To Sign Up For Your List
This is simpler than you think — you need NO blog, no website, and no fancy graphics.  
You can add all this later if you want.  
The important thing right now is to get started BUILDING YOUR LIST!
I created a video to show you how SIMPLE it is to create a signup form in Aweber, and how you can even get Aweber to host the form for you.  
In fact, Aweber even gives you a  LINK for people to click on that brings them right to your sign-up form.
Watch the video below.  At the 3-minute mark, I talk about creating your first Sign Up Form in Aweber!
Easy-Peasy, don't you think?
Step 4:  Announce Your Training and Get People On Your List
Now head on over to Facebook, Twitter, Linkedin, or whatever social media site you prefer and ANNOUNCE YOUR TRAINING!
Just say something short and sweet like…
"Hey, I'm sending out a very cool training on _________________ to my list at ________ (time).  If you want it, private message me for the link.  (or you can just give the link)
The link you then provide is the one you generated in Aweber.  If you missed that part, go back to Step 3.
I did this EXACT strategy the other day on Facebook…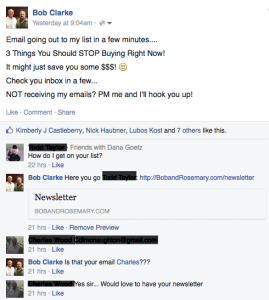 Within minutes, I had people ASKING to get on my list and I added 3 new people.  Within 5 minutes!  It's THAT easy!
Build A List From Scratch – There are No Excuses!
Technology has made it simpler than ever to build a list.  There are NO more excuses — start doing it TODAY.
The one regret I have in my business is that I didn't start building my list right away.  I waited a couple of years — 2 years that I could have gotten a head start in building my most important business asset.
Building your list is the #1 Activity You Should Focus in Your Business.  
You can do it one by one as I showed you above, or you can use the same List Building Machine that I've used to build my list to almost 3000 subscribers.
It's Your Time to SHINE!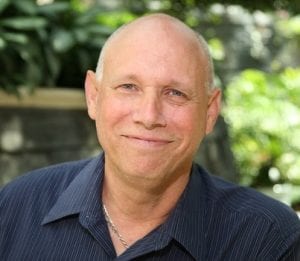 Dr. Bob Clarke
Email: Bob@BobandRosemary.com
Join our Side Hustle Facebook Group
P.S.  Need more leads for your business?  I recommend you start here and learn the fastest way to attract new prospects to YOU with timely strategies that are Working Right Now.
This post may contain affiliate links to products or services that I trust.  This means that if you make a purchase using the links included in this post, I may receive a commission at no extra cost to you.  Thank you for the support!
Recommended Courses To Jumpstart Your Business
Crush Consistency NOW! - if you find yourself lacking consistency in your business, you must own this course!
Focus and Implementation Challenge - learn how to dramatically improve the focus in your business and become an implementation machine!
Part-Time Shortcuts - who says there are no shortcuts to success? This course reveals 4 shortcuts that will cut your learning curve in half.
Part-Time Mastery - if you're short on time for your business, this course is the answer!
Part-Time Profit Machine - my flagship course, this 7-module course covers all aspects of your Side Business, from mindset, time and focus, prospecting, lead generation, building a list and selling to your audience... all using the most time-effective strategies.