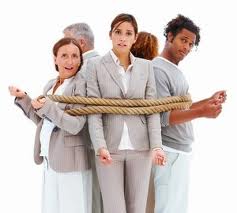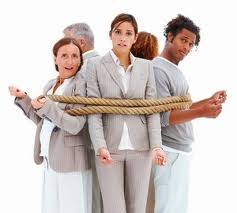 Victim mentality — it pervades our society at every level.  We've become a society that thrives on entitlements and considers anything less "unfair".
We see this in our Industry as well.
People who think that anything less than FREE is uncool.

People who find the fact that you "sell things" offending.

People who fail to make money in a Program scream "SCAM!"
Indeed, victims are everywhere in Network Marketing!
What Victims Say
Victims in our Industry say stuff like…

"I got tricked into buying that product and it's no good!"

"That company's a SCAM!  I paid my membership and didn't make any money!"

"I'd really become a leader if only I…. [fill in the blank]."

"Only the top people in Network Marketing can make money!"
All of these are Victim Statements and they serve no purpose other than to keep you stuck right where you are in your business and your life.
The Common Thread
I was listening to a mindset training by my mentor this morning and she mentioned something that made so much sense to me.
Randy Gage, a personal development trainer and entrepreneur said of victim statements…
"Who was present at the scene of every crime?"
Wow!  Think about it.
Every time you joined a company and didn't enroll anyone, every time you bought a product or tool and it didn't work the way you thought, every time you got off the phone with a prospect humiliated and disappointed…
Who was at the scene each time?
YOU!
YOU are the common thread in all your victim scenarios.
Ever think about that?
How To Slay the Victim Within
First, let's tell the truth — we ALL have a victim within us.
Everyone… no exceptions.
Some of us have learned to suppress it so that it rarely appears, but we all have a victim inside of us.
TRUTH:  Most people's victim mentality DOMINATES…
That is, its on stage virtually 100% of the time.
I deserve this, I'm entitled to that…
How many times have you heard sentences from people that start with this?
Heck, how many times do you find YOURSELF starting your sentences with words like deserve and entitled?
As I said, it's PERVASIVE in our Industry and our Society.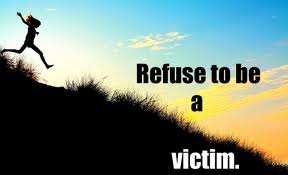 So how can you change things?
How can you make the change from VICTIM to EMPOWOWERED?
Here are 2 steps you can take:

1.  Acknowledge the Victim Within

Don't try to ignore or bury your victim mentality deep down inside.  It will eventually fight it's way back to the surface in the form of entitlement thoughts or ideas.

Acknowledge the fact that you're having these thoughts.

2.  Ask Questions

I learned this trick from my mentor, too (see the value of having a mentor in your life?)…

Ask questions of yourself that CHALLENGE your victim mentality.

If you haven't made any money in your primary MLM company, ask yourself HONESTLY, "Why not?"

Ask…  What could I have done differently that maybe would have changed my results?

Ask…  Did I really give it my best effort?

Ask…  Are my expectations unrealistic here?

In other words, CHALLENGE the victim within.
In most cases, the victim will back down and you'll start to think about your situation more rationally.
Need More Help?
Taming your victim and learning how to make your mindset work FOR YOU rather than against you is the MISSING piece of the Success Puzzle for most marketers…
Do NOT underestimate the power of your mind to drive you towards success!
I recommend this training from my buddy Ray Higdon… it's helped me to transform my own mindset and my development as a leader that others seek out.
Check out this training: