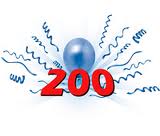 Today is a very special day here at Simple Solutions for Part Time Entrepreneurs.
This marks my 200th blog post!
Applause is appropriate now, thank you very much.
It seems not that long ago that I was writing about my huge milestone, 100 blog posts.
And here I have doubled it.  
Since the first 100 posts, some cool things have happened:
Our blog was voted #7 in the Top 50 MLM Blogs.

I started a cool interview series with Top Part Time Marketers.
I began a collaboration with 18 other top bloggers in the home business niche, called Experts Speak.  Wildly popular!

For the first time, I had people requesting to advertise on our blog.
So how did this all happen?  
How To Write 200 Blog Posts and Live to Tell About It
To explain every detail about building a popular blog would take way too long.
My wife tells me I'm too wordy, so I'm going to condense it down to shorter snippets.
Oh heck, let's make it a list:

1.  Start with an idea.  

Why do you want to blog?  What do you want to write about?  Who are you  going to "talk" to?

2.  Clearly define your niche.

The term "find your niche" has become widely used in recent years, for good reason.   But it takes more than just finding it.  You must define it, twist it every which way and understand it better than you understand yourself.

If you don't know exactly who you're writing for, what they need, how they're suffering and what you can do about it, you might as well not even start a blog, unless you just want to hear yourself talk.  

Some call this a journal 🙂

I've written a ton about how I found my niche here at Simple Solutions for Part Time Entrepreneurs.  Here is the best resource I've found for defining your niche.

3.  Lay the Framework

Go get a self hosted blog on WordPress.org or another self hosted site.  Do NOT let someone else host your blog (think Blogger.com and WordPress.com).  I made that mistake and my first blog was gone one day without notice… for "violations of terms of service."

If you self host your blog, you can rant, rave, throw things, preach, and sell to whatever extent you wish, without worrying about Big Brother shutting you down.

If you don't know how to set this up yourself, here is an inexpensive but incredibly valuable course that will help.

4.  Look Professional

Don't allow your blog to look unprofessional or hokie.  

It just won't cut it.

Unless you're a web designer, you'll want to outsource this.   Getting a really cool header for your blog is no big deal nowadays, and won't cost you much more than $5 on Fiverr.com.

5.  What's the Point?

What's the purpose of your blog, anyway?  

Is it to generate leads for your primary business?  

Build a list?  

Brand yourself?  

Showcase yourself as a leader?  

All of the above?

It's important at this step to figure out what your desired outcomes are for your blog.  You need to have that direction.

6.  Educate Yourself so you can Educate Others

If you want your blog to be a place where you teach others about business, marketing, lead generation, mindset or whatever…. you MUST educate yourself along the way.  

It's hard to teach something you know nothing about.

But here's the cool part.  You don't need to learn everything before you start blogging.

You can learn and teach as you go along.

Here's another point — you don't need to be the smartest person in your niche. You just need to know more than most others.  

And in most niches, that doesn't take much.

7.  Ask Questions

As you begin to develop a readership, ask them questions.  

What do you need help with?  

How are you struggling?

What keeps you awake at night?

Heck, I developed my Free Giveaway, the Part Time Entrepreneurs Success Kit by asking one simple question using SurveyMonkey.com:  "What do you most want to learn here?"

The 2 most popular answers were the basis of our free giveway (don't have it yet?  Why the heck not?).

8.  Interview Others

Find others that your readers would find interesting and interview them. I've done it several times, most recently with Natasha Nassar Hazlett.

Your readers will get to meet new people with inspiring stories, and you build up your business connections for later use.  

Win-win!

9.  Aim High!

When I started my Experts Speak Collaboration Project, never in a million years did I believe that I'd get some of the top bloggers in the Industry to come out and play with us.

But they did… and some even contacted ME asking if they could join us.  

How cool is that?

Do NOT sell yourself short!  Never assume anything!  

Aim for the sky in all you do.

10.  Be Consistent, Persistent, and Belligerent

Be consistent in your efforts.  Set up a schedule for blogging and stick to it.  Whether it's once a day, once a week or once a month, never put it off once its on your schedule.

Be persistent against obstacles.  You WILL have things thrown in your path along the way.  

But your ability to get around these obstacles will determine your ultimate success, so climb over them, under then, or around them… whatever you have to do to keep going and moving forward.

Be Belligerent against the naysayers.  The people who laugh at you for doing what you're doing.  The non-believers.  The people who are afraid you WILL succeed because that will show them how disappointing and humdrum their lives really are.

Spit in their face (not literally) and move on.  Keep going.
This Post has Nothing to Do with Blogging
Read between the lines of this post and you'll see that the 10 items on my list are really a BLUEPRINT FOR SUCCEEDING in your BUSINESS, not just your blog.
Find your WHY,  determine the purpose of your business, define and understand your market, lay a proper framework, appear professional, educate yourself, ask questions, collaborate with others, never sell yourself short and make success non-negotiable.
It is the true recipe for realizing your dreams, folks!