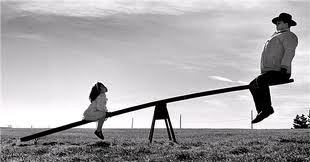 For Part Time Marketers, few things are important as TIME…
and finding ways to better use and save time are a virtual goldmine.
I've said it before and I'll say it again…
TIME (not money) is your most VALUABLE resource.
Time is finite — once it's gone, it's gone for good.
You can always get more money…. you can't make more time.
So, it's important for Part Time Marketers to get the MOST out of their limited time.
And the key to that is… LEVERAGE.
Some people think in terms of "Getting the most bang out of your buck."
For Part-time Marketers, we think of "Getting the most bang for our TIME."
Big difference.
It's a skill (the skill of Leverage) that must be learned if you want to successfully build your home business "on the side".
It takes time to learn, but I thought I'd give you a jumpstart.
Time Saving Tools for Part Time Marketers
Finding tools that will help you leverage your time is one of THE SECRETS to Part Time Marketing Success.
Below, I've listed 7 very cool Time-Leveraging Tools that will help you get started in making the most out of your time.
I've tried to give you a range of tools to try, depending on your marketing likes.  
I've used ALL of these tools and can vouch for their effectiveness and credibility.
1. Aweber Autoresponders
If you want to build a solid, profitable home business, one of your first priorities should be to build a list.
And when you do, you'll need a way to manage that list.
That's where Aweber comes in, and it's one of the best leveraging tools in the Part Time Marketer's tool belt.
With a single click of the mouse, you can reach out to every single person on your list.
This number may be small in the beginning, but as your list grows this is an AMAZING time saver.
Can  you imagine trying to email each one of your list members individually every time you wish to communicate with them?
There are many email management services out there, but I chose AWeber for it's flexibility, reliability and terrific support.
2. Survey Monkey
It's important to understand exactly what your Target Market needs, so you can help solve their problems.
What better way than to ASK them?
That's where Survey Monkey comes in.
This tool has SAVED me hours upon hours of research time, trying to dig deep into the needs of my prospects.
Below is an example of a recent survey I sent out to my list.  They GAVE me the answers to what they need!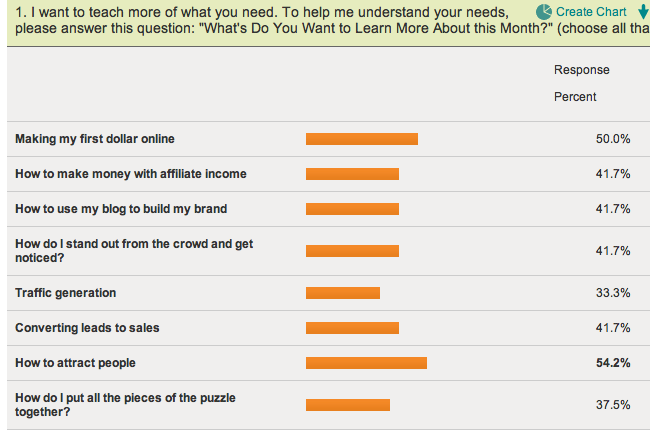 When I create a survey using Survey Monkey, I can get my answers in no time.
You can put a link to your survey in an email, on your blog, Facebook, forums… practically anywhere.
And I know the information I receive is valid because…. THEY TOLD ME SO!
I use the Free Version of Survey Monkey — I've found it's all I need. 
3. Market Samurai
Keyword research is a basic skill that ALL marketers should learn, especially if you like Free, Targeted leads.
You can use a basic keyword tool like the Google Keyword tool, but I prefer to leverage my time and make keyword research painless.
So I searched for a tool to help me out.
When I found Market Samurai, I knew I'd found my answer.
Using this highly leveraged tool, I can learn:
which keywords to focus on in my niche

which keywords to avoid

the level of competition for each keyword

how difficult it will be to rank high on Google for each keyword

related keywords that my competition is using

and so much more.
If you're serious about Keyword Research and work your business Part Time, this is one tool you'll seriously want to consider.
4. Hootsuite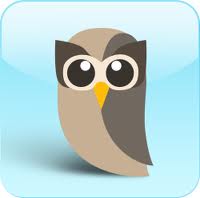 If you're a Part Time Marketer and into social media, HootSuite can save you oodles of time.
From one Control Panel in Hootsuite, you can manage all of your Twitter accounts, Facebook profiles, pages, and groups, Google Plus accounts and more.
Even more importantly for me, this tool allows me to SCHEDULE my posts and tweets to go out when I'm too busy.
Talk about LEVERAGE!
Go check out HootSuite and grab a free trial… you'll be impressed.
[NOTE:  I chose Hootsuite over the other social media management tools because it's one of the only tools that allow you to link to your Google Plus profile at this time — a HUGE Plus in my book!]
5. Traffic Geyser
If you're into video marketing, Traffic Geyser is one tool that you should look into.
Just making videos is not enough anymore… distribution of your videos to multiple sites for maximum exposure is critical!
That's where TG comes in.
Traffic Geyser is probably the most powerful video syndication software on the planet, yet it's very affordable for everyone.
Can you imagine going through the process of submitting your video to dozens of video submission sites, social bookmarking sites, and transcribing your videos into articles for increased exposure?
Neither can I.
That's why I started using Traffic Geyser.  This tool does it all.
Most serious video marketers are using Traffic Geyser for it's power..
You'll also want to look into it for TIME LEVERAGE.
6. SubmitYourArticle.com
Into article marketing?
Cool, so am I.
Getting ranked for keywords using articles is a lot like video marketing — it comes down to EXPOSURE.
It's not enough to write an article, submit it to Ezine Articles or another article distribution site and be done with it.
Not if you want to compete with others in your niche and generate free leads.
You need to get serious about your article marketing, and that's where SubmitYourArticle.com comes in.
With a couple clicks of your mouse, you can submit your article, create several unique versions and send them out to dozens of article sites.
This is seriously powerful and a real time saver for Part Time Marketers.
You can try out SubmitYourArticles for just $2.
7. vCita Meeting Scheduler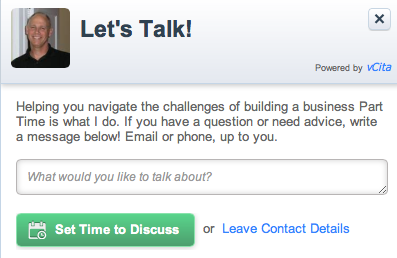 Here is a tool that most bloggers have yet to discover, but it saves a TON of time in helping me build relationships with my readers.
When blogging, you want to make it as easy as possible for your readers to ask questions, provide comments and give feedback —
all critical to the process of relationship building.
Sure, they could scroll down and leave a comment on the post, or go to the Contact Page to ask a question, but let's face it….
Most people don't want to take the time.
Using this free plugin, a contact form is displayed right next to each post.
I can grab my reader's attention and they can easily and quickly leave their comment, ask a question, or even schedule a time to talk.
Building relationships with readers is what blogging is all about, and this plugin makes this process much easier… and quicker.
BONUS TOOL
If you're a Part Time Marketer and you're serious about leveraging your valuable time, I've saved the best tool for last.
Most people think of it as a lead generation system or a community or a training platform… and it's all of these things.
But I also consider it a TOOL, because it allows me to leverage my time by placing virtually everything I need to build a business and generate income all under one roof.
You can find out more about this ultimate time leveraging tool here.