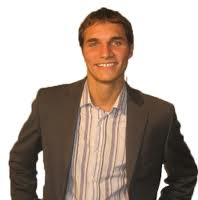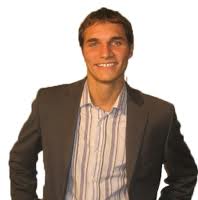 I came across a short video the other day that really crystallized things in my mind.  It was one of those "Of course!" moments that sometimes comes out of the blue.
The video featured Michelle Pescosolido interviewing Jonathan Budd, both "gurus" in their own right. 
Michelle asked Jonathan a common question that most gurus are asked (I am paraphrasing)…
"What is the biggest reason why people in this industry fail?"
The question was standard — Jonathan's response was not.
I expected him to say something like "Their WHY isn't big enough" or "They don't give it enough time", or even "They start with unrealistic expectations".
These are the standard answers I've heard before, but Jonathan's response surprised (and enlightened) me!
Here is what Jonathan had to say to Michelle's question (again, paraphrasing):
"People aren't balancing their input and output."
Before you go off scratching your head, thinking "Huh?", let me explain.
It will make perfect sense, I promise.
The See Saw Effect
Think of your business routine as a see saw, the kind you see on the playground.
On one side is the Input, what goes into your brain through learning new skills, reading and watching videos and webinars.
On the other side is your Output, actions taken from what you learn to turn them into results.
INPUT = Learning, Knowledge, Acquiring New Skills

OUTPUT = Implementing, Taking Action, Making Money
Got the picture?
When input and output are balanced, the see saw remains level.
But when either input or output is overemphasized, your see saw becomes too heavy on one end and tilts to the ground.
Is this happening in your business?
Could this be why you're not seeing the results you expected?
In the Beginning
When you first start anything, you'll go through a learning phase.


This is normal.  It's as it should be.
Your business hours will be used soaking up as much information as you can, acquiring skills and in some cases, remolding an employee mindset that's been set in stone since your teen years.
Your See Saw will be heavily tilted to the left, towards the INPUT side.
[But not all the way!  Even in the beginning you should also be taking action on what you've learned.]
As You Become More Experienced
So what happens to your See Saw as you get more and more experience?
It should start to balance out.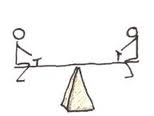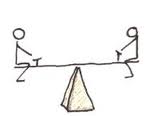 Your business time will shift more towards output as you implement more and more of what you've learned.
You start a blog, you place banner ads, do some FB marketing, whatever your focus is…. they key is that your OUTPUT is increasing.
And Output is the only phase where money comes in.
No one every made money by learning a new skill and keeping it inside their brain.
What If Your See Saw Is Stuck?
It's a problem I had, which is why Jonathan's response affected me so profoundly.
I am a lifetime learner — I love to learn new things and acquire new skills.
But up until recently, I wasn't too thrilled with taking that knowledge and trying it out.
Fear of failure?  Fear of losing money?
I don't know, but for whatever reason my See Saw remained tilted way to the INPUT side, with very little output.
The result, as you can guess was very little money coming in.
So what can you do if you're stuck in the Learning Phase?

1.  First, recognize the problem.  Simply reading this blog post may be your first step.

2.  Try forcing yourself to take action.  For me, I made a promise to myself (and more importantly, my wife) that I wouldn't buy another training program without getting some results from the last one.

3.  Hire a coach to help.  This was huge for me.  I've started working with a coach who is helping me to emphasize OUTPUT in my business.

4.  Don't go overboard!  Learning is an ongoing process.  You should continue to learn at every point in your business.  But it MUST be balanced by output.
Today, I find my See Saw much more balanced.  In fact, if anything it's a bit more tilted towards the Output side.
I continue to learn, but am using far more time implementing what I've learned to get some positive results in my business — more blog readers, more people on my list… and yes, more money.
A special thanks to Jonathan and Michelle — you never know when someone might come upon a short video conversation that can change the face of their entire business.  Appreciate it, guys!
Your Turn
Is your See Saw balanced between Input and Output?
Do you have trouble in this area? 
Leave a Comment and Join in the Discussion!