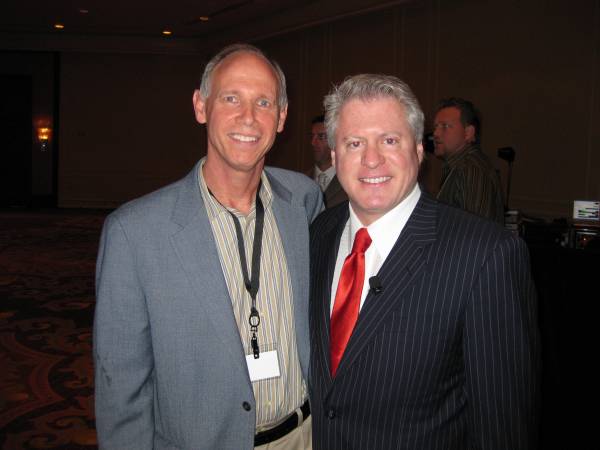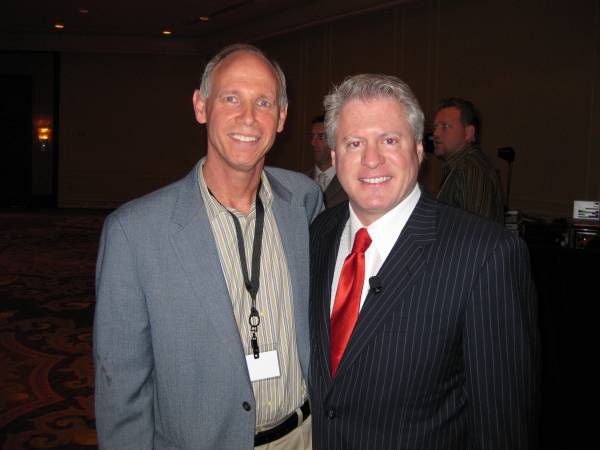 This is surely to be controversial, but someone needs to let the cat out of the bag.  
Some may take this post as me giving you guys a excuse for not attending a live event this year. But that's not the case.
Lord knows I've spent enough space on this blog heralding the importance of attending live events, to get out there and meet others with similar goals and dreams and, more importantly, to visualize your success from others in the industry who already have it!
And there's nothing comparable to live events for making those connections that can end up as very cool collaborations that makes everybody money! 🙂
You may even meet the occasional famous person (that's me with Wayne Allen Root, the former VP candidate of the Libertarian Party).
But here's the thing….
I'm pretty good at knowing the struggles of Part Time Marketers and the truth is this:
Not everyone has the flexibility to drop everything and fly off to an event. Sometimes your full time job or your family obligations won't allow it.
And some people, despite their full time jobs simply cannot afford it.
There, I said it.  
To all my fellow pie-in-the-sky full time marketers out there who say you need to attend an event AT ANY COST or you'll never succeed, sorry… the truth hurts.
Sometimes life just gets in the way.
How To Benefit From a Live Event Without Actually Attending
So you can't go to the next big industry event, for whatever reason.
Money, time, health…. we all have our reasons.
Lucky for you, times have changed.
It used to be where marketers could just throw up a sign up page and sell out events in a week.
Those days are gone, and the reason is…. Competition!
Take the Inter-Network Marketing industry for example – you have  specific company events, team events, smaller single purpose events, and the large industry events… all competing for your time and money.
The organizers of these events know and understand that they need to EARN your attendance and to do this, they must….
LEAD WITH VALUE
This is a really good thing for you, especially if you just simply cannot attend.
Why?  Because the people running the event are out to show you that their event is worthy.
Instructional videos, How to Webinars and Expert Roundtables are the order of the day, all leading up to the Event Launch.
And these are usually not just fluff — these are trainings that are meant to wet your whistle for the Event, but are valuable in and of themselves.
And they are their for the taking… for FREE!
How To Extract The Gold Nuggets
So how can you get all this training for free?
It's simple.
When an event is getting ready to launch, keep your eyes and ears open. 
If you're on my list or any of the major players out there, you'll hear about it early on.
If you're on Facebook or Twitter, you'll hear the buzz.
That's exactly what's happening at this very moment with the No Excuses 3 Live Event.
It's launching tomorrow night, and you should be there… even if you can't go.
Simply go to this page and register.
You'll get a confirmation link and a seat to the launch.  You'll get access to all the valuable training leading up the the launch.
Bring a notebook and be ready to take notes.
Am I Saying You Shouldn't Attend the No Excuses 3 Event?
No, not at all.
In fact, Rosemary and I will be there and would love to meet you.
But if you just cannot go, there's no reason you shouldn't benefit, right?
So go ahead and register for the launch on Tuesday, 2/21/12, grab your seat.
Tip:  Get there early because I've had it happen where the system only holds so many and then shuts down.
Bring your undivided attention and your pen and paper.
After all, you shouldn't be left out with nothing to show for it because you can't attend.