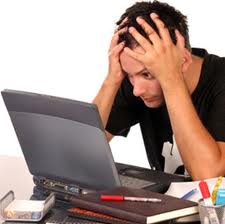 Did you ever have one of those days when you feel like you have so much to do but don't know where to start?
It's not a great feeling, is it?
It happens to us all, even people like me who study productivity and understand the potential pitfalls.
Like last night, I found myself staring at my computer, at a loss as to where to start.
I found myself alternating between checking my email, Facebook, and my commission ledger from some cool affiliate products I'm marketing.
As a Part Time Marketer, I understand the importance of every spare minute I have to work on my home business.
I have several projects I'm working on right now, and sometimes I just can't put all the pieces together in my mind.
After a while, I felt the muscles in my neck tighten up, my jaw started to clench and a feeling like I couldn't breathe — these are telltale signs of stress for me.
It surprised me at first, and then I realized I was getting stressed out because I hadn't gotten anything done for the last hour.
Have you ever felt like that?
Many people, in this circumstance throw up their hands and give up for the night, convinced that tomorrow will be a better day.  And sometimes that's true.
My own experience tells me that if you don't deal with it, if you "leave it for another day", that day will come and the problem will still be there.
But there's hope!
Don't worry, I won't leave you in a place like that.
I've figured out what works for me when this happens and I want to share it with you.
What to Do First?  Try this…


1.  Disconnect… for a while

If you find yourself unable to get going and simply wasting your time on unproductive tasks, break free for a while and go do something else.  It will help clear your head.

For me, I usually jump on my treadmill for 30 minutes, but you can do whatever it is that distracts your mind.  Just don't wait too long to get back.

2.  Make a List

Now, let's get back to work.  If you find that clearing your head didn't help your dilemma, it's a good idea to make a list of all the things that you have in your mind that you could do for your business right now.

I'm not talking about major projects that would take weeks or months to finish.  Hopefully, you've broken down those projects into smaller pieces, some of which you could accomplish right now.

If not, that's something you should do ASAP.

Making a list will help you bring focus back into the picture and you'll start to feel your overwhelm decline.

3.  Consider the Impact

Now that you have your list, look at it critically.  For each item on your list, ask yourself this question:

"How much will this task impact my business?"

or you could ask….

"How important is this task right now? "

For example, checking my email has far less impact on my business than creating a sales page for a product.

Be super critical here and it's likely that the most important task for you to take on will jump right off your page.

4.  Get Outside Help

But what if it doesn't?  What if the above exercise doesn't help you?

Then it's time to call in some outside help.

You have a few options here:

Talk to your coach or mentor if you have one.

Talk to your accountability partner if you have one.

Ask for some help online from people you trust, like a mastermind group.

Join some great Facebook groups that offer support to it's members.

When you've taken these steps, you should be back on the path of extreme productivity!
Writing this blog post has helped me clarify my own needs, so I'm off to get some work done.
If you want some more tips on how to be more productive when you have limited time to build your business, be sure to grab my free ebook, 10 Steps to Being More Productive with your Limited Time.
It's part of my Part Time Entrepreneurs Success Kit, which you get for free, just for being on my list.