You're doing all the right things to make your blog popular and highly ranked in your niche.
You do extensive keyword research to rank high in the search engines for your important keywords.  You set up and stick to a blogging schedule, giving your readers fresh material to digest on a regular basis.
You perform exemplary onpage and offpage SEO tactics to maximize your traffic.  Heck, you've even written a really great ebook sure to entice your readers to opt in and get on your list.
Yet, with all this effort your blog is floundering.  You're getting the traffic from lots of different sources, and that's good.
But something is missing.
There's no interaction, no buzz, no excitement.
It's like being at a well advertised school dance with so much promise for a fun time, yet the band is so crappy that everyone just stands around and looks for the nearest exit.
So, what's the problem?
Why is your blog looking like that high school dance where no one's dancing?
It's got nothing to do with traffic, nothing to do with SEO, and nothing to do with keyword research.
It's got everything to do with VISITOR EXPERIENCE

.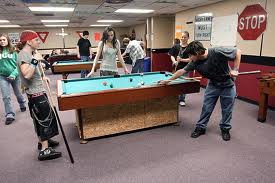 How do your readers feel when they visit your blog?
Do they leave after a brief look, not getting what they came for?
Do they browse through your post and leave uninspired?
Do they get frustrated trying to navigate your blog and find more posts that interest them?
Is your blog just not a fun place to hang out?
When you were a teenager, did you have a really  cool place to hang out?
You know, THE place where you and your friends felt comfortable and enjoyed life without parental supervision, at least for a while?
How great would it be if you could make your blog feel like that kind of place?
11 Easy Ways to Make Your Blog a Really Cool Hangout
Here are 11 easy ways that you can start implementing today that will make your blog the coolest hangout on the block:
1.  Write About What Matters to Your Readers
One of the best ways to make your blog feel like home for your readers is to write about what matters to THEM.  Too many bloggers write about what interests them at the time.
That's fine, if your readers care.
Taking the time to understand your niche — their  struggles, fears and problems is time well spent.
Ask the right questions and you'll learn more about them — lots more.
And once you know their problems, then you can talk about solutions.
If you can solve a problem for your readers, they'll stick around for more!
2.  Build Their Trust
If you want your blog to be a cool place to hang out for your readers, then you've got to gain their trust.
In an online world where skeptics abound, this can be tough to do.
That's why everything on your blog — your posts, your pages, your product reviews, your recommended resources — needs to be in your readers' best interest.
If you write a blatantly self-serving product review, only to gain affiliate sales for a product that won't be of much use to your readers, you'll lose their trust.
If you "trick" your readers into opting in to your free offer and don't deliver on the goods, you'll again lose their trust (and you'll probably never see them again).
If you promise to deliver a series of follow-up posts and don't deliver, your readers will lost interest, thinking you're  a person who doesn't deliver on his promises.
It all comes down to being transparent, honest, and doing what you say you'll do.
Trust is tough to earn and easy to lose, so tread lightly.
3.  Make it Easy for Them to Find More
The last thing you want is for a reader to get frustrated when navigating your blog.  Pay special attention to the layout and flow of your blog.
Is it easy to find things?
Are your posts logically linked together, allowing your reader to dig deeper into your content?
Does your blog have a Search Bar, to allow your visitors to quickly and easily find topics of interest?
Does your blog layout make it easy to find more information about you, your products, and your business?
Are your articles organized in to categories of interest to your readers, and can they easily find a search these categories?
If you can answer yes to all of these questions, your readers will camp out at your site yearning for more!
4.  Have a Clearly Visible Popular Posts List
Most people are natural followers.  They want to see what others find interesting and worthwhile.
Sure, they can scroll through your posts to see which blogs had the most comments and shares, but this takes time and most won't do it.
Make it easy for your readers to find your Most Popular Posts by installing the WordPress Popular Posts plugin on your blog.
If you don't want to use a plugin, then you can create a list of popular or recommended posts yourself and place it on your sidebar.
However you choose to do it, make it simple and easy to find.
5.  Display a "For First TIme Readers" List
Along the same lines as Popular Posts, you also want to give your first time visitors an easy way to discover what your blog is all about and give them a taste of things to come.
You can create a "For First Time Visitors" list of posts on your sidebar for easy navigation.
Another way is to create a Start Here page on your blog with a link under your header.  Clicking on this link will take your first time readers to a page dedicated to them, where you can craft a short welcome message, perhaps add a Welcome video to tell them what to expect on your blog, and then a short list of your blog posts that will give them the flavor of your blog.
However you choose to do it, it's vitally important that you make your First Time Visitors feel at home and welcome.
6.  Make Your Blog Easy To Read and Pleasing To the Eye
There's nothing so wasteful as great content presented in a terrible fomat!
Why?  Because even the best content will get skimmed, or even passed over completely if it's hard to read.
There are easy ways to make your blog posts easy to read and inviting to your readers:
Write short paragraphs of no more than 2-3 sentences to break up the text
Use images to add to the visual experience of your posts
Use well placed subheadings to organize your thoughts
Make use of lists to get across your message.
Don't make your post any longer than it needs to be – edit, edit, edit!
Be sure your blog design and layout isn't too busy or complicated.  Here's one place you really want to keep it simple.
Make your header need and clean with a short, well crafted tag line.  Keep everything well organized and easy to find.
7.

Tell a Story
Everyone loves a story.  In fact, storytelling is one of the best ways to engage your reader and have them begging for more.
If you want your blog to be a really cool hangout, you'll need to develop your storytelling skills.
Make it a habit to include a story in every post.
And do it early!  They key to getting someone to read your post is to engage them early, in the first 1-2 paragraphs.
I like to start my posts with a brief introduction and a story, because it gets my readers involved and curious about what's to come.
Stories are great ways to hold your readers interest… use them to your advantage!
8.  Don't Become Too Predictable
One of the worst things a blog can be is predictable.
This can mean predictable by way of writing about the same things over and over in slightly different ways.  Nobody likes rehashed information.
Your blog can also become too predictable if they only hear from you!  Interviewing others that your readers would benefit from is  a great way to break a predictable pattern of your blog.
Allowing guest posts from other bloggers is another way to spice up your blog.
Predictability can also take hold in the way your content is delivered.
People process information in different ways, and most have a preference in how they like to learn. Some like written text, others like videos and still others prefer to listen to someone speak.
Exclusively using just one way of presenting your material is a mistake, in my opinion.  By doing so, you can drive away whole groups of people who prefer a different way of getting information.
For example, if your new visitor is someone who likes to learn from videos and you never use video on your blog, that person will probably not hang around for long.
Mix it up!
In addition to written posts, throw in some videos, an audio message or two, maybe even link to some podcasts.
Don't be predictable!
Your readers will love the variation and the sense of surprise!
9.  Make It Easy for Your Readers to Voice Their Opinion
There will be times when your readers wish to comment on something you've written (hopefully lots of times!).
It's important that you make the process simple and easy for them to do so.
Here are 2 ways you can accomplish this:
Pre-fill information.  There are 2 great plugins that will automatically fill in your visitors information to the form fields in your comments section-  MaxBlogPress Subscriber Magnet and the WordPress Subscribers Plugin.  Both are easy to use and well worth the small cost.  Imagine your reader's delight as they scroll down to comment and find their name,  email and website already filled in.  Believe me, they will appreciate this time saver!
Don't use Captcha codes. I know that spam comments are a nuisance, but using captcha codes to stop them is annoying and unnecessary, using a neat little plugin called Growmap Anti-Spambot Plugin.  Instead of adding a captcha code. you readers will simply need to check a box indicating they are not a spammer and be on their way.
10.  Encourage Participation (Reward your commenters)
If you want your blog to be a really cool hangout, then you're going to want others to participate, usually in the form of comments.  In #9, I talked about making it easier for people to comment.  Now it's time to reward them for doing so.
First, it's important to ASK them to comment and contribute to the discussion.  People generally won't do something unless you ask.
Next, you can make it worth their while.
Using a commenter-friendly plugin like CommentLuv will allow your readers to show off their new blog post when they comment.  This will give you commenters some valuable link juice back to their blogs.
Another way of rewarding your commeters is to have a Top Blog Commenters post each month, where you highlight the top commenters with a short description of their blog and an link back to their site.  We did this for the first time last month and it was so well received that we are planning on doing this every month going forward.
There are many other ways to encourage participation in your blog, like having a contest for most comments and prizes for the best comments.
It doesn't matter much how you do it… the most important thing is to encourage people to get involved.
11.  Make a Connection with Your Readers
Last, but possibly most important is to make a real connection with your blog visitors.
This won't happen overnight, but here are a few ways to jumpstart the process:
talk TO your readers, not AT them.  Write your blog posts as if you're talking to your reader one-on-one.
reply to your comments to let them know you appreciate their effort.  Ask questions to continue the discussion.
encourage your readers to connect with you on other social media platforms such as Facebook, Twitter, and LinkedIn.
visit the blogs of your commenters and leave a comment on their blog.
Takeaway
Driving traffic to your blog is an essential part of your blog's success.  But unless you connect with your readers and make it easy for them to take the next step, your blog will never reach the popularity you desire.
But make your content all about your readers and by providing solutions to their biggest problems or obstacles, and your blog will become a very cool place to hang out!
LEAVE A COMMENT and tell me that you think!