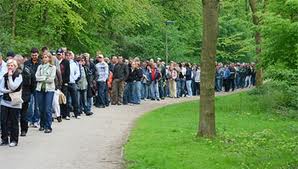 Improving blog popularity is something all bloggers strive for, because it's usually associated with more traffic, more subscribers and potentially more income.  It's like the really popular kids in school — everyone wants to hang out with them.
Your blog can be that kind of place.
But at what cost?
What's required to make your blog more popular?
Do you need to live and breathe the darn thing, or can you dramatically improve your blog popularity and still lead a fairly normal life?
What about part time bloggers — those people who blog "on the side" after finishing work for the day, or stay at home parents who blog in between their kids' naps?
Do they have a chance at improving their blog popularity?
Today, I'm going to show you how you can drastically improve your blog popularity in 60 days or less…. while writing just 2 posts per week!
If I can do it working 60 hours/week as a Healthcare Professional, so can you.
How Do You Measure Blog Popularity?
Before I tell you how I was able to make our blog more popular, we must know how to measure it.
There are many ways to measure blog popularity, but I chose 2 main areas on which to focus:
Traffic (using Alexa Traffic Rank and Number of Page Views)
Reader Interaction (Number of Comments, Subscribers and how long people stay on the blog).
You can find your blog's Alexa Rank over at Alexa.com, or you can download the Alexa Toolbar on your browser.  Alexa Rank is a little weird — the more traffic your blog gets, the LOWER the Alexa Rank.
If you missed it, be sure to read:   How I Boosted my Blog's Alexa Ranking by 108% in 30 Days.
Improving Blog Popularity:  Our 60 Day Results
We started out this blogging journey to see if it was really possible to improve our blog's popularity with limited time to spend writing and promoting.
Because of this, we limited our blog postings to 2 times per week.  We also never spent more than 10 hours/week on our blog.
Here is what our blog statistics looked like on April 5, 2011.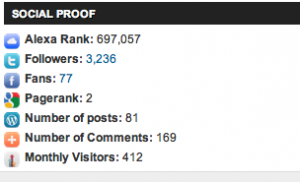 Now here's the same snapshot taken on June 5, 2011, 60 days later: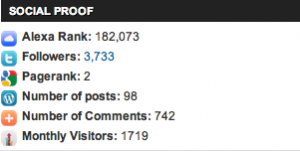 What about the MONTHLY PAGE VIEWS over the last 2 months?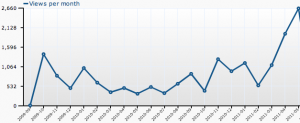 During the last 60 days:

We boosted our blog's Alexa Ranking by over 280%
The number of COMMENTS more than quadrupled.
MONTHLY VISITORS?  4x more
We doubled our MONTHLY PAGE VIEWS
Our blog subscribers more than doubled, as did our "Free Giveaway" optins
All done with publishing only 2 blogs posts per week (total time on blog- 10 hours/wk or less)
Our blog popularity even extended over to our Social Media Accounts:
Our Twitter followers increased by 500 (without us adding any followers directly on Twitter)
Our Facebook fan page "Likes" increased from 77 to 119.
Our Readers Liked What They Saw
Over the last 60 days, each reader spent an average of 4 minutes and 30 seconds on our blog.  That's considered pretty good, and means that we are writing content that our readers resonate with.
It also means we are attracting the right people to our blog!
Pretty cool stuff, right?
So now you're wondering….
How Did We Improve Our Blog Popularity so Drastically in Just 60 Days?
As we explained in our previous post showing our success 30 days into this blogging experiment, initial improvements were a result of:
Setting and Sticking to a Blogging Schedule
Taking Blog Promotion Seriously
Joining a Blog Commenting Tribe
Developing a Blog Commenting Strategy
If you haven't thought about a blog commenting strategy yet, check out A Highly Effective Blog Commenting Strategy for Busy Marketers.
The results in 30 days were great, but what happened in the next 30 days was nothing short of amazing.
Huge spikes in traffic, blog comments, and subscribers were the result of adding just a few tweaks into the mix:
1.  Promoting on Niche Social Networking Sites

We had already been promoting our blog posts on global social media sites like Facebook, Twitter and Digg.  When we added Niche Sites into the mix, things started to explode.

The sites we promoted our blog posts on included:

2.  Replying to Comments

We made it a habit to reply to all comments on our blog posts, and continued the discussion in the comments section.

We also pinged all of our comment replies, to be sure that the search engines knew about them!

3.  Incoming Links for our Commenting Efforts

This one happened as a consequence of our efforts in commenting on other blogs.

We were named as Top Commenters of the Month in at least 3 blogs that we know of.  This resulted in lots of incoming traffic and link juice for our blog.

Gotta love it when you get rewarded for your efforts, right?

4.  Downloaded the Alexa Toolbar

In the last 30 days, we downloaded the Alexa Toolbar to our Firefox browser.  This is a little trick told to me by blogging expert Yaro Starak, who found that simply by installing the toolbar, your Alexa rank would improve.

I'm not sure how much this helped, but why not?

5.  New Header Graphics

We spent some money here, but not as much as you might think.

We hired a Graphic Design specialist from the Philippines to make our blog header look more clean, neat and professional.

What do you think?

The whole idea was to make the whole blog experience better for our readers and make it easier for them to find what they want.

From the feedback we've received, I think it was a worthwhile investment.
Of course, we also continued doing everything we did in the first 30 days as well, to keep the momentum going.
Improving Blog Popularity:   What's Next?
Our goal is to get our Alexa Ranking down to below 100,000 in the next 30 days and to quadruple our traffic and blog subscribers.
To do this, we'll need to throw some more cool strategies into the mix, but we'll wait to tell you about those in our next update (30 days from now).
What do you think?    Will we achieve our milestones?
Stay tuned.
Your Turn

What have you done to increase YOUR blog traffic?  What works, and what doesn't?

LEAVE A COMMENT and join in the discussion.

And of course, if you found this post valuable, please SHARE IT WITH YOUR FRIENDS.