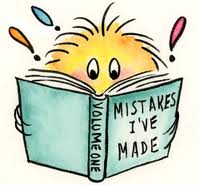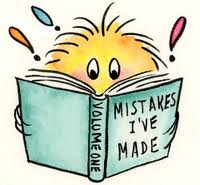 We've heard a lot about resolutions and goal setting this week.  This is the time of year where everyone is reflecting, basking in the glow of their successes and lamenting their failures.
Focusing on the positive is always a good thing — like when I asked our Experts Speak blogging panelists to tell us about their biggest business breakthroughs in 2011.
Some people are busy setting goals for the coming year, while others like me are simply picking 3 words to live by in 2012.
But what of our mistakes that we made in the past year?

Is it best to leave them alone, hoping not to repeat them in 2012?

Or is it better to look them squarely in the eye and learn some business and life lessons in the process?
I'm choosing to bare my soul here and reveal to you the mistakes that cost me in 2011.
Spotlighting Mistakes:  Putting Focus on the Negative?
I'm sure all my Personal Development buddies are cringing as they read the first part of my post.  
I can just hear them saying, "NO, Bob… Focus on the positive, on all your accomplishments this past year!"
And there were quite a few to celebrate.
But here's the thing about mistakes.
They are only negative if we don't learn something from them.
Failures are never truly failures, unless you give up and stop trying.
So with this in mind, here are my 3 biggest screwups this past year.
My Biggest Screwups in 2011
We all make mistakes.  Nothing to be ashamed of.
So then why do we squirm in our seats when asked to reveal them?
Here are my biggest mistakes in 2011… and most importantly, what I learned from them.
1.  I Allowed Fear To Get in the Way of Doing Webinars
Webinars are huge right now.  They are a great way to get noticed, show your leadership and build credibility.
Yet for some reason, the technology involved in the process has intimidated me to the point that I never pursued it.
I knew I should, but I kept procrastinating and making excuses.
Finally, in late December I participated in my first webinar, together with Ken Pickard, VaNessa Duplessie, Mavis Nong, and Sandy Moore.
It was a bonus we all offered as part of the Top 50 MLM Blogs Competition.
And you know what?
It wasn't the best webinar ever!
Not due to our content — it was great — but because we had huge audio tech issues.  
But in the end, we delivered what we promised and I learned a bunch in the process.  And it wasn't nearly as scary and I thought it would be.
What I learned:  If fear is standing in your way of doing something, find people who've already done it and ask them to work with you.  

I know that Ken, VaNessa and Mavis have all done webinars before, and I was grateful to have them with me on my first webinar.
2.  I Didn't Pay Enough Attention to My Analytics
My focus this past year has been on… well, FOCUS!  
Rather, focused productivity.
I decided early in 2011 that I would go all out to improve my blog popularity.
I did all the right things, but I became a bit obsessed with putting out my 2-3 posts each week, no matter what.
What did I forget?
I neglected to keep a closer eye on my analytics!
Where was my traffic coming from?

Where were my leads coming from?

Who was sharing my posts?
Nope, I just kept writing and writing, focused on my goal — and this was a mistake.  
If I had bothered to take a periodic peek, I would have seen that Facebook was huge for me in driving traffic and getting leads, while the other social media venues were not as great.
If I had looked, I would have known to hit Facebook harder, driving even more people to my blog.
Or, I could have seen where I needed to improve.
What I learned:  Never, ever get into a car with no steering wheel!  It would be incredibly dangerous.  Just as dangerous (in business) is to work blindly without knowing how you're doing.  This year, I will dedicate time to reviewing what's working and what's not.
3.  I Failed to Develop a Better Relationship with My List
I admit it.  There were times this past year when I got so focussed and so busy that I neglected my list.
Can you imagine?
My most valuable business "asset" and I failed to nurture it.
I'm on the lists of many of the most successful marketers online, and one thing they have in common is that they all — without exception– work very hard at developing a relationship with people on their list.
Somehow, I failed to make this a priority in 2011.
What I learned:  Because I failed to keep in regular touch with my list members, I became more of a stranger than a friend.  This year, I pledge to be far better at building a strong, positive relationship with members of my list, offering value above all else.
~~~~~~~~~~~~~~
There you have them — my 3 biggest mistakes in 2011 — and thank God for them!
You see, mistakes are more than just things you did wrong.  They represent a HUGE POTENTIAL for learning to do things better in the future.
After all, you now know what doesn't work, right?
What Were Your Biggest Mistakes in 2011?
So what about you?  Did you make any big mistakes this past year?
More importantly, what did you learn from them?
LEAVE A COMMENT and JOIN IN THE DISCUSSION!