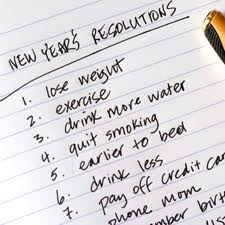 It's that time of year again… New Year's Resolutions.
Some love 'em and some hate 'em… but that's all you hear about in the news, magazines, newspapers, blogs — it's everywhere.
In fact, I've even written about New Year's Resolutions here on this blog:
3 Critical Goal Setting Strategies to Achieve Your New Year's Resolutions
And for those that believe in being proactive, try this one:
Why Network Marketers Make Their New Year's Resolutions in November
This year, I've decided not to make any New Year's Resolutions.  I'm sick and tired of making Resolutions, breaking them by the second week of January and then beating myself up until June.
Nope, not this year.
But I am doing something to replace my resolutions.
I'm talking about my 3 words.
Why 3 Words?
I got the idea for using 3 words on which to focus my efforts throughout the year from expert blogger, Chris Brogan in his post, "My 3 Words for 2012".
So why 3 words?
Chris tells it this way….
"Every year, I come up with three words that will be my guiding pillars for what I will focus on in the coming year. Instead of resolutions, which don't usually help me very much, I work hard on using these words as a lighthouse for my actions and efforts."
This made so much sense to me.
3 words that I can tape on my bathroom mirror, as a reminder each day as to what actions I should be taking.
It's a great way to ensure that your actions are in line with your goals for the year.
No more broken resolutions, now I have my 3 words.
My 3 Words for 2012
Here are my 3 words that will serve as my beacons for 2o12:
VISIBILITY

I will become more visible in 2012.  Visibility is a key to online success.

After all, if you aren't seen, you aren't a factor, right?

How will I increase my visibility?

I will guest post on other blogs at least once a month, exposing my writing to a whole different set of readers.

I will start doing webinars (either alone or together with other marketers).

I will take more of a leadership role in social media (starting my own Facebook group, Triberr, tribe, etc.).

When people think of Part Time Online Marketing, I want Bob and Rosemary to be the first people they think of.

FOCUS

In 2012, I will strive to be more focused.

Because I work full time and have limited time to work on our business, focus is non-negotiable.

It's not a matter of "I should focus more".  Rather it's….

I MUST FOCUS MORE!

I will be more focussed and more productive by:

limiting distractions when I work

creating a schedule and sticking to it

finding an accountability partner to keep me on track

INTEGRITY

Integrity is my final word for 2012.  

I made it one of "my words" because I believe that your integrity must be a guiding light in your business.

My goal is to be sure that every ad I place, every blog post I publish, and every sales page I write be in integrity with who I am and what I stand for.

Being in integrity with my business at all times is at the top of my list in 2012.
Your Turn
What are YOUR 3 words for 2012?
Let me know in the Comment Section below… and be sure to post them on our Facebook Page.