For the past 2 weeks, I have been on vacation from my job.  WooHoo!!!
Boy, did I have plans for these 2 weeks!  The first week we traveled to Florida to visit our daughter and get some much needed rest and relaxation.
The second week of my vacation I was going to devote to my Online business.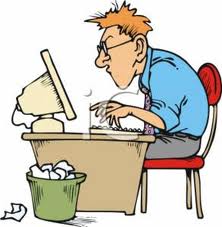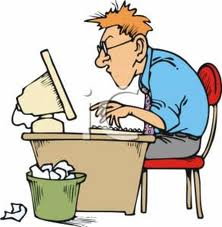 I had BIG plans!
I was going to post on my blog at least 3 times, write a new ebook for my free giveaway, and even work on my first paid product.
I was going to work on my blog redesign and shoot some videos that would add a very personal touch to our site.
I was going to ROCK my online business!!!
After all, I had SO much time to devote to it… a full week, 7 days, no interruptions.
What could be better?
Working From Home Full Time is Heaven…..  Right?
Most of our readers at BobandRosemary.com are Part Time Networkers or Bloggers and would do ANYTHING for MORE TIME to devote to their business.
Me included.
What I soon found out was this:
 It's much HARDER to Work From Home Full Time than I thought.
And I also realized something else:  Most of the issues regarding TIME and PRODUCTIVITY facing Part Time Networkers are equally difficult for Full Time Marketers.
Maybe more so.
Take a quick look at what happened during my week as a full time marketer.
Distractions, Excuses, Interruptions… Oh My!
Here are just a few of the things that "got in my way" during my week working from home:
One of my best friends heard I was home all week and decided to stop by for a visit.  It was nice the first day, great to catch up.  Not as nice on the 2nd, 3rd and 4th day!
We decided to have our wood floors refinished.  Better not to start working when all that noise is about to start.
Floors done, new couch being delivered.  Best not to start anything, just to get interrupted when the delivery comes (2 hours late).
My wonderfully talented wife decides to redecorate our living room.  She's painting the walls… I feel guilty and lend a hand.  Looks gorgeous, no blog post today!
Wow, Bonanza reruns!  It's been so long!  Let me watch for a while.
The drug store called – my prescription is ready for pickup.  Why waste the $1.25 charge on the delivery, when I can pick it up myself?
Yankee Baseball matinee at the Stadium — let's go!  The work can wait til tomorrow, right?
Start work, but decide I'm hungry and run to the refrigerator — about every 2 hours!  (I am not 8 lbs heavier and need to diet).
Wow, I thought it would be so easy to work from home full time!
Turns out, its not as easy as I thought.
Lessons Learned
Here are some of the lessons I learned this week Working From Home:

1.  Discipline is Even More Important

I'm always preaching to my Part TIme readers that discipline is essential if you want to succeed.  Turns out that when you're working from home Full Time, discipline is even more important.

2.  Distractions are Everywhere

 There are far more distractions and interruptions than I ever thought possible when working from home.  Friends, family, errands, and alike will suck the time right out of your day.  Best to be have a plan for dealing with them, I would guess.

3.  Planning is Key

This is no different than for Part Time Networkers — planning is essential if you want to maximize your productivity working from home Full Time.  I got away from my usual planning rituals, crazily thinking that it would all just fall into place with so much time.  WRONG!

4.  Keeping Fit is Difficult

I worked from home for one week, and I gained 8 pounds.  Why?

Because the refrigerator kept calling my name!

When working from home, you must be diligent about your diet and your health.

5.  Watch those Perfectionist Tendencies

I recently wrote a post about

Perfectionism vs. Productivity

meant for Part Time Networkers.  But when

working from home full time

, it's even easier to fall into the trap of trying to be perfect.  After all, there's so much time, right?
Takeaway
Virtually all of the things I preach here for Part Time Marketers also apply to those working from home Full-Time.  Perhaps even more.
Proper planning, prioritizing and avoiding interruptions are just as essential for the Full Time Marketer as those working on their business Part Time.
And discipline?  Well let's just put it this way….
I now have a DEEP RESPECT for Full Time Marketers and their ability to get things done.
Your Turn
For the Part TIme Marketers in our audience, what has been your experience during those times when you can work on your business for an extended block of time?  Easier or  harder?  Did you get much done?
For the Full Time Marketers, what are your biggest challenges working from home Full-Time?
Leave a Comment and Join in the Discussion.