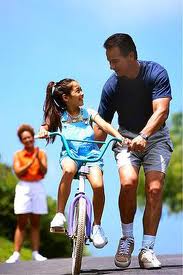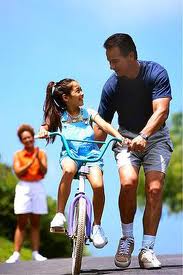 I was sitting on my front porch the other night watching my young neighbor's attempts to learn how to ride a bicycle.  I had seen her out there on other nights and it seemed she would never get it.
This poor little girl fell time and again, sometimes even driving her to tears.  But she always got up, dusted herself off and tried again.
On this night, she was decked out with her helmet, elbow and knee pads and a look of determination on her face.
Would this be the night she'd do it?
Her Dad (a very patient guy) stood next to her, shouting encouragement and was quick to help her up when she would once again fall.
Time and again she tried.  I hurt just watching her.
And then….
This determined little girl got onto her bike, started peddling, swayed to her left and then to her right and just as I thought she would fall once again, she took off!
I've never seen such a combined look of exhilaration and terror on someone's face.
SHE DID IT!  Her Dad screamed in delight.  The whole neighborhood applauded the little girl. 
She had conquered her fears and would never look back.
What a great story, right?
Anyone who has ever taught a young one to ride a bike can certainly relate.
But what does this have to do with building your online business?
Everything!
How This Little Girl Can Help You Build Your Online Business
That little girl could have quit a long time ago.  No one would have blamed her.
She certainly tried hard enough.
But she didn't and if you're trying to build your online enterprise, you can't either.
People ask me why so many people fail in Network Marketing, and my immediate response is always the same.

There are lots of reasons, but in the end the biggest reason is this:

They Quit.

They are fearful of failure, getting scammed, getting out of their comfort zone, or trying to "sell".

They are fearful of so much, and they quit.

If you're going to be successful, you can't stop trying, it's as simple as that!
Let's get back to our story.
Building Up Your Momentum
Next, I watched as a young biker was ready to tackle a very steep hill around the corner from our house.
He stopped at the base of it, got off his bike, wiped his brow and I could tell he was unsure if he could do it.
After all, it was SO steep!
But on his bike he hopped and started peddling.  The going was slow, but with each pedal he got a little farther up the hill.
I could see his legs shaking under the stress, but he kept going, one pedal at a time.
It seemed impossible, but then he looked up and could see the top, the apex of the hill.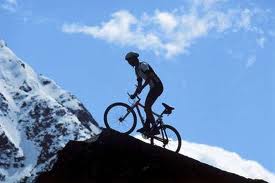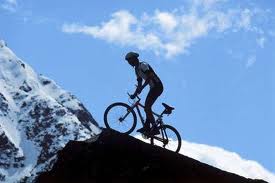 He was almost there!
A new look of determination came over him, and although his legs were trembling he kept moving forward.
Each time he pedaled he was that much closer to the top, although the distance he went was almost imperceptible.
He wouldn't give up. 
And finally, one last push put him on top of that steep hill.  He was triumphant!!
With your online business, your success is going to seem a lot like that young bicyclist trying to bike up that hill.

The going will be tough and there will be times when it seems impossible.

But your consistent effort,  just like each time he pedaled his bike, is what will push you towards the success you covet.

Each blog post takes you one step closer.
Each article you write, each video you create will move you further up you own personal success hill.
Each conversation you have, each prospecting call you make takes you further up still.

The point is, each effort you make, seemingly small and not worth much on its own will move you that much closer to your goal.

It's these small steps, done consistently over time that will deposit small coins into your success bank account.

Until one day, you look up and find that you are the SUCCESS that you've dreamed about.

You've made it!
Takeaway
Just like learning how to ride a bike, you must try again over and over, despite the inevitable failures when trying to start your online business.  You must face your fears, overcome your obstacles and never, ever give up.
Once your business is rolling along, it will be the small, consistent steps taken over time that will ultimately result in the success of your online enterprise.
You can climb the hill of success, if you just keep trying!
Your Turn
What are your favorite success stories?  Do they inspire you in your quest to build your online business?
Leave a Comment and Join in the Discussion!