If you're going to make a life-changing income in Network Marketing, you'll need to stop hiding behind your computer. Get out there and make the connections in your business that will ultimately be the difference between it's success and failure.
Listen, I LOVE the internet and the multitude of ways I can use it to leverage my time and market my primary business. I can post ads, attract targeted leads, and build email lists.  I can write articles and make videos and share them with people all over the Globe.  It is truly powerful!
But at the end of the day, it's all about connections.
How Did We End Up on the Infield of Yankee Stadium?
Today, Rosemary and I were on the infield of Yankee Stadium before the game.  We met the grounds crew and learned how they care for the field.  We watched manager Joe Girardi play catch with his young son in the outfield.
Heck, Rosemary even met Yankee pitcher A. J. Burnett!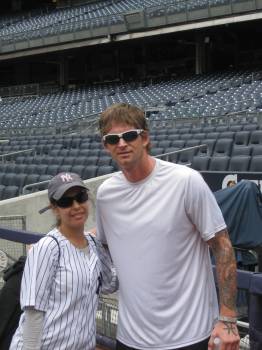 How were we able to this?
It's All About Creating Connections That Matter
Here's how it went down:
I am very close with my brother.  We connect often on the phone and do things together whenever possible.  Our families even vacation together on occasion.
My brother is the Director of a Top College Turf Grass Program.  One of his former students is a friend of (connected to) the head groundskeeper at Yankee Stadium.
Through this connection, my brother brings his college class to the Stadium every 2 years to learn about their field maintenance.
Though our connection, my brother knows we love the Yankees and because we are well connected, he invites us to join him.
Note:  NONE of this was done with the aid of a computer.
[youtube]http://www.youtube.com/watch?v=uc2yV1MIKRk[/youtube]
What Does This Have To Do With Network Marketing?
Everything.
You see, more often than not it's the connections we make at live events or on the phone that make a network or internet marketing business successful.
Sure, you can meet others on the Net and start to build relationships, but it's solidifying those relationships by meeting people personally or hearing their voice that cements the connection.
It's about meeting people who may join your business.

It's about meeting other business owners who may need your services.

It's about meeting that mentor that can propel you forward in your business.

It's especially about meeting others who may join you in a business venture.
That's the power behind making connections!
3 Painless Ways to Make Connections "Off Line"
You may be thinking that I'm talking about the "old school" Network Marketing tactics of enlisting your family and friends or handing out pamphlets at your local mall.
Don't worry, that's not what I have in mind.  Rather these are simple ways you can meet people "naturally" that will likely result in great connections for your business.
Attend a Live Event
I've preached at length about the numerous benefits of attending a live event, so I won't elaborate here.  Simply know that I have found this to be the one thing that all successful Network Marketers have in common – they all make connections with others at live events.
Join a Local Group
This can be done any number of ways.
Here is one of my favorites –  find (0r start) a Linkedin or Facebook group of network and internet marketers who live within driving distance from your home.
We are members on one such group that meets once a month at a local restaurant.  Everyone talks a little about their business and their skills and business cards are exchanged.
It's a great way to get to know each other and forge mutually beneficial relationships.  It's in these face-to-face meetings that connections (and money) are made.
Attend a Local Chamber of Commerce Meeting
If your city or town has a local Chamber of Commerce (consisting of local businesses), this is a great way to meet other small business owners.  Attend their meetings, introduce yourself and just get to know them.  This is not the time to pitch your business, but to listen to others and gauge their business needs.
When the time seems appropriate, sometimes a simple question like "Are you open to exploring other ways to make money for your business?" can open the door to some very profitable connections.
These are just a few simple ways to make important connections for your Network Marketing business.
Takeaway
Use internet marketing to extend your reach and get your message out to people all over the world.  But don't get too comfortable.
At some point you need to stop hiding behind your computer, get out there and make the connections that will change your business and your life.
What other ways can you think of to make connections for your business?

What's working for you?

Join the discussion and LEAVE A COMMENT!