In the following post, I'm going to show you how I was able to boost my blog's Alexa Ranking by 108% and dramatically increase my traffic, subscribers and comments in just 30 days.
The best part?
It's something anyone can do — even Part Time Networkers like me with limited time to blog!
My 30 Day Blogging Experiment
Blogging is such a powerful way to brand yourself, make connections and build relationships, and make money online!  After months of floundering around the blogging world, posting inconsistently and half-heartedly, and treating my blog like a hobby, I finally came to this realization:

"If I was going to make blogging a major part of my online business, I needed to get SERIOUS!"
I wanted to see what it would take to really boost my blog presence, increase my traffic and my subscribers.  But I didn't want to spend 40 hours/week doing it!
In fact, if you are regular readers here you know that I am a proud member of the Part TIme Networker Club.  In other words, I have a full time job and the usual family obligations so I am only able to work on my business (and my blog) a couple of hours each night.
So here was my question:
Was it possible to really improve my Blog Performance without blogging every night of the week?
Typical Benchmarks to Measure Blog Performance
There are quite a few typical benchmarks that people use to compare your blog to others:
Alexa Ranking is a measure of the traffic coming to your blog.  It's usefulness is in question for some sites, but it at least gives you an indication of where your blog stands in comparison to others in your niche.  A lower Alexa score is considered "better" and is associated with a blog or website getting a higher amount of incoming traffic.
Google Page Rank is a link analysis algorithm that ranks a blog or site according to many variables, including the number and type of incoming links.  GPR is based on a scale of 0-10; the higher number, the better.
Number of Subscribers – how many people subscribe to your blog using either the RSS feed or email subscription.
Number of Comments – how many comments you receive on your posts – a measure of reader participation and interest.
Unique Monthly Visitors – a measure of traffic, how many unique visitors come to your blog
Bounce Rate – a  bounce is when a visitor lands on one page of your site, and doesn't visit another page in your site.  When expressed as a percentage of your overall visitors, bounce rate can be calculated (Lower is better).
Time on Site – how much time each visitor spends on your site (higher is better).
My Results
Below are 2 screenshots taken off my blog, one in the beginning of April and the other in the beginning of May (30 days apart):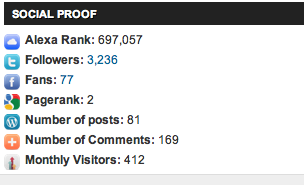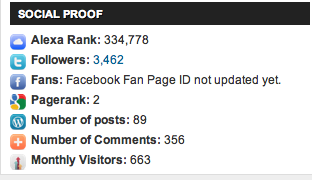 So let's compare and look at the percent change in our benchmarks:
Alexa Ranking …………… + 108% (decreased by over 350,000)
Google Page Rank……….. No change (2)
Number of Subscribers ….. + 58%
Number of Comments …… + 111%
Unique Monthly Visits….. + 61%
Bounce Rate – did not change (62%)
Time on Site – did not change much (went from 4 min 39 sec to 4 min 13 sec)
# of posts in 30 days = 8
In 30 days, I was able to boost my Alexa Ranking by 108%, increase my traffic (unique visitors), better engage my readers (comments) and provide content they were truly interested in receiving (subscribers), all with writing only 2 posts per week!
What's The Secret?….  Drum Roll, Please
Okay, let's get one thing clear.
While I do find these results extraordinary (at least for me), I didn't do anything extraordinary to achieve these results.
And any one of you can do the same thing while only spending a couple of  hours each day (not including weekends) on your blog.
Here's What Was Different About This Month
1.  I decided to become a real blogger
This may sound like a no-brainer, but before this month I would call myself a "weekend blogger", similar to the weekend warrior, I suppose (you know, those middle age guys who do no activity during the week and then blow out their knee on the weekend trying to be 20 again).
I have seen first hand how powerful blogging can be for other people, and I decided that if I was going to be successful, I would need to be serious and get to work.
This was more of a mindset shift, but it was an important change for me this past month.
2.  I set a blogging schedule and stuck to it!
The key here is consistency.  Before this month, I would write a few posts when I felt inspired and then leave my blog alone for days or weeks at a time.  In April, I set a schedule to write 2 good quality blog posts each week, no exceptions.
Two posts each week is highly do-able for even part time Networkers with a busy job, like myself.
3.  I got serious about blog promotion
Even the most well written posts are useless unless others see them!  So I knew I needed to get serious about promoting each blog post.
I shared each post with my social media networks and bookmarked them on Digg and Stumbleupon.

I joined a few relevant Facebook groups and promoted my blog posts when appropriate.

I promoted my posts in BetterNetworker.com, with links back to my site.
If you want to get serious about Blog Promotion, I suggest you pick up  a copy of  The Ultimate Blog Post Promotion Guide. Click here to view more details.
4.  I joined a Blog Commenting Tribe
Tribes have become the new buzzword, and with good reason.  The idea behind a Blog Commenting Tribe is that members comment on each other's blog posts, with an option to share in social media if they so desire.
It's a great way to meet other bloggers, build those critical relationships and get many great comments on your blog.
There are several tribes that are quite good and I am a member of many of them, including Empowered Tribe, Unified Tribe, and TSA Mastery.
However, with limited time I couldn't possibly participate effectively in each tribe, so I chose one.
In April, I focused on the Commenting and Content Sharing Tribe over at CleverMarketer.com.  Twice each week, I would submit my posts for sharing, and helped 10 others in the group share their content.  It was fun, not very time consuming and I made some great new friends.
5.  I Made a Blog Commenting Strategy
Before this month, I would randomly  find some interesting blog post and leave a half-hearted comment, not paying much attention to any response I would receive.
I know that blog commenting is a great way to drive traffic back to your own site, but I needed to have a strategy.  Otherwise, I could waste a lot of time.
I will reveal my entire blog commenting strategy on my next post, but it's important to understand that you must have a plan when it comes to blog commenting.  If you are building your business part time, you can't afford to jump around and comment on any blog that looks interesting.
Be sure to read: Effective Blog Commenting for Part Time Networkers.
There's More Work To Do!
This has been an amazing month.
In just 30 days I was able to make some great strides towards making my blog more relevant and more visible.  And I did it in a very time efficient manner!
But there's much more to do:
I must continue to be consistent in my posting schedule and doing the promotion necessary to continue bringing traffic to my blog.
My Bounce Rate is still much too high.  This means that the majority of people are leaving after reading only one page.  I will need to do a better job at deeper link building to bring this down.
I need to work on increasing my Google Page Rank.  To do this, I'll need to get many more inbound links from sites of authority.  I will be developing a strategy for doing this in the coming months.
I'll keep you in the loop and report my progress next month!
Tell me what you think!  Leave a comment.

If you think your social circle of friends would find this post useful, please SHARE IT!