Time…
There are 2 truths when it comes to TIME and building your business.
There usually isn't ENOUGH of it.

We tend to waste it doing the COMFORTABLE rather than the NECESSARY.
I've made it my business to solve these time issues.
Out of necessity.
I work 50-70 hr weeks in my job in Reproductive Medicine.
So I only have a couple of hours each night to work on my home business.
My friends and colleagues have been after me for a while to talk about how I do it.
And I've been reluctant, mostly because I wasn't sure there was an interest.
Then I polled my list and I asked the simple question…
"Would you be interested in a webinar on How to Build Your Business in just 2 hours/day?
Here's the response: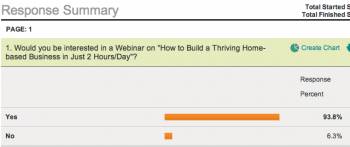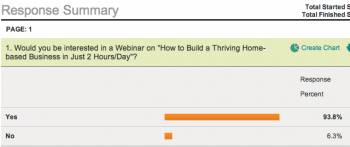 So, I guess it's time.
Announcing a Free Training…
Monday, 12/10/12

9PM ET Sharp (recording available to those who register.
Among the topics I'll be discussing:
how to make more time in your day- take the Time Challenge

how to stop wasting the time you have

what you need to be focusing on when working on your business

and much more.
Join me Monday night, 12/10/12 at 9pm ET:
.