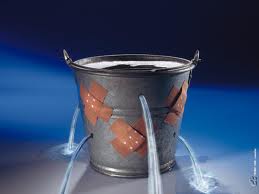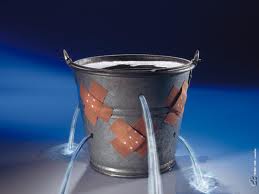 Whether you're working from home Full Time on your home business venture or you're a Part Time Marketer building your business on the side, there's one thing we can almost all agree on — We're not as productive as we should be!
It can be confusing and frustrating.  We work hard, keep busy, and even sacrifice sleep just to build the life of our dreams.
But at the end of the day, so many times we're left with the nagging question…
"What did I do with my time today?"
Indeed, we can spend our day busy every minute and still not move one inch closer to our business goals.
So what's the problem?
It often comes down to what I like to call PRODUCTIVITY LEAKS.
It's Hard to Fill a Leaky Bucket
Have you ever tried to pour water into a bucket filled with holes, like in the picture above?  It seems like the more water we pour in, the faster it leaks out.
And if we try to plug the holes, new ones seem to appear out of nowhere and we're back to the same problem.
It's the same with our productivity.
All of us have leaks in our time and productivity, big and small holes that keep us from moving forward at a faster pace.
Pretty frustrating, right?
What are Examples of Productivity Leaks?
Everyone's productivity leaks are different.  For some, it may be the ways in which you are using your time.  For others, it may be things you're not doing, as in avoidance behavior.  Finally, there are leaks in productivity caused by doing the wrong things.
The examples below are productivity leaks that I identified in myself.  Perhaps you'll see yourself in some of these, as well:
Watching baseball on TV when I should be working.
Spending way too much time on Facebook when I should be doing something more productive.
Checking emails constantly throughout the day.
Struggling with perfectionism vs. productivity — failing to move forward in a project because it's not perfect.
Wasting time listening to news radio in the car, when I should be listening to motivational and mindset CDs (making my car a rolling university).
Oh, one more I forgot to mention and it's one that I'll bet many of you fall victim to — you've become a Professional Student.
Now, you're probably saying…
"How can this be wrong… Dr. Bob is always preaching about improving our value by improving our skills!   How can taking training courses be bad?"
Good question.
A while back I wrote a post called "How to Buy Information Products Without Wasting your Time and Money.
If you haven't read it, take a look after you finish reading this post.   It will open your eyes.
Okay, now that I've given you some examples of Productivity Leaks, how can you identify your own?
How To Identify YOUR Productivity Leaks in 3 Simple Steps
If you want to figure out where you're losing productivity in your day, it's a pretty simple process.
Step 1:  Perform a Time Audit
This is the most tedious part of the process.  For the next week, keep a small notebook with you at all times.
Write down how you spend your time during the day.  Be as exact and quantitative as possible.  Write down what you do and for how long.
This may seem unnecessary, but believe me you'll be surprised when you see how you're spending your time.
Step 2:  Summarize Your Weekly Time
As you look at your Time Audit, you'll begin to see some trends.
For example, I realized that I was spending roughly 2 hours a day on Facebook.  For someone working from home Full Time and using Facebook as a major form of marketing, this may seem reasonable.
But for me, a Part-Time Marketer who uses blog traffic as my major source of leads and sales for my business, 2 hours on Facebook each day was ridiculous.
Here's another example — when I added up all the time I spent reading and answering emails, it came down to somewhere between 1-2 hours each day.  Again, for a Part TIme Marketer, this is too much when you could be spending your time in a much more efficient way.
Step 3:  Decide if it's Important for your Business
Now take a look at the way you're spending your time and ask the question, "Does this contribute to my business in a meaningful way?"
In plainer language, is this helping me build my business or is it a waste of time?
"What will happen to my business if I don't do this task at all?"
Here's where the rubber meets the road.  Sometimes we are kidding ourselves, thinking that something is helping build your business when in reality, we're just wasting time on something that feels comfortable and is fun to do (like spending hours on Facebook to "build relationships", when really you're just avoiding doing something out of your comfort zone!).
Obviously, I'm speaking to myself there.
So be careful and try to be as objective as possible.  Identify those time wasters and unproductive tasks that are using up your time with little to show for it.
Find them and eliminate them.  Your business will thank you for it!

Marketing Takeaway
Leaks in your productivity can wreak havoc on the success of your home business.  Sometimes these leaks are obvious, but other times they can be disguised as productive tasks.
When you can identify your productivity leaks and make efforts to plug them, you'll be able to use your business building time much more wisely and likely see positive results faster than ever before.
Your Turn
What are YOUR productivity leaks?
Leave a Comment and Let's Make a List!
Suggested Business Resources
Aweber - building your list has never been so important.  Grab your Free Account.
InMotion Hosting - my preferred web-hosting service
Ubersuggest - my go-to resource for keyword research and ideas
TubeBuddy - if you're doing videos, this will be your best friend
Digital Mentors (formerly My Lead System Pro) - lead generation and course creation platform for affiliate and network marketers. Earn while you learn new skills.  Get paid for what you already know.
It's Your Time to SHINE!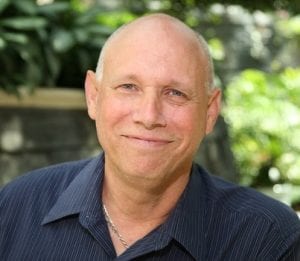 Dr. Bob Clarke
Email: Bob@BobandRosemary.com
Join our Side Hustle Facebook Group
P.S.  Need more leads for your business?  I recommend you start here and learn the fastest way to attract new prospects to YOU with timely strategies that are Working Right Now.
This post may contain affiliate links to products or services that I trust.  This means that if you make a purchase using the links included in this post, I may receive a commission at no extra cost to you.  Thank you for the support!