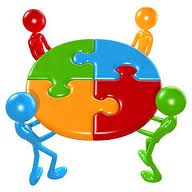 It's a trend I started seeing a couple of years ago, and it's happening more and more.  I don't know why it surprised me because it makes so much sense.
I guess I'm just surprised at how many of the Online Marketing "Gurus" are doing it.
What am I referring to?
C-O-L-L-A-B-O-R-A-T-I-O-N
Teaming up and working together to realize more results (and cash!) than they ever could individually.
It makes perfect sense and they're all doing it….. and there's no reason why you can't, too!
Collaboration in Network Marketing
One day I looked up at the leader board of the Network Marketing company we were affiliated with at the time and I noticed something really interesting — the top 3 leaders were not individuals, they were GROUPS OF COLLABORATORS.
As a matter of fact, the top "leader" was a group of 8 entrepreneurs who had teamed together, shared resources and skills and made a ton of profit along the way.
This was something I had never seen before but I liked the idea.
Collaboration in Affiliate Marketing
If you're an Affiliate Marketer, you've probably noticed the same thing — top Marketers in the industry banding together to offer extra special bonuses to everyone who signs up for a product using their affiliate link.
I saw this happen BIG TIME in the latest product launch by Mark Hoverson, his Irresistible Info-Marketing Blueprint.
This was no ordinary launch.  Never before did I see all the top Affiliate Marketers forming collaborations to compete for the top prizes (and the most cash).
Don't believe me?
Take a look at the Final Standings for Affiliates for the launch of Mark's Info- Marketing Blueprint product:


All but 1 in the top 5 spots went to groups of 2 or 3 big names in Affiliate Marketing.
And that one (Mike Klingler) is the head of Marketing Merge, Inc., which includes Marketing Funnel Mastery and Coaching Cognition, so in essence Mike pulled together many of the top entrepreneurs to offer stellar bonuses, as well.
This was a huge eye opener for me.
So What About The Little Guys (and Gals)?
As I was staring at the Hoverson Leader Board, I started thinking, "Why not me?"
Why can't anyone, regardless of the size of their following or email list collaborate with others to build success?
Granted, your chances of forming a collaboration with the Top Leaders in your industry are not great, at least until you get more established and better known.
But what about collaborating on a smaller scale?

What if you could find people just like you who are looking to team up and share expertise and skills to build their business faster?

What if you could learn exactly what to say to people to get them to collaborate with you?

What if there was a resource to help you find and build collaborations in your own business?
How would that effect your business (and your profits)?
Alot,  I would think.
Introducing Collaboration Live!
Now, I don't have to tell you about the power of Live Events…. I've written about it enough here on this blog.
But Collaboration Live! is not your ordinary Marketing Event, so big that you never see the same person twice!
This event has been put together with YOU in mind.

If there was a Marketing Event that was dedicated to building Collaborations and Alliances, would you be interested?
And what if that Event was small enough to allow the experts to personally work with you and help you find your first collaborators, would that interest you?


Richard Goutal, the organizer of the event and a great Collaborator in his own right has made it  possible for ANYONE who wants to attend can afford it.  No kidding (I thought the price was a typo!).
You can find more information here —>  http://www.collaborationlive.com,
[This is NOT an affiliate link]
Oh yeah.
I have one more surprise for you….
I have been invited to speak at this Event!
I am so excited to take my act on the road!
I'm hoping to meet many of you at this Event, talk about your hopes, dreams and challenges… and maybe even collaborate ourselves!

So if you're free on the weekend of Oct. 29-30, come hang out with Rosemary and I and network like you've never networked before.
Stop hiding behind your computer and come join us!
We'd love to see you there!