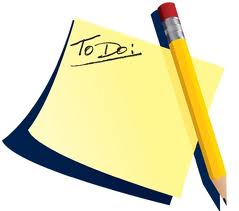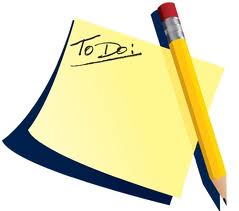 I've been thinking and writing quite a bit about productivity lately.  I've provided advice on how to find the productivity leaks in your life and your business.
In a guest post at Mavis Nong's Attraction Marketing Online, I gave her readers 25 Ways to Double Your Productivity This Week.
Both posts were very popular and generated a lot of discussion.
HAVE YOU VOTED YET?  

Take my 15 second one-question poll to vote for the subject of my next video training here on this blog.
That tells me that PRODUCTIVITY is something that many people are concerned about, and that's a really good thing.  Because if you're going to be a successful Part Time Marketer, you need to be super productive with your limited time.
Lists We've Come to Know and Love
Many of us use lists of one kind or another in our business or personal life every single day.  In fact, in many ways we judge our daily success by how well we complete our lists.
Here are a few lists that we all use:
1.  The Shopping List
I don't know about you, but if I go shopping without a list I forget something every time.  Rosemary knows better than to send me to the market without a shopping list.
2.  The "Honey Do" List
This one usually makes husbands and wives cringe — the dreaded "honey do" list.  You know, the list your wife (or husband) leaves you when you're on vacation, since you finally have some time to get things done around the house?  Like the shopping list, the honey do list will likely live on to eternity.
3.  The "To Do" List
Then there's the famous "To Do list.
As a person who studies Productivity and it's many forms, including the continuous battle of Perfection vs. Productivity, I love a great "To Do" list.
I've written a lot about how to construct an effective To Do list, with the most important tasks at the top.  You know, the ones that will have the biggest impact on your business.
And how it's a great idea to create your To Do list the night before, as the great Mike Dillard does.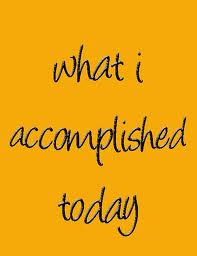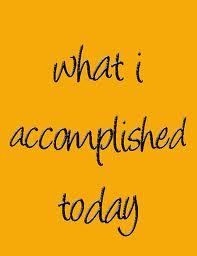 There's no doubt, a To Do list, properly done will help you to be more productive.
There's a New List in Town
We've been listening to an audio recording of The Slight Edge, by Jeff Olson during our commute to work this week.  By the way, it's an unbelievable book and on my "Must Read" list.
Anyway, one of the things Jeff discusses is the creation of a "Things I Did" list at the end of each day.
I've changed it a bit to call it my "Things I Accomplished Today" list.
What you call it doesn't really matter, the point is the same.
Having a To Do list of things you need to accomplish is great, but can lead to guilt and feelings of inadequacy if you don't get done what you believe you should have.
But by making a list of things you accomplish each day, you turn the focus on your successes.
It can make a world of difference in how your perceive your progress in your business.
But it's more than that.
The Many Uses of a "Things I Accomplished List"
Think for a minute how many ways this kind of a list can change the way you view your life.
I've been experimenting with my own Accomplishments list lately.
Here is my list for today, and it's not finished yet:
I wrote an excellent blog post today.
I visited and commented on 3 of my favorite blogs today.
I spoke with my collaborator about a talk I'm giving at a conference.
I arranged my first session with a Life Coach.
I told my wife I loved her.
I bought bagels for my coworkers.
I exercised 45 minutes
I ate healthy today.
I sat with my son and really listened to him today.
You see, not only will a Daily Accomplishment list propel your business forward, giving you positive feedback as you prepare for the next day…. but this list will also help you in your quest to improve your life.
Look at my list again!
What do you notice?
Sure, there are things I accomplished for my business, but I also included important aspects of my personal life as I strive for balance and purpose in my life.
Simple things like telling my wife I love her and taking the time to listen to my child provides the positive balance in my life that I seek.  Eating healthy and exercising were part of my day.
These are all important aspects of my own personal philosophy and it's great to see the evidence of my progress on my What I Accomplished Today List.
As I look at my list, I am filled with pride, and determination to continue my progress tomorrow.
Do you see how powerful this is?  
Your Turn
Have you ever tried a Daily Accomplishments List?  What have been your experiences?  If not, what do you think of the idea?
Leave a Comment and Join in the Discussion.