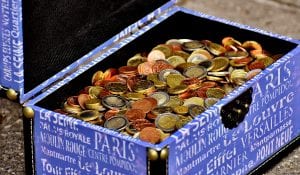 I hear this all the time…
"I'm not like you, no one listens to me."
To that, I say….  HOGWASH!
Anyone can increase their influence with people if they're willing to do one thing —
BUILD TRUST
Okay, I know your next question…
"How do I build trust in people when everyone is so skeptical online?"
Great question.
And the answer is simple.
EARN IT.
Building trust is like collecting loose coins and putting them in your Vacation Jar.
You add to that jar little by little, penny by penny until one day you have enough to take that vacation you've been dying to go on.
It's the same with trust.
Everything you do for others builds trust… slowly.
Every question you answer builds trust.

Every training you do builds trust.

Every time you help someone in any way, you build trust.
And you do so while asking NOTHING in return.
Soon, people will begin to see you as TRULY someone who has their back and wants to help.
And they begin to trust.
The process continues…
Every time you give them something else, it's like you're making a deposit into your coin jar.
CLINK!  
The sound of a deposit.
Can you hear it?
Listen for it the next time you give some value to others with no strings attached.
You'll hear it loud and clear.
CLINK!
It's the sound of trust, one penny at a time.
Why do others listen to me when I send out an email?
Why do they comment on my blog posts and my Facebook updates?
Why do they buy from me when I tell them it's a good deal?
Because they trust me.
I earned it, one deposit at a time.
CLINK!
Looking for a QUICK way to gain influence and trust of others?
Sorry, you're out of luck.
Doesn't work that way.
The bad news is you have to earn it.
The good news?
It pays off a hundred times over.
Think about it.
Not on my VIP email list?   You should be!

Click here to join… no strings attached 🙂