It's inevitable.  There comes a time for all Network Marketers when they're stuck, have no idea what to do next, and just throw up their hands and yell, HELP!
If it hasn't happened to you yet, I promise you it will.  And when it does, you can save a lot of time and money by understanding your exact needs – so that you can get the right kind of help for your MLM Business the first time around.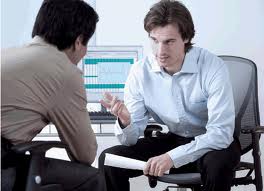 You may be thinking… "No problem, I have my sponsor."
But what if your sponsor can't help?  After all, they're most likely trying to build their business just like you.
They may or may not have the answers you need.  Of course, you can improve your chances if you understand what makes a great network marketing sponsor.
The 4 Kinds of Help For Your MLM Business
Outside of your sponsor, there is plenty of help available online.  Most serious MLM Professionals offer various coaching packages on their blog.  But before you go out and spend a lot of money on coaching only to be disappointed in the results, it's important to understand exactly what kind of MLM help you need and want.
Help for your MLM Business can fall under 4 categories:

1.  Consultant

This is probably the most common form of help that others offer.  Basically, consulting involves you (the client) wishing to understand how to perform a certain task.  For example, if you are looking for someone to teach you how to make better videos or write a better blog, you'd want to hire a CONSULTANT who is proficient in these areas.

For example, we offer a Free 15 minutes Consultation to assess your business at present.  In this session, we typically ask you to describe the current state of your business and where you feel you need help.  We then offer our best recommendations to move your business forward and realize more success

2.  Mentor

A mentor is someone who has accomplished what your covet, a person who has been down the same road and can teach you exactly how they did it.

If you're lucky, your MLM sponsor can also serve as your mentor, if he/she has been particularly successful.  However, if your sponsor can't help, all is not lost.  There are role models all over the Internet, people who are teaching others how to succeed as they did.  Chances are their help won't come cheap, but if you do your research before you jump in the water, it often is money well spent.

Be sure to check out How to Choose The Best Network Marketing Mentor.

3.  Coach

As opposed to consultants and mentors who "show you how", a good coach is a person who understands that you already have the answers within you and help to draw them out.  A coach guides you through a journey of exploration, asking pertinent questions to keep you moving forward in your quest.  A coach is particularly helpful in instances where you've had some success but can't seem to push your business to the next level.

If you are looking for a breakthrough and feel that something is holding you back, a coach is the perfect option.

4.  Counselor

Where coaches begin in the present and help you move forward, a counselor typically looks for answers to your roadblocks in your past experiences.  Counselors tend to deal more with psychological issues, and can be very helpful when these issues are preventing you from being successful in your MLM business.
When you are in search of help for your MLM business, it pays to do your homework.  Take some time to reflect and truly understand exactly what (who) you're looking for.
Once you understand this, you'll be able to more effectively search for just the right help that will propel your business forward.
What do you think?  Have you hired a coach/consultant/mentor?  What was it like?
Please LEAVE A COMMENT!
If you enjoyed this post, please SHARE with your favorite Social Circle of Friends.