Let's get one thing straight. Building a successful Network Marketing Part Time Business is HARD WORK. Not only do you have to deal with learning new skills and acquiring a new mindset, but you have to do it in far less time than full time marketers.  But it CAN be done and we have proof.
We've done it … and so can you!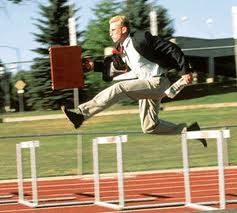 Now, I won't be talking about "knowing your why" and "wanting it bad enough."  This is really basic to why you are starting a business in the first place.   I'm going to assume that you already Know Your Why and that you are determined to succeed and change your life.
There will be challenges that are somewhat unique to Part Time Networkers… Challenges of mindset, challenges of work ethic and challenges of time management.
Not meeting one or more of these challenges could be the difference between quitting your job to work your Network Marketing business full time… and giving up and staying in your 9-5 job forever.
The 9 Killers of a Network Marketing Part Time Business
Killer #1:  Choosing the Wrong Sponsor
While your choice of a sponsor will not necessarily make or break your business, your life will be much easier if you carefully select your sponsor.  After all, this will be the person showing you the ropes when you first get started.  As a Part Time Network Marketer, having a sponsor who will guide you through the inevitable potholes in the road to success will be invaluable to your progress.
For more details on choosing the right sponsor for you, check out What Makes a Great Network Marketing Sponsor.
Killer #2:  Trying to Market to Everyone with a Pulse
I still see it being taught in many Old School MLM opportunities:  Make a list of everyone you know, cold calling, and the infamous "3-foot rule" (anyone within a 3 foot radius is considered a "prospect").  But most now agree that these strategies are unfocussed and yield poor results.  As as Part Time Networkers, you cannot afford the time to sort through the masses of uninterested people just to find one who might join you. It's not an efficient use of your limited time.
We know because we did it.  It was probably the biggest mistake we ever made in our business.
We teach our team to be selective in their prospecting.  As the saying goes, it's far better to be a big fish in a small pond than a small fish in the ocean.  Understand who your target market is (your "niche) and learn how to attract them to you.  Become the hunted, not the hunter.
Killer #3:  Not Understanding the Process (Losing Patience)
Being successful in ANYTHING is a PROCESS. Success isn't just something that comes to you while you're sleeping.  Success only comes with hard work, proper planning and the right opportunity.
As a Part Time Networker, you have so much to do with your limited time that you can easily lose sight of the big picture.  It's easy to get frustrated, confused and  impatient when you don't see success fast enough.  I will warn you right now – it will be hard to be patient.  There will be times when you think about quitting.  Don't quit!
Success in Network Marketing is no different than in any other business.  The more valuable you are to the marketplace, the more money you will make.  When you first get started, you won't know much and you'll be paid accordingly (nothing).  But as you become educated, learn new skills, and gain experience your value will increase and so will your checks.
You must be patient enough to allow the process to play out.
Be sure to read How to Become a Network Marketing Leader that Others will Follow.  It is the formula for success.
Killer #4:  Comparing Yourself to Full Time Marketers
It will be very tempting to compare your progress to other marketers in your company.  Many MLM companies have an online leader board and it's almost impossible not to check it out.  If you attend your company's Live Event (which you should), you'll see the "Rising Stars" and winners of contests marching up to the stage to receive their prizes.
If you're not one of them, don't worry — you will be.  It may just take you a little longer than the flashy guy working his business full time.
When you compare yourself to others who are successful, it's easy to get discouraged and feel that there's no chance for you.  WRONG!
Remember what we talked about above… Success is a Process.
Killer #5:  Lack of Focus and Discipline
Lack of focus and lack of discipline will kill any business, but especially when you are trying to build your Network Marketing Business part time.  As a Part Time Networker, you MUST leverage your limited time… this means being focussed on the tasks at hand and being extremely disciplined.  I always recommend my new team members to consult with their family and then set up a work schedule for their business.  It works for them and it can work for you.
Carve out times during your week (preferably some time each day) that you can dedicate to your business.  Be very rigid about this time.  You must treat it as if you were working for someone else.
Don't be late.

Don't call in sick when you're not sick.

Don't spend your valuable time aimlessly checking out your friends on Facebook (unless it's for business) or surfing the Net.
Plan the best use of your time, set a rigid schedule and don't let anything get in your way.
Killer #6:  Not Leveraging Technology
If you're working your Network Marketing business part time, you MUST be on the Internet.  No doubt about it.
The Internet is the most powerful leveraging tool EVER. Just think about it, you can reach prospects from all over the world with a simple click of your mouse.  You can hang out where they hang out online.  You can allow them to get to know you on Facebook.  You can connect on Skype and talk to anyone in the world for free.
There is no better leveraging tool around than the World Wide Web, and as a Part Time Networker you must take advantage of this technology.
You may want to consider an online marketing system to fully leverage your time and resources.  Before selecting one, be sure it includes extensive training and can help you market ANY product.
There's a lot to learn about Online Marketing, but you can do it!  We did, and when we started a couple of years ago all we knew how to do was check our email and surf the Net.  When you get the right training and learn new skills, you can truly change the direction of your life.
Killer #7:  Not Leveraging Your Money
It takes money to build any business, and your Network Marketing business is no exception.  But let's face it, for most of us money is tight.  So it's of the utmost importance that you learn to leverage this limited resource.
What do I mean by this? I mean spending your money smartly in a way that will bring back the most return on your investment.
How should you spend your money?  I can only tell you what I did.
When you first start your business, you'll undoubtedly be given opportunity to "buy into" the compensation plan of your Company.  By this, I mean the more you pay into your Company upfront, the higher commissions you will receive when you make a sale.  This is good, right?
Well, yes and no.
Certainly it's great to be positioned well in your compensation plan. It just makes sense, and if you have the money  you should definitely do so.
Just don't do it at the expense of training and education.
If your company has a great training program, this will help save you some money.  But keep in mind that it's highly likely that you'll need to step outside your Company training to learn new skills.  So keep some money in reserve for this likelihood.
Also consider that you'll need some money for marketing.  If you market offline, you'll need money for things like Company brochures and setting up home parties.
If you're an online marketer you'll also need money — for advertising and other marketing costs.
One time I was asked, "If I had just $1000 to put into my new business, how would I spend it?"
Here was my answer —>  Training and Education — learning new skills and becoming more valuable to others.
Seeing a trend here?
Killer #8:  Trying to Do It All By Yourself
No man is an island, and as the owner of your Network Marketing Part Time business you certainly cannot afford to do it all yourself.  You're going to need help.
Help with your business can come in many forms:
You can find a Running Buddy or Accountability Partner to help keep you accountable in your business.

You can form a Mastermind Group to help you keep your business going in the right direction.

You can find forums or Facebook groups to get advice and become more visible to others.

You can outsource tasks that are redundant and not worth your time, even as a beginning Networker.

You can find a Mentor who has traveled in your shoes and knows the straight line to success.
Don't try to do this all alone.  You'll feel isolated and frustrated and will likely quit before you start seeing the fruits of your labor.
Killer #9:  Not Working Smart
You've probably heard the saying, "Work Smarter, Not Harder" — this should be the mantra of the Part Time Networker.
So what do I mean by "work smart"?
It's simple… it means identifying those tasks that mean the most to your Network Marketing success.
It means finding those things that will directly bring in money, and getting them done first.
I call them Income Producing Activities – things like building relationships, placing advertisements, and building an email marketing list.  These are all ways that will ultimately put money in your pocket.
Spending hours chatting on Facebook or going through emails will not.
Working smart means leveraging your time… and as a Part Time Networker this is non-negotiable.
~~~~~~~~~~~
So there you have it – The 9 Killers of a Network Marketing Business and how to avoid them.
By taking the advice in this article and implementing what you've learned, there's no reason you can't grow your business, become a leader that others want to follow, and ultimately achieve your big dream of quitting your full time job.  
You CAN become the next Network Marketing Success Story!
Just never give up!
Are you a Part Time Networker?  
What challenges are you facing and how do you deal with them?  
LEAVE A COMMENT BELOW and JOIN IN THE DISCUSSION,