As a Part Time Network Marketer, you're going to be challenged every single day to find the time to build your network marketing business.  But even more than that, you will need to be sure that you're spending what business time you have in the most effective way.
Always remember that TIME is the Part Time Networker's most valuable resource.
Let me show you how I use my time to maximize my results.
Every Part Time Networker faces similar time challenges
Every Part Time Networker has time issues, but there is usually one thing in your life that takes up most of your time.
For some it is a Part Time or Full Time Job
For some it is raising a house full of children
For others it may be taking care of an elderly parent
Add to this the everyday time drainers of running errands, running the kids to their activities, doctors appointments, dental cleanings, and just spending time with your loved ones…. and you're left with precious little time to build your Network Marketing business.
So how do I do it?
How do I work 50-60 hr weeks in my Infertility Clinic AND still find time to grow my business?
It all comes down to planning.
3 Steps to Planning Your Business Time Effectively
I use a 3-step process to ensure that I find the time I need to work on my business and still have time to enjoy life with my friends and family.  After all, I don't want to have a successful Network Marketing business at the expense of my family life and with no friends with which to share my successes.
So I'm talking about setting a schedule that EVERYONE in the household can live with.  That leads to step 1 in the process…
Step 1:  Set up a Weekly Family Meeting
Have a Family meeting each week and make a list of all the activities that will demand your attention.  If you need to attend your daughter's dance recital or your son's baseball game that week, make a note of it and  build it into your plans.  Block out time to run errands and do the weekly shopping.
Do your best to account for everything you know will drain your time this coming week.  What you're trying to do here is plan your week as best as possible.  Of course there will be deviations — emergencies, fun opportunities that pop up, your boss asking you to work late, etc.   But the idea is to minimize chaos when it comes to planning time for your business.
After this meeting, take a look at your week ahead and look for blocks of time you can work on your business.
Step 2:  Develop a Schedule
Step 2 is all about putting your schedule down on paper.
There are many ways to do this.
You can do it the old fashioned way and put pen to paper.
There are many fancy productivity tools that will help you  schedule your time.
I prefer to use a free Scheduling tool from Google.
It's called Google Documents, and you can find it when you log into your Gmail account.
On the top, you'll see a link to "Documents".  Click on this link.

On the next page, you'll see a button called Create New.  When you click on this link, you'll be given several options, including Document, Presentation, Spreadsheet, etc.

Click on Spreadsheet, which is Google's version of Excel.
I will do a video training on how to best use Google Spreadsheet very soon, but for now just take some time to work with it and set up a schedule similar to the one I have in the picture below.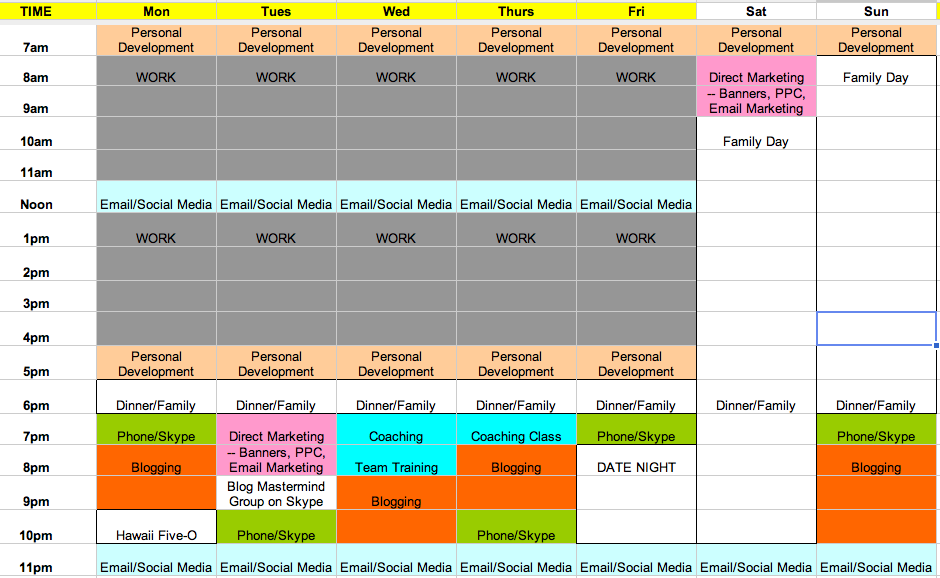 Important Points About My Schedule
Notice how I've blocked out my time using Google Spreadsheets:
The time I will spend this coming week at work is blocked out in gray.
You'll notice that I do some kind of personal development 2x per day during the week.  These correspond to my COMMUTE TO AND FROM WORK.  I don't sit in my car listening to the latest news (except maybe for traffic). No, I pop in a great personal development CD and improve myself during my drive.
Take note of my scheduled time to check Email and my Social Media accounts.  Twice per day – during my lunch hour and right before I sleep.  I do NOT check emails all day long, just in case something important comes my way.  NO!  This is one of the biggest time wasters.  Once or twice a day to check emails, FB friend requests, Linkedin connect requests, etc. is more than enough time to devote to these time drainers.
Phone/Skype time – remember Network Marketing is all about building relationships, right?  Be sure to make this part of your weekly schedule, and encourage others to call you during your "office hours."
I batch time to work on my specific marketing methods.  Since I use blogging as one of my primary tools to market myself, I schedule blocks of time on Sunday, Monday, Wednesday and Thursday to research blog posts, write, review and reply to comments, and make comments on other people's blogs within my niche.  I also have batched 2 hr time slots to work on my Direct Marketing methods, which currently is Banner Advertising as  a way to get leads for my business.
Class/Training times are scheduled aqua.  These are times I've set aside to grow, to learn new things and to show them to my team.
Fun times are scheduled in:  Date nights on Friday, and Family times on weekends.
I even scheduled in time to watch my favorite show on Monday nights (Hawaii Five-O).  So if there's that playoff football or baseball game or something else you MUST watch on TV, schedule it!  It's not all about work!
Ok, now I know that life doesn't always fit nicely into a schedule such as this.
But you need to have a Starting Point.
When things come up (and they always do), you will have a basic schedule through which you can make changes. But if you have no schedule to start with, just "business time" it will be far too easy to blow it off, with the excuse of "things always come up."
What If You Don't Have Much Time?
You may be looking at my schedule and saying to yourself, "I don't have that much time at night to devote to my business!".
That's fine.  I'm at a slight advantage here because, although my son still lives with us, my kids are mostly grown and don't demand the attention of teenagers or younger children.  It's okay.
The actual number of hours you can devote to your business is not as important as WHAT YOU DO WITH THOSE HOURS!
Even if you can only work on your business 2 hours a night, 3 nights per week, that's fine!  Schedule your time to use it most effectively!
Remember:  DON'T COMPARE YOURSELF to the Full Time Marketers in your Company.
It's one of the 9 Killers of a Network Marketing Part Time Business!
Step 3:  Post Your Schedule Where Everyone Can See It
Now is the time to get tough.
Post your schedule where everyone can see it.
You can make a more generic schedule such as the one below, one where you just make it clear what is your Business Time for the coming week (without all the details that are contained in your schedule).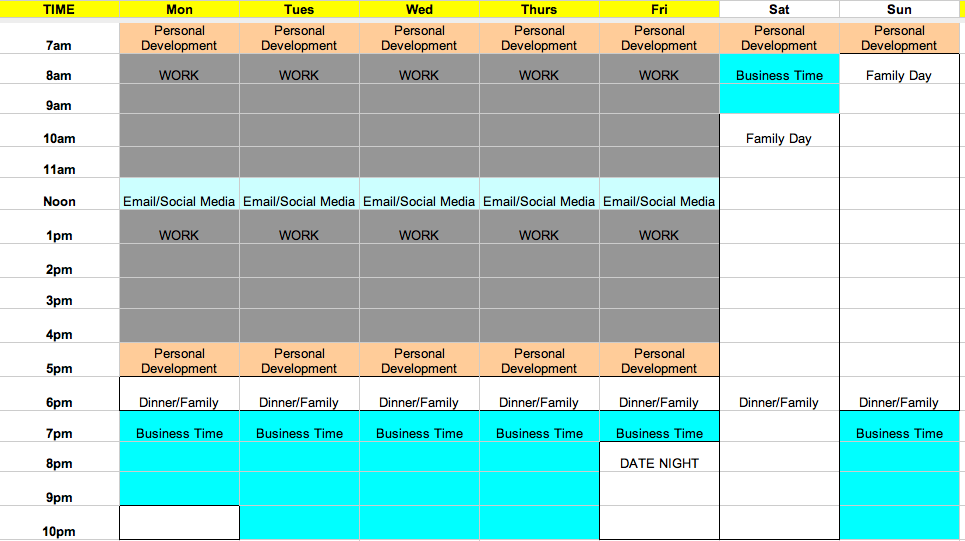 Now its time to enforce it.
Treat your Business Time (the time to devote to your business) as SACRED.  No interruptions.
No outside phone calls.
No short breaks to go shopping or watch TV.
Treat this time as if you had a boss watching you, checking on your every move.
This is all about DISCIPLINE.  Remember, if you're going to someday be your own boss, you need to develop this crucial skill.
That's it –
Plan a schedule with your family, put the schedule on paper, and stick to it.
This is how you begin to find the time to grow your Network Marketing business, even with limited hours.  Use a schedule and discipline yourself, and soon you'll be taking major strides to becoming the next Network Marketing success story!
How do YOU schedule your business time?  Do you have a great system?  Or no system at all?
LEAVE A COMMENT and GET INTO THE DISCUSSION!