If you are building a Part Time Network Marketing business and frustrated with your results, if you're looking to jumpstart your Network Marketing business and start seeing the results you expected when you first started, I have 2 words for you:
Strategic Collaborations
What are specific collaborations?
Glad you asked, because it's become one of my favorite subjects to teach… and one of my "secrets" to success in this industry.
As you'll see, there's nothing secretive about it.
If you look up the word "collaborate" in the dictionary, this is what you'll find:
To COLLABORATE simply means to "work together" and is a close relative to the word COOPERATE, which means to "work jointly for a common purpose or benefit".
So how can collaborations help you jumpstart your Network Marketing business?
To answer this, just think about how hard it can be and how lonely it can feel trying to build your part time Network Marketing business on your own.
It's damn hard and can make you feel like you're alone on a desert island.
In fact, I would go so far to say that no one can successfully build a business of any kind alone, never mind part time.
But what if you joined forces with someone who could help you move forward?
What if you could find a way to "scratch each others back", each of you providing something valuable to the other that would help both your businesses?
What if…. you could collaborate?
3 Ways to Use Strategic Collaborations to Jumpstart Your Part Time Network Marketing Business
You notice I've included the qualifier "Strategic" when talking about collaborations.  That's because you need to be smart about who you collaborate with.
Here are 3 examples on how I've observed Strategic Collaborations to work wonderfully in Network and Online Marketing:
1.  The Strength of Skills Collaboration

I was witness to a wonderful collaboration between 2 of my friends who were in the same Network Marketing business opportunity.  One was a master at generating online leads and the other was a great "closer", excellent on the phone.

When they met and joined forces, it was magic from the start.  Joe took over the responsibility for generating leads for both their businesses, while Jerry agreed to do the phone work, calling both his own and Joe's leads and closing sales.

The result?

They both jumped to the top of the Leader Board in their company and have become leaders and trainers in the Industry.

2.  The Information Sharing Collaboration

If you're like me and using a blog as a tool for building your Part Time Network Marketing business, collaborating with other bloggers is a must.

Cross promotion and content syndication falls into this category.

Two examples are Blog Commenting Tribes and Blog Interviews.

I have joined quite a few blog commenting tribes over the last year and it's been a great way to spread the word about my blog.

Here's the way it works:  A group of bloggers with similar interests get together and agree to visit each other's blogs on  a regular basis, commenting on the posts and sharing with their social media friends and followers.

It's a mutually beneficial collaboration — each blogger gets more traffic coming to their blog and more comments on each post.  Google loves it and each participant gets their share of social proof for their blog.

Blog Interviews are also a great way to collaborate with other Marketers.  The interviewer benefits in that he can expose his readers to new and interesting content that they'll love.

The person getting interviewed benefits because she gains exposure to a whole new set of potential fans and followers.

It's a win-win collaboration.

[Be on the lookout for 2 interviews of highly successful Part Time Bloggers coming in the next couple of weeks!]

3.  The Student-Instructor Collaboration

I've seen this work time and again and it's one of the fastest ways to get noticed and build a reputation online.

It works like this.

A student makes the decision to purchase an online course in an area they wish to improve, one that will help jumpstart their Network Marketing business.

The student attends every class, completes each assignment and immediately begins to implement what he's learned.

With a little trial and error and a whole lot of persistence, the results start coming… and coming and coming.

The student is thrilled with his results and immediately contacts the instructor to thank her.

The instructor asks the student to write a short testimonial to tell about his success, or maybe even asks him to come on to a webinar to spotlight his success.

Another win-win collaboration!

The student wins because he gained a new skill and learned how to implement it to get results (for example, leads and sales for his business).

The teacher wins because there is no better social proof for a product or course than a student who had a positive experience and the results to prove it.
Does This Concept of Strategic Collaborations Make Sense to You?
Want to learn more and hear more examples?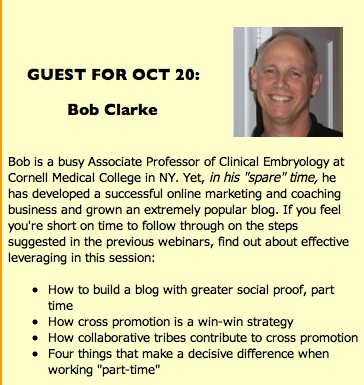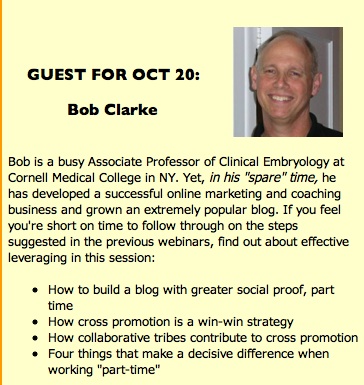 You're in luck.
My friend and collaborator Richard Goutel has been hosting a series of great interviews about Collaborations… and he's recorded them all.
Next Thursday (Oct. 20), Richard will be interviewing Yours Truly as part of this Collaboration Webinar Series.
Be sure to register for this webinar — it will be worth your time.  Even if you can't make it to the live webinar, register anyway so you can be notified of the recording.
What Do You Think?
Do you have any examples of collaborations you can share with the group?  Does this concept make sense?
LEAVE A COMMENT and join in the Discussion!