Blog commenting can be a very effective way to bring new people to your blog, if done correctly.  For Part Time Networkers with limited time for their business, finding the best blogs on which to place comments is the first step towards effective blog commenting.
Before I show you how I search for blogs on which to comment, let's take a quick look at the multiple advantages of Blog Commenting.
Why Blog Commenting?
So why comment on blogs?
Exposure to a New Audience – if you are making comments to a blog post related to your niche, people will check you out.  This will give you exposure to a new audience that may become dedicated readers to your blog. NOTE:   It's important to make intelligent comments that add to the conversation, rather than just "good job."
Link Juice – when creating a blog comment, you are allowed to add a link back to your site (you always should!).  This creates something called a "backlink" to your blog and Google loves backlinks from credible sites (this is another reason why you want to comment on a site with a good Google Page Rank).
Form Relationships with Other Bloggers – believe me when I tell you that bloggers notice when someone takes the time to leave several informative comments that adds to the conversation.  You will find that these people will also check you out, and more often than not they will leave comments on your blog.  Sometimes you can even create an arrangement for reciprocal commenting with one or more bloggers.  This is a great way to increase your blog traffic and comments, lending social proof to your blog.
Leverage Technology and Work Smart– blog commenting is a great way to leverage the Power of the Internet to drive targeted traffic back to your blog site.  As Part Time Networkers, its crucial to leverage technology and work smart.
But how do you find the best blogs for commenting, the ones that will give you "the most bang for your buck?"
How To Search For Blogs In Your Niche
The first step in creating an effective blog commenting strategy is to search for popular blogs in your niche (or a related niche).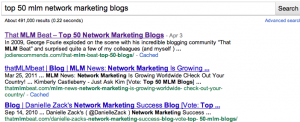 In my case, I would do a Google search for "Top 50 MLM Network Marketing blogs".
As you can see, the very first search result is GOLD… someone actually published their top 50 MLM blogs.  This is a great place to start.
What if you don't find enough blogs in your niche when you search on Google?
You can also search for most popular blogs on Technorati.com.
Another great way to search for niche blogs is to join Facebook Groups in your niche and start checking out the most active posters.  They will often have great blogs on which to comment.
If your niche is large enough, there should be several blogs using these resources.  If not, you  may need to expand to related niches.
Now it's time to narrow the list.
How To Narrow Your List of Blogs for Commenting
Once you have your initial list, it's time to narrow it down.  It's far better to comment frequently on a handful of blogs than to comment once on 50 blogs.
In the end, you'll want a list of 15-20 blogs (or more if you plan on implementing an extensive blog commenting strategy).
Here is how I narrowed this initial list of 50:
1.  First, check out the blog titles and taglines (the line under the main subject line in the header).  Do they seem interesting and related to your niche?    Are the posts written in areas where you can make worthwhile comments.  For example, if you're a novice and not tech savvy, a blog in your niche that focuses heavily on technical aspects may not be a good choice.you can eliminate those blogs that appear dormant or inactive.  If someone hasn't posted in 6 months or more, move on.
2.  Next, take a look at the blogs that catch your eye and check for ACTIVITY.  You can eliminate those blogs that appear dormant or inactive.  If someone hasn't posted in 6 months or more, move on.
3.  As your list narrows, check for TRAFFIC on the site.  There are several ways to do this, but my two favorite ways to check for traffic is SOCIAL MEDIA SHARING and COMMENTS.
Check out several blog posts on a blog that interests you and check for how many times they have been shared on Facebook and Twitter (you can see this if the author has the FB Share and Tweet MeMe plugins on their blog  – most savvy bloggers do).
Similarly, are there several comments on most posts?  This would be another indicator that this blog is getting a lot of traffic.
Curious about on which blogs we regularly comment?  Here is a partial list.
What Else Should You Look For?
Now that you've found blogs that are interesting, active and seem to be popular with others, what else can you use to help you narrow your list?
What is the Google Page Rank?
This is a ranking of a website or blog given to a site by Google, with a range from 0-10.  Only the most popular sites like Google.com and Facebook.com get rankings as high as 8-10.  For our purposes, look for any blog with a Google Page Rank of 2 or higher.  Avoid those that have a GPR of less than 2, as this means there is probably not enough traffic on this site to be worth your time.
You can check the Google Page Rank using this Google Page Rank Checker.
Are they "Do Follow" blogs?
WordPress blogs are by default "no follow" blogs.  This means that Google is instructed NOT to follow the links on the blog to their source.  So, if you were to leave a comment on a "no follow" blog, you will not get credited with a backlink from Google.  This is important if you are looking to increase Google Page Rank for your site (and for basic SEO strategies).  

A "Do Follow Blog is the opposiite of No Follow – Google bots are instructed to follow the comment links back to their source.  Other bloggers love this!
So how do you know if blog is Do Follow? It's not always easy to tell, but some savvy bloggers tell there readers upfront (see image to the right from the  blog of my friend, Mavis Nong).
[HINT:  To ensure that YOUR blog is a "do follow" blog, be sure to install the Do Follow Plugin to your wordpress blog].
Anything Else?
Comment-friendly blogs offer "perks" for commenters:
Comment-luv — this is another WordPress plugin that shows your last blog post when you make a comment.  This is super-popular with blog commenters, since it puts their blog contents right in the face of other visitors.
Top Commenters widget – this is a cool sidebar widget that many bloggers use to reward their top commenters.  People who check out the list (who doesn't like the top lists of anything!) can click on your name.  This adds another way that visitors can check out your blog and add to your traffic.
Subscribe to Comments – some blogs provide you the option to subscribe to any further comments on a post.  This is a great way to see if anyone replies to your comment and allows you to continue the conversation and build relationships.  You no longer need to keep checking back to see if anyone posted a reply to your comment.  Now you can be notified right in your email inbox.
Check out my Top Commenters list on the right sidebar!
To see what Comment-Luv and Subscribe to Comments look like, scroll to the bottom of the page and while you're there, LEAVE A COMMENT.
Tell me about yourself and what you liked (or didn't like) about this post!