Okay Part Timers — today I want to give you 3 of my very best tactics to 10x your productivity.  It's one of those topics that people ask about most… how can I be more productive with the time I have?  
Your wish is my command.
But first, let's get very clear on one thing —
The amount of time you have to grow your side business has ZERO to do with how productive you are.  
Give me 60-90 minutes of FOCUSED TIME to work on my business each day and I'll outperform most marketers building their business Full Time.  Been doing it for years!
IMPORTANT:  If you want my personal help in Focusing Your Time and getting the most out of the time you have to grow your business, be sure to claim your FREE FOCUS SESSION.  You and I will chat for 30 minutes and I promise you, your business time will never be the same!   Totally FREE.
Okay, now that we've got that straight and you're not constantly pining away for more time to work your business, let's see what we can do to 10x your productivity!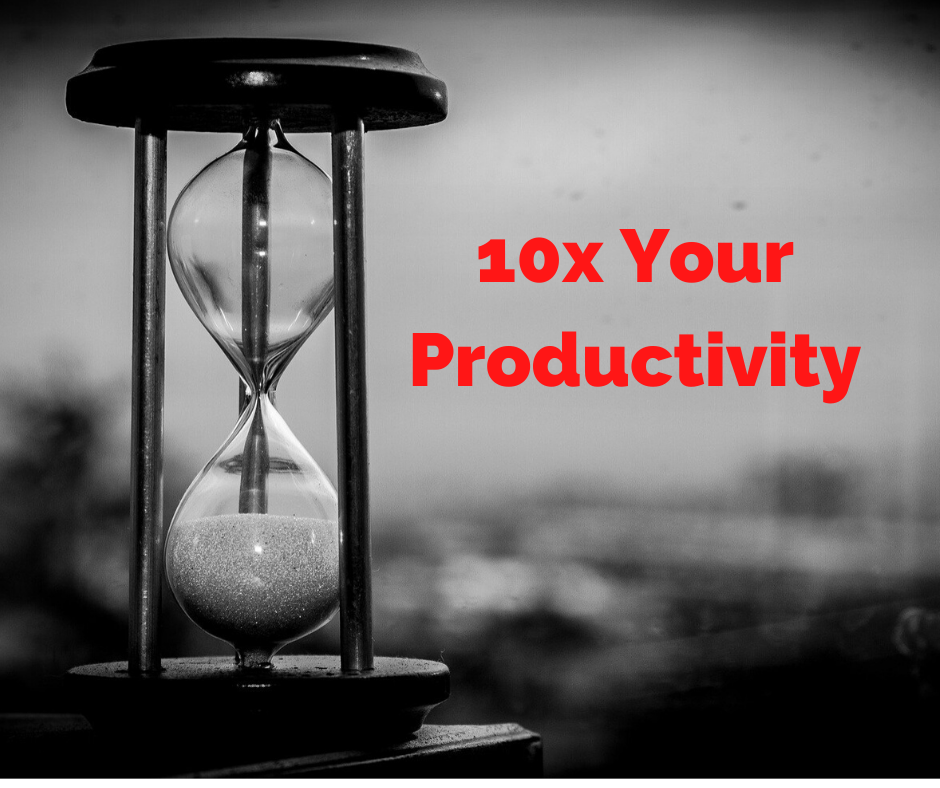 TIP #1:  10x Your Productivity Using Apps and Chrome Extensions
There's never been an easier time to be more productive with your time.  Period.
I use quite a few apps and Chrome extensions to focus my attention and boost my business productivity.  Here are 3 of my favorite:
Name of App/Ext
Description
Website/Link
Rescue Time
RescueTime tracks your daily computer habits so you can see how much time you're spending on email, Facebook, Twitter, etc. 

 

Available as Lite (free) and Premium (paid) versions. iPhone, Android and desktop downloads.

 

  Link to Website
HabitBull

Easily keep track of all your habits (good and bad), routines, and repeated to-do's.

 

Free with paid upgrade to premium.

iPhone and Android  

  Link to website
Momentum

Eliminate distractions and beat procrastination with a reminder of your focus for the day.

Available as a Google Chrome Extension

   Link to Add Extension
Like these tools to 10x your productivity?
Want my entire collection of 29 time-saving and productivity-boosting apps for Free? 

Click here
Tip #2:  10x Your Productivity Using Technology
Flat out, if you're not leveraging technology to 10x your productivity and get more results in less time with less work, you've totally missed the boat.
Listen, I'm no tech wizard, but even I've been able to figure out how to use these next 3 technology assets and now it's as easy as tying my shoes.
Email Autoresponders — lots to choose from, but the easiest and most popular is probably Aweber.  For a very modest price, you can keep track of who joins your email list and send out emails to all your contacts with a click of your mouse.

Zoom — this piece of software has revolutionized my business.  Virtual meetings are now a snap and everything can be recorded.  You can even go Live inside Facebook.  You can also do webinars if that's your thing.  Very modest price, great service.  Try Zoom.

Dropbox – allows you to store big files and share them with whomever you wish.  Great for working with outsourcers, coaches, and teammates.  Very low monthly fee for beginners.  Try Dropbox
Don't let technology scare you.  Most services have great "how to" videos if you get stuck, and you can also head over to YouTube for answers to your questions.
Tip #3:  10x Your Productivity By Saying "NO"
Let's go old school!
This may not seem like a ninja tactic, but I'm gonna tell you…
The more you learn to say NO to things that pulls at your time, the more time you can devote to your side business and yes… 10x your productivity.
Most of us are wired to say YES.   It's what we were taught from an early age to be polite.
A friend asks for a favor?  YES
Your kids need a ride to the mall.  YES
Your spouse needs something done right now?  YES.
Well, maybe it's best to play it safe and say Yes for the last one… you know what they say:  
Happy Spouse… Happy House 🙂
But seriously, how many times have you said Yes to things you knew at the time you should have said No?
How many times in your life do you regret saying YES?
Start today by saying NO to ONE thing you really don't want to do, and don't need to do. 
SAY NO.
Gradually, add more NO's into your life and you'll be amazed at a) how things that seem urgent no longer are urgent and b) how much more time you have to devote to other things in your life, like your side business!
JUST
SAY
NO!!!
Now that you have more time, do you want some help with focusing that time and actually getting more results in your business?
I've got a free resource called The Part Time Profits Blueprint:  Get More Results in Less Time with Less Work… and it's just waiting for you here.
Let's get that side business humming, okay?
Related Post:  Top Productivity Tips for Busy Online Marketers