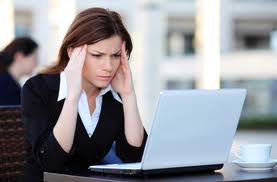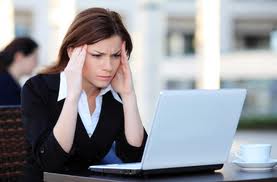 i'm sure you've heard the saying, "nobody's perfect!"
while that's true, there are people in the world like ME who try to disprove this saying by striving to be perfect in everything they do.
well, i'm here to tell you….
perfectionism sucks!
i've already written on this blog about how perfectionism can affect your productivityand your business, but it goes way beyond that.  it can pervade all areas of your life
trying to be perfect creates stress that can affect your health and mental state
trying to be perfect can mean not trying many fun things in life because you might fail
trying to be perfect means not letting people into your life, for fear they might see some imperfection you're desperate to hide
try as i might, perfectionism has continued to affect my life in very negative ways
so when i had a coaching session tonight with a very talented coach named jeannie, i chose perfectionism as the topic
jeannie asked me some really powerful questions that might also help you if you suffer from perfectionism:
"what's the worst that can happen if you're not perfect?"

"what benefit are you getting from trying to be perfect?"

"how can you try to break this vicious cycle of trying to be perfect?
wow, these questions were tough to answer.  i guess that's why they're called powerful questions!  🙂
what these questions did was force me to reframe my thinking and really understand the fallacy behind trying to be perfect.
jeannie wanted me to focus on one area of my life to start breaking the perfectionism cycle, and since i love to blog i chose this.
so here you have my very first totally imperfect blog post — you may notice…..
i'm not spell checking this (sorry if mispellings creep you out)

no formating on this post, although i will occassionally bold important topics just to make it easier on your eyes

finally, i've set my trusty timer for 20 minutes and that all the time i'm giving myself to write this (i now have 7 minutes left) — when it's done, it's done.

how does this feel?  i have to be honest, it's uncomfortable for me,

usually i spend hours on a blog post, making sure every detail is factually correct, providing more and more content to make it worth your while to read it. i spell check everything.

i read and re-read each post to be sure there are no errors.

i try to make it perfect.

this post will not be perfect.  it will be what it is… me, unplugged…. writing about feelings rather than facts.

i don't know if you'll like it, but if nothing else, you'll definitely know i'm not perfect.

and that was the whole point of this exercise! 🙂

finally , i leave you with this.

5 imperfect things about me that no one knows

1.  when everyone else is asleep, i sometimes stay up and eat a bunch of unhealthy crap

2  i have absolutely no rhythm and can't dance a lick

3.  i once used rogaine when i was younger trying to cover up my impending baldness

4.  i actually read tabloids when in line at the grocery store

5.  i often cry at movies that people would consider chick flicks.

oops, my buzzer just went off…. my 20 minutes are up.
gotta go, i promised my coach.

if you're also a perfectionist, do yourself a favor —

today, strive to be imperfect… it's not as bad as you think!

so how about you? do you or anyone else suffer from this?

let me know your thoughts!