A great thing happened to me last night.  A person on my Network Marketing Company prospect list submitted an application to work with Rosemary and I.
As I usually do, I called him that night to touch base and give him his next steps.  His response was amazing…. this is what he said when I introduced myself:
"I can't believe it's you!  I feel like I'm talking to a celebrity!"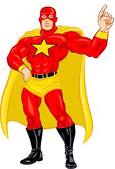 I knew then that I had made it — I had become an Attraction Marketing Superstar!
Honestly, it felt a little strange and almost unreal.  I mean, I'm no superstar!  I'm just a regular guy with a passion for learning and helping others.
As it turns out, that's pretty much the definition of a Successful Attraction Marketer.
The Awesome Power of Attraction Marketing
Think about how powerful that is!
Here is someone I've never met , never even spoken to… and his image of me was a celebrity.
This man whom I have never met ALREADY thought of me as a LEADER who could help him.  Already most of my work was done.  Instead of trying to convince him of my ability to help him, he's already pre-sold on my leadership.  Whether or not he ends up joining our team doesn't matter much.  Through my Attraction Marketing strategies I have a raving fan, one who will continue to follow  me and learn from my teachings.
How powerful is that… I have become the HUNTED instead of the hunter.
And it wasn't that hard… if I can do it, so can you.
YOU Can Become an Attraction Marketing Superstar, Too!
If having people call YOU about your business rather than making cold calls and pitching your business to strangers gives you a warm feeling in your stomach, keep reading.
It pretty much boils down to a very simple formula
Think about YOUR STRENGTHS — your skills, your experiences and your passions– make a list.
Determine YOUR MARKET – who can you help with your strengths and expertise?
Study YOUR COMPETITION – are there other people doing something similar?  How are you different and how can you stand out from the crowd?
Now I admit these questions are not that easy and I did it with some help. However you do it, it's really important that you nail down the answers to these 3 questions.
Once you've done this, its a matter of a few simple actions practiced every day:
1.  Never let a day go by that you don't learn something new that can help your followers.

2.  Give of yourself first, last and always — give without expecting anything in return (especially a sale)

3.  Respect your followers – don't waste their time, be respectful of their needs and help lead them towards their goals.

4.  Be consistent in your actions.  Get yourself out there:  write a blog post, make a video, make contributions in popular forums… be VISIBLE to your followers.

5.  Let your hair down – relate personal stories, struggles and obstacles in your life where appropriate.  Allow your followers to get to know te real you.
While this is a pretty simple process, remember that it is just that…. a PROCESS.  It takes time, devotion and diligence on your part.  But over time, you'll see that gradually you develop more and more followers, people who are listening to your every word and just waiting for someone to lead them.  You will start to reap the incredible benefits of Attraction Marketing — you will become an Attraction Marketing Superstar!
~~~~~~~~~~~~~
How are you using Attraction Marketing in your business?  Tell us about your successes and your struggles….
JOIN IN THE CONVERSATION BELOW (Leave a comment).
To Your Success!
If you enjoyed this post, please SHARE with your favorite Social Circle of Friends