Rosemary and I have spent the last week in Turkey.
Three of those days we attended a scientific conference.
We then flew down to southern Turkey to visit Ephesus and the House of the Virgin Mary.
Rosemary is very religious, so this part of the trip took on added meaning for her.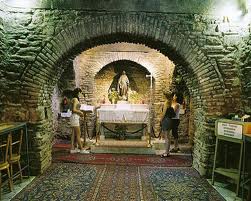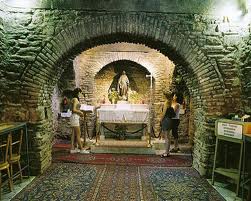 It was all she talked about for weeks.
As always, Rosemary took care of all the travel details.
She's so good at the kind of stuff.
I just mess it up.
She plans the trips…
I get on the plane when I'm told.   🙂
Our vacations always go off without a hitch…
But not this one.
This was the vacation from hell.
I would like to say that most of the problems were because of language differences.
We didn't encounter too many people who spoke English, and we certainly didn't speak much Turkish.
But that wasn't the real problem.
What was it?
We didn't have a local guide to steer us clear of the many scammers we would run across.
It seemed like everywhere we went…
Someone had a hand in my wallet, trying to rip me off.
I'm not exaggerating.
Even something as simple as taking a cab was EXHAUSTING.
You'd take a cab ride that should cost 35 Turkish Lira and half way there…
the cab driver turns around and says something in broken English, then tells us 120 lira.
What were we gonna do, get out of the cab in the middle of nowhere?
That was one scary cab ride…
If only we knew someone local to warn us.
And what of the scammers disguised as a tour company?
Rosemary arranged a tour to go to Ephesus and the House of Mary over the Internet.
It was supposedly a reputable company associated with Sheraton Hotels.
But when we got there…
They tell us that no group tours were available, only private tours…
that would cost us $890 Turkish Lira (roughly $500!).
$500 for a tour!!!!
And that didn't include the admission costs or lunch.
And of course the tip would be extra.
Liars and cheats abound…
all looking to take our money because we didn't know the lay of the land.
If only we'd had a local person to guide us.
In the end, we were so exhausted and disenchanted that we cut our vacation short…
and hi-tailed it back to New York.
It was THAT BAD!
[Disclaimer:  I'm not claiming that all people in Turkey are dishonest or unfriendly –
We just ran into a bunch of bad apples.
I'm sure that the majority of Turkish people are wonderful!]
So why did I tell you this story?
What does this have to do with your home business?
Everything…
Building a business is a lot like trying to navigate your way in a foreign land with no translator or local tour guide.
You've got no idea who to trust or who's just in it for the money.
You just don't know what's necessary for your business and what's not…
It takes a long time to figure it out…. I guess you could say it's part of the learning curve.
Most people don't wait that long…
They get exhausted looking over their shoulder, afraid that someone is trying to sell them something they don't really need.
They become paralyzed with fear,
end up doing nothing…
and they quit.
They give up on their dream, and that's the biggest tragedy of all.
But what if you had a "local guide," someone who knew who to trust and who to avoid?
Someone who understood what's necessary to build your business and what's a waste of your money.
How valuable would that be?
It can literally cut your "learning curve" in half.
And save you a boatload of money, too.
Rosemary and I have finally found a group of "local tour guides" for our business.
It took us a while to find people we could really trust…
But when we did, our business became so much easier and a lot more fun.
We can move forward without worrying that we're wasting our time and money.
And that, my friend is priceless.
YOU CAN HAVE THIS, TOO!
We've made it a lot easier for you to find people in the Industry you can trust.
Someone who has your back… and truly cares about your success.
Grab our Part Time Entrepreneurs Success Kit…
which includes our training video, "How to Find Your Perfect Mentor".
And if you want to cut through the nonsense and work with the same people we trust, get in touch with me and I'll hook you up.