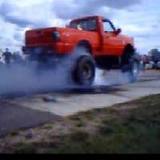 Hardly a week goes by where I don't encounter someone who is frustrated, angry, confused…
or a combination of all 3!
The reason?
They feel like they are SPINNING THEIR WHEELS in their business.
They try and they try but seem to get nowhere towards their dreams.
And the worst part is…
They don't really know why.
From my years of experience in this Industry, I find that this feeling of "being lost", not knowing what to do or where to turn comes from 3 possible areas:
A lack of direction

A lack of support

A lack of desire
There's NO worse feeling than working hard on something, trying to break through and failing miserably without any idea where to turn. 
I know — I've been there!
At 9pm ET on Thursday, Dec. 20, 2012,  I will be doing a very special training closing out the current year:
Stop Spinning Your Wheels and Start Seeing Results in Your Home Business
If you are coming to this page after this date, you will be able to grab the recording once it's out.
In this very unusual and special webinar, I will be taking off the gloves and getting deep down and personal with you guys as I've never done before. 
You'll find out how deep I was in the mud, spinning my wheels before I finally broke free.
And I'll show you EXACTLY how I did it.
We'll talk about Lack and how to turn it around to Abundance and Results.
We'll talk about Direction, Support and Desire in ways you may not have thought of them before.
Here's the Webinar Info again:

Stop Spinning Your Wheels and Start Getting Results in your Home Business

Date:  Thursday, 12/20/12

Time:  9pm Eastern Time for 30 minutes only
REGISTER HERE
We start ON TIME and wait for no one.  I respect your time too much to make you wait.
Why 30 minutes?  Because we're all busy and 30 minutes is about how long I can sit for a webinar! 🙂
See you on Thursday.