Is your Facebook profile optimized for generating leads and sales for your business?
Today, we're gonna find out.
Most people miss out on golden opportunities on this valuable Facebook real estate.
But there are some very simple things you can do right now that will turn your profile into an attractor factor for your business.
Before I go further, I want to make sure that you've grabbed my Facebook Profile Cheatsheet which will give you a leg-up on your competition.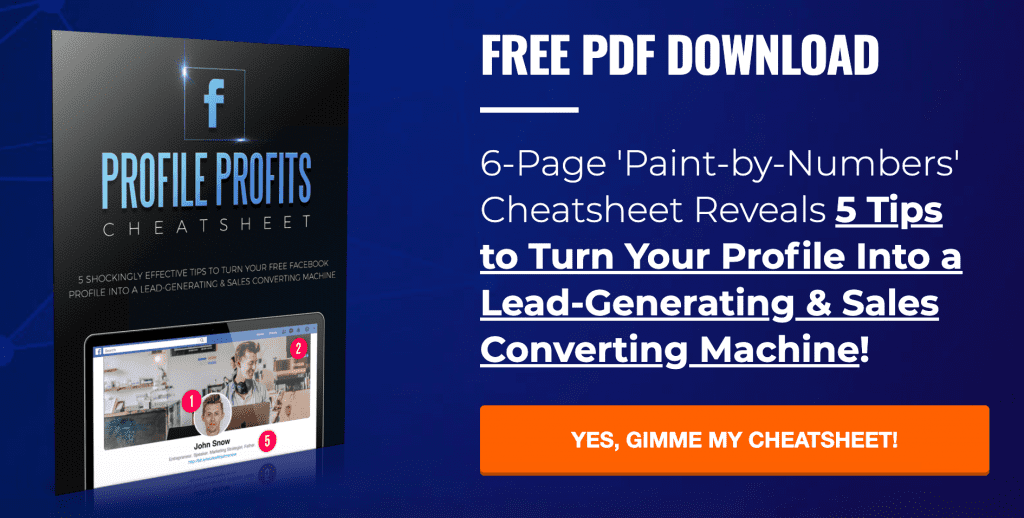 Okay, now that you've got it, let's dive in…
3 Tips For Optimizing Your Facebook Profile
Here are 3 very simple things you can do right now to optimize your Facebook profile and attract qualified leads right to your doorstep.
Make sure your Follow button is visible on your profile
So many people forget this, but it's one of the simplest ways for people to check out your profile and posts.
Some are too skiddish to send you a friend request.
This is safer for them as a first step.
And when you get notified, you can follow them back and start a conversation.

If you don't know how to activate your Follow button (or you're not sure if yours is currently active), click here for instructions.
Take Advantage of Your Intro Section
This is some of the most prime real estate on your Facebook profile, and too few people use it optimally for their business.
The Intro section is located right under your Profile picture and is your place to tell the world who you are or what you've got to offer.
Unfortunately, Facebook only allows you to do this with very few characters, so make it short and sweet.
Here's one thing most Facebook marketers don't know:  You can put a clickable URL in your Intro section.
It can look something like this:
Don't waste this chance to optimize your Facebook profile for your business.
Optimize The Description of Your Profile Picture
I was always guilty of this — changing my profile picture and not adding a description.
Interestingly, many people will actually click on your profile picture.
And you want to take advantage of that.
Make sure you give a nice description of your attributes as a person and business owner…
And don't forget to include a link where they can get more of you (like your blog, YouTube channel, etc.)
It's a subtle thing that you can do to optimize your FB profile for generating quality leads and sales for your business.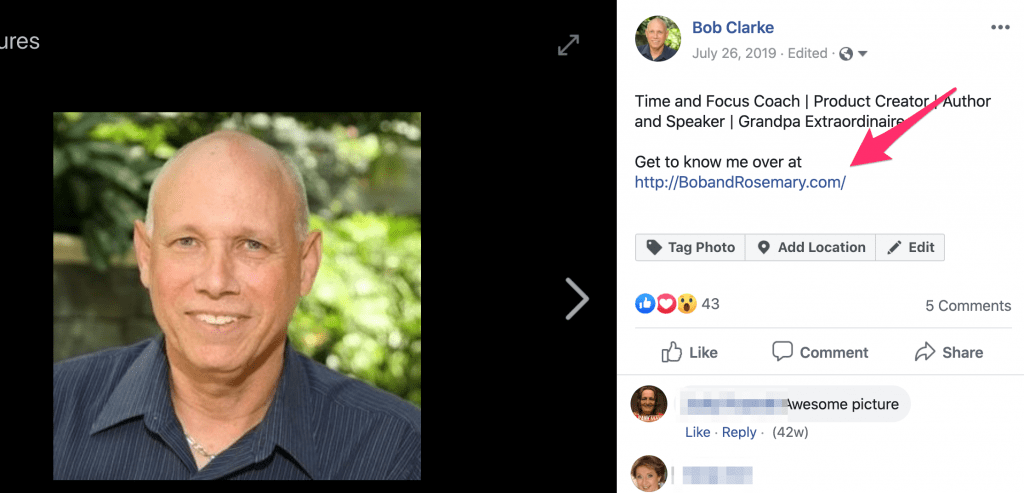 Did You Know?
Once you download your free Facebook Profile Cheatsheet, your profile will be optimized for your business, so that you'll position yourself as a professional and leader when someone checks you out on Facebook.
Pretty cool, huh?
Want More?
Read this for even more Profile Tips:  5 Dumb Facebook Profile Mistakes That Will Hurt Your Business
It takes a little work to make sure your Facebook Profile is optimized for your business, but it's worth it.
These tips and those in the free cheatsheet should make your profile a lead generating machine.