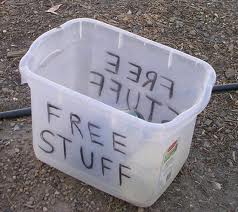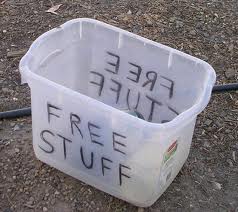 Free!
One of the most WELCOME and OVER-USED words you see online today.
Free is great, right?
After all, who doesn't want Free Training or Free Giveaways?
Who can argue that having a great Free "ethical bribe" can help build your list?
But FREE always comes at a cost.
I wrote about this in a previous post, The Fallacy of Free.  
Here, I talked about how nothing is truly free.  Either it costs money or time, but either way there are few things in life that are truly free.
Today, I want to make the argument that FREE can actually harm, if not destroy your MLM or Internet business.
I know this sounds crazy, but bear with me…
Why Should I Pay for It?
Free is everywhere online.
Free training, free downloads, free PDF's, free videos.  
All great, right?
Maybe.
While it certainly is true that you can get some great free information online today, the truth is that the people providing this information are MARKETERS, and marketers make a living by getting PAID.
With me so far?
So while their Free Training is useful and informative, RARELY is it complete.
Good marketers always hold something back – more details and/or crucial instructions for applying the free information.
And who can blame them?  It's how they make their living.
So here's the danger of free — it causes people to PAUSE and go search other options, looking for MORE FREE.
Rather than pay for information that could truly help their business RIGHT NOW, they go elsewhere, looking for someone else to provide them with information they need for free.
They never put all the pieces together because they don't want to pay for it.
And they LOSE in the end.
There's Just Too Much Free
It's hard to complain.
There's a TON of really good Free information online.
In fact, there's TOO MUCH FREE.
Newbie marketers are inundated with email after email promising Free Information that will transform their results.
Facebook is littered with Free Webinar offers that, on the surface appear to provide everything needed to get results immediately.
But it's rarely true.
And people go from email to email, webinar to webinar gobbling up free information every single day.
The trouble again is lack of a coherent plan, and…
FREE information without focus is merely a distraction.
And can result in a LOT of WASTED TIME.
Confused and dazed by all this free information, they lose focus, despair sets in and they give up on their dream.
Takeaway
Free information is good, REALLY good.  But with a focus and plan in mind.
Don't allow the abundance of Free information to get you sidetracked from your goal, which of course if to build a profitable and self-sustaining home business.
And don't allow the PROMISE of FREE to stop you from paying for information when it will help you reach your goals and further your Success Plan.