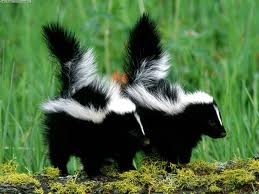 Blogging is all about finding your own voice and sharing your knowledge and insights.
But a blog is also a place to build relationships, establish trust and show you readers that you're  a really great person to hang out with.
The last thing you want to do is alienate your blog readers.  They'll leave before they even know what an awesome person you are!
You'll find yourself as alone on your blog as a skunk after spraying!
No worries!
All mistakes are correctable.
5 Surefire Ways to Alienate Your Blog Readers
1.  Make Your Blog All About YOU
Your blog is not about you.  Shocked?
You shouldn't be.
You may tell stories about your experiences in life, or share knowledge that you've gained along the way but your blog is really about YOUR READERS.
You need to give your readers what they want and help them solve their problems.
They don't want to hear about your success — they want to learn how they can have the same kind of results.
So give them what they want!
2.  Make It Hard To Find Things
When you reader comes to your blog for the first time, reads your post and wants more it's best to not make them work too hard.
I can tell you from experience that nothing's more frustrating than being on a blog and not being able to find posts or pages that interest me.
You can fix this problem in any number of ways:
Have a search bar prominently displayed on your blog.
Linking to other posts of interest within a blog post for a seamless transition (called internal linking).
Use the Yet Another Related Posts plugin that will give your reader a list of related posts at the end of each article.
3.  Give Your Readers a Headache
Have you ever been on one of those blogs where the post are just one big paragraph?
Or maybe 2 or 3 super long ones?
It can be hard to read and, honestly, I usually hit the back button and take off before I get a headache.
To avoid this, be sure to break up your content into short paragraphs of only 1-3 sentences.  Use headings and sub-headings to organize your text and make it easier to read.
Use the bold, italics and underline feature to accentuate your important points.  Finally, use images to break things up and make your posts more interesting.
4.  Get in Your Blog Readers Face
Pop-ups are really popular on many blogs today.  If you read a lot of blogs, you've surely seen them.
Love 'em or hate 'em?
Well, chances are if you are a marketer you love popups, because they've been shown to increase opt-in conversions and generate sales.
But if you're the reader, chances are you hate them, especially when used the wrong way.
Now, at the time of writing this post I am not using popups on my blog.  I have experimented with them, but my feeling is that any increase I've seen in optins or subscribers has been offset by people telling me how annoying they are.
If you really feel the need to use popups, I believe there's a right way and a wrong way.
The Wrong Way – have a pop up appear the moment you step foot on the blog.  My reaction to this is annoyance and a feeling that the blog owner must be arrogant to think I would opt in to his offer without seeing what his blog is about.  Only slightly better is the popup that appears after 4 seconds, or even 8.  Still too soon for my taste.

The Right Way – In my opinion, the right way to use a popup is to have it appear as you move to leave the blog.  This option can usually be chosen in the popup settings.  In this way, it's like you're saying to your reader, "Hey, thanks for visiting… before you leave would you be interested in this?  Unobtrusive and still effective.
5.  Take Before You Give
If your blog is part of your business, there will come a time when you aspire to make some money for your efforts.  This is generally not a problem and perfectly fine if your readers feel taken care of.
The problems arise when your blog readers feel like they're being cheated.
It's the old 80/20 rule.
Better to make it 90/10.
If you're not consistently providing pure content that shows your readers that you're listening to them, you run the risk of alienating your blog readers.
If they feel like you're only in it for the sale, you've probably lost them.
On the other hand, if you've established yourself as someone who Gives before she Takes, then you've earned the right to suggest affiliate products or promote services on your blog.
It comes full circle back to our first tip…
Make it all about your reader's experience!
Now It's Your Turn
Let me know what you think.
What really annoys you on a blog and makes you hit that dreaded "back button"?
Leave a comment below and join in on the conversation!