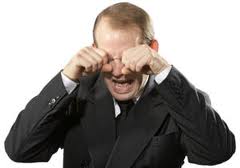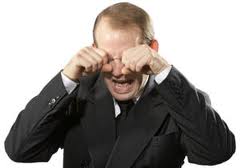 Have you ever noticed how the World today is packed with negative entitlement seekers who spend most of their time complaining about what they don't have, and the rest of their time complaining about what they do have?
Maybe it's the state of the economy, but I don't think so.
Maybe its the high unemployment rate or high cost of consumer goods that has brought out the complainer in everyone, but somehow I think these same people will find just about anything to complain about.
The other day, I took notice of who I encountered during my day.
I walked behind a well dressed gentleman strolling with a beautiful woman on his arm, and listened as he complained about the weather, the impending winter and the lack of freshness in the fruit he just purchased.
I sat next to an older woman on the subway who was complaining about the crowded conditions and the dirtiness of the cars, wondering why we were paying so much more for a subway fare.
I listened to my coworkers complain about our boss, the busy workload and the measly amount of their pay.
I attended church and listened to a young child in the pew in front of me complaining to his mom about being bored and hungry.
Everywhere I turned, it seemed I was surrounded my negativity and complaining.
Where does a guy have to go nowadays to meet some positive, forward-thinking people?
This is important.
I am currently listening to a recording of The Slight Edge for the 3rd time and one of the most important Slight Edge philosophies is this–
I paraphrase….
You are who you hang out with.
Wow.
Think about that!
If you're like me, you want more out of your life.  You want to have the life of your dreams.
Maybe it's your goal to build a thriving home business and say adios to your boss.  Or maybe you aspire to be a best selling author or sought after speaker.
Or maybe you just aspire to be happy.
How the heck are we supposed to do that when all around us, we are surrounded by negative people who spend their time complaining and being UNhappy?
Where have all the positive thinkers gone?
Where Can You Turn?
If you're really lucky, you have some of those positive thinkers, the go getters already in your World who you can surround yourself with.
But if you're like me, you don't.  I am surrounded by entitlement seekers and complainers throughout my day.
So where do you turn?
I can only tell you what has worked for me.
I turned to the Internet.
I turned to Social Media.
I turned to Facebook.
Many people think of Facebook as a place to keep in touch with their friends or even meet someone new.  But I use Facebook in a very different way.
I use Facebook for their Groups.
If you are looking for some people with like interests to share ideas, chances are high you'll find these people in a Facebook Group.
If you're like me and you want to surround yourself with positive, forward thinking entrepreneurs who don't let anything get in their way, there are Facebook Groups for you, too.
One of my favorites is called The Relational Marketers Facebook Group, created by an amazing entrepreneur, Emma Tiebens.
People in this group understand that marketing starts and ends with the heart, and you won't find a negative person in the bunch.
Members share positive quotes and uplifting stories.  They also seek help with obstacles they are facing and people are quick to help find potential solutions.
It's just a very uplifting, powerful place to hang out!
The Relational Marketers Facebook Group is one that I particularly love, but there are many others that may fit your needs as well.
My advice is to head over to Facebook, click on Groups and search for some that fit your interests.
If you're having a hard time surrounding yourself with the kind of people who will help you move forward in your life, if your "friends" want you to stay stuck just where you are so you can commiserate and complain, there are alternatives… there is hope.
Head on over to your favorite social media platform and find a group of likeminded people or, better yet people who already have what you seek.
That's how we create the greatest personal growth.