How great would it be if you could get your next blog post idea sent right to your email inbox?
If you're busy like me and want to leverage technology to make your life as easy as possible, keep reading.
When you're struggling to find your next blog post idea, it can be a little scary.  Sometimes, the more you think about it, the worse it gets.  There are lots of strategies for coming up with new blog post ideas, but I always like to review what's been published recently in my niche, identify what's proven to be popular and see if I can't improve on it.
As a Part Time Network Marketer and blogger, I don't have time to search the Internet every day looking for new material.  Luckily I don't have to.
The answer?  Google Alerts.

Your Next Blog Idea Post:
Google Alerts
Google Alerts is one of those great services offered to Google users, and I can't understand why all bloggers and marketers aren't using it.
It's free, and Alerts are very easy to set up.
But before I show you how to set up a Google Alert, let's first take a look at how it works and what the advantages are.
How Google Alerts Work
When you set up a Google Alert for certain keywords of interest, Google will automatically pull information from blogs, news items, social media sites, articles, videos, and discussions…. and sends you an email notifying you of the new content.
Think how powerful that is, especially for Part Time Networkers and bloggers, where time is of the essence!
There's no longer a need to spend time searching google or other sites for your next blog post idea.  Simply by setting up some Google Alerts using keywords relating to your blog, you can get an idea of what's being written and, more importantly what is popular.
For example, if someone has written a blog post using one or more of your keywords, it will be sent to your email via Google Alerts.  If you click on the link and notice that this post has drawn a lot of interest in terms of comments and social shares, this may be a great blog post idea for you to consider.
Take this idea and decide how you can spin it and add to the conversation and your next blog post idea is born!
Why Do People Use Google Alerts?
I've already touched on the use of Google Alerts to generate blog ideas.
How else do people use Google Alerts?
study their competition
follow a developing news story
perform research for a new product idea
research a product or service of interest
find out what's being said about themselves
I'm sure you can add to this list if you've used Google Alerts for a while.
How To Set Up a Google Alert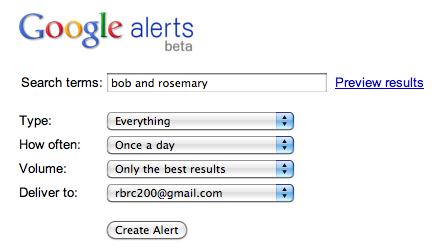 Setting up a Google Alert is incredibly simple, especially if you already have a Google Account.
If you don't have a Google account, you can set one up easily.
Once you have your account, setting up a Google Alert is as easy as 1-2-3.

1.  Go to the Google Alerts webpage.

2.  Type in the Search Term(s) of interest.

3.  Configure your settings to get just what you want:

Type:  news, blogs, videos, etc — I suggest you choose "Everything"
How often you wish emails to be delivered
Volume of results (best results or all results)
Deliver to:  your email address
Click Create Alert

That's it!  You're done.
You can even preview your results by  hitting the Preview button before you create your alert.  This will give you a chance to decide if you've used the best search terms of if you need to adjust them to get the desired results.
Your Next Blog Post Idea:  Other Alerts
If you want to be sure you don't miss anything related to your blog area of interest, there are 2 other Alerts that you can use in addition to Google Alerts.  You may get overlapping results, but I use this mostly for backup to be sure I get notified of all the information I require:
EzineArticles.com New Article Email Alert Service
You can set up alerts for new articles being written in your niche by subscribing to the EzineArticles.com Email Alert Service.  Simply choose the categories that you're interested in, enter your name and email address at the bottom of the page, and you're good to go.
Emails from the EzineArticles.com Alert Service are free and sent once or twice a day, depending on volume.
VideoAlerts.com Alert Service
If you're specifically interested in monitoring new videos in your niche, this is a nice site that offers a free alert system (basic account) for up to 10 keywords with emails once per day.  If you wish to monitor more than 10 keywords , then you'll need to upgrade to to their paid premium service (current cost $10/year).
I have used all 3 of these alert services and, while there is considerable overlap in results, Google occasionally misses one that the other alerts pick up.
I don't mind the redundancy.  After all, it only takes a minute to open my email and check out the results.
Important Takeaways
Google Alerts, EzineArticles.com Email Alerts and VideoAlerts.com Alerts are free services that will allow you to keep an eye on your competition, yourself, and your niche.
You can literally have your next blog post idea sent right to your inbox.
Now It's Your Turn
How do YOU find new ideas for your blog or business?    Join in  the discussion by leaving a comment below…