Elite Marketing Pro is a new affiliate program being launched this week from the guys at Magnetic Sponsoring.
I am very careful with what programs I join and recommend to my readers, so for me to write this post took some convincing.
I took a hard look at this a month ago and I'll tell you what…
I saw VALUE and a lot of potential in the Elite Marketing Pro affiliate program, so much so that I joined as a beta tester.
What I saw during this past month opened my eyes – the products, the comp plan, the training and support but most importantly, the results.
I saw people who had never made much money at all in affiliate marketing make money… as in 4 figures.
That impressed me. 
Because if it worked for them, it can work for YOU.
Elite Marketing Pro Is Launching This Week
Elite is launching this week and, like other launches you'll see lots of HYPE.
In fact, take a look at one of their first sales pages: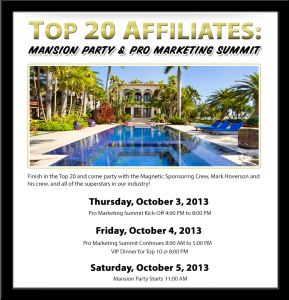 Yeah, the pool, the cars, the money bags… all that's missing is the bikini babes! 🙂
And there will be more hype for sure, because that's the way it's done during launches.
But I urge you to look past the hype.
In fact, I am going to take people through this launch, poke some fun at the hype, but also show where the VALUE is.
Watch this video for more info:
Elite Marketing Pro:  Why I Recommend It For Part TIme Marketers
Elite has everything I believe an affiliate program should have for people with limited time to build their business:

1.  Proven Sales History – the Magnetic Sponsoring product line is unparalleled in terms of sales over the years.  They flat out SELL.  No guessing involved.

2.  High Commissions – 100% on all products, no passups, no nonsense — makes it worth your time.

3.  Great Training, Tools and Support – if you have a question, it gets answered — QUICK!

4.  Plug In Advertising – done for you solo ads that will save you a bundle of time and boost your leads and sales.
There's more, but you'll have to look for yourself.  
You can get you name on the Early Bird list to follow the launch.
Or if you're IMPATIENT like me, you can get most of the early details by going here. (as of now, they still have their $10 trial, but it's going away soon).
And of course, if you decide to join Elite Marketing Pro with my team, I will have my usual bundle of special bonuses (with some surprises this time!).