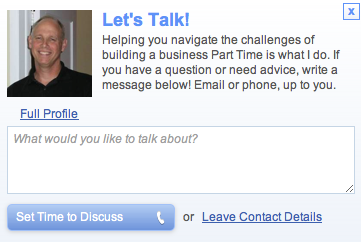 We got back yesterday from the No Excuses3 Summit and learned a ton that I'll be teaching you.
But while I was in Vegas, I had my blog designer/programmer working on a few cool additions to BobandRosemary.com  — things will will help YOU learn more and make it even easier to ask me your questions.
Let's Talk Message Box
Jordan Schultz, a fellow MLSP leader told me about this cool plugin during our Monday Mastermind following the event.  It makes it easier than ever to connect with your blog reader.
Take a look at the bottom right of the screen.  What do you see?
Hopefully, you see a chat box entitled, "Let's Talk!"
Here, you can ask me any question, advice or request 15 minutes of my time for free to strategize and plan your business.
I installed this plugin yesterday and within a half hour had my first message.
I'm really excited about how this will allow us to connect on a regular basis.
If you want the name of the plugin, hop on over to the Chat Box and type in your request.  
This way, you can see it in action!
Free Trainings  
On the right sidebar, about half way down the page you'll see a section called Awesome Free Trainings.
These are informative webinars by some of the top leaders in the Industry, available to you at no cost.
Subjects include:
I'm really excited to make these trainings available to you.  I've have no doubt that your business success will improve greatly after you watch these webinars and implement what you learn.
From Our Library
People ask me all the time to suggest personal development books and tapes to improve their mindset.
I've just added an Amazon widget to the bottom right sidebar of our blog that will allow you to see what we've read (and re-read) recently.
Yes, I often read a book several times, each time getting more out of it than the last.
Need something to read?  Want to work on your mindset?
Check out our "From Our Library" section on the right sidebar.
What Do You Think?
What do you think of our new additions?  
Anything else you'd like to see here on BobandRosemary.com?
Leave a Comment and let's talk about it!