Happy Father's Day to all the Dads out there!
Let me assure you that you ARE important in your child's life.
A mother and her child may share a very special bond, but make no mistake about it – your child is watching you.
Your child is watching every decision you make.
Your child is watching every time you do good, and every time you struggle to do the right thing.
Your child is watching when you give money to the homeless on the street, or when you complain that they are a nuisance and in the way.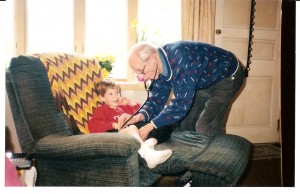 Whether you like it or not, you are a ROLE MODEL to your child.
That's how it was with my Dad and I.  He's been gone 7 years now, but I'll tell you one thing about my Dad being a role model…..
He was a damn good one!
Let's get one thing straight.  My Dad was not an entrepreneur or a business owner.  Nope.
In fact, he was the opposite of an entrepreneur.  He was, like so many in his day, a "lifer" at his job with AT&T Longlines, working for them just out of college until the day he retired at the age of 64 following a heart attack.  He got his pension every month and settled in for a nice retirement.
So how did I learn anything from my Dad about being an entrepreneur?
It wasn't what he taught me.
It was the values he shared with me.
It was the way he lived his life that had the most impact on me as an adult.
What My Dad Taught Me That Made Me  a Better Marketer
1.  Care about Others
Everyone always told me how NICE my father was.  He was always helping people out.
He took interest in others when no one else would.
He was, quite simply the most caring person I've ever known.
I like to think that I've made him proud in this regards, as people often compliment me on the very same thing.
As a Marketer, I strive to put my prospects first above anything else in my business.

I learned from my Dad that people are drawn (attracted) to those that truly care about them.

It's worked for me in my business.
2.  Be Honest
I truly believe that my Dad was incapable of telling a lie.
Well, I'm sure he told his share of "little white lies" so as not to hurt other people's feelings, but other than that he was a honest as our 16th President of the United States (that's Lincoln, folks!).

It's something that always amazed me about him, and I saw first hand how others trusted and admired him
It made a huge impression on me.
I have made honesty and transparency a cornerstone in my marketing business, and build it into my brand.

I do my best to never lie in business (or life), because if (and when) your lie is discovered you've gone down that slippery slope of lost credibility.

This was a valuable lesson my Dad instilled in me, simply by being a role model in his every day life.
3.   Always Give Your Best Effort
My Dad never did anything half way.
He didn't always get things accomplished in the fastest time, but you can be darn sure that he did it right.
Take the flimsy TV center my parents bought later in life.  Most would just put it together as fast as possible and plop down on the couch to watch their favorite show.  Not my Dad.
My Dad went to the lumber yard and made a fortress out of that TV wall unit.  He strengthened each cross bar and installed stronger brackets.  He made that TV unit 100% better than when he bought it.
True, my Mom was a bit annoyed that it took so long, but man… it lasted a really long time!
I think I inherited this trait from my Dad, or more likely I adopted it because I watched him throughout my life as he sought to be the best he could be.
I don't do anything half way in my business.  I won't win any awards for making the most money in the fastest time, but I have a business with a strong foundation that's growing daily.

Dad, you thought I wasn't watching, but I was!
4.  Don't Give Up on Something Because It's Hard
My Dad loved to sing.  He didn't have the most golden voice by any means, but he just loved belting out a tune.  It was something he wanted to be really good at.
He wasn't born with a natural ability to sing, but sing he did, day after day anytime he had the chance.
He worked hard at being a good singer.
He joined the local Church choir and never missed a practice.
He bought one of those small organs so he could practice at home, and practice he did!
And, very late in his life he was chosen to sing in one of our state's premier choirs, the Pro Arte Chorale.
This was an exclusive chorus that included the best of the best in the state, by invitation (and tryouts) only.
My Dad was thrilled with this accomplishment and seemed surprised to have been chosen.
We, his family weren't the least bit surprised.
We watch him work for it every day of his life.
When things get tough in our business, I remember my Dad's lifelong quest to be a great singer and I keep pushing forward.  I learned from my Dad to never give up, to keep going and do what it takes to be the best.

Hard work and dedication was no stranger to my Dad, and so it is no stranger in my marketing business, either.

I won't stop until I'm recognized among the best at what I do.
Thanks, Dad.
Happy Fathers Day!
Your Turn
What fond memories do you have of YOUR FATHER?  What did he teach you?
Leave a Comment and let me know!