For Part-Time Marketers, few things are as important as TIME…
and finding ways to better use and save time are a virtual goldmine.
I've said it before and I'll say it again…
TIME (not money) is your most VALUABLE resource.
Time is finite — once it's gone, it's gone for good.
You can always get more money…. you can't make more time.
So, it's important for Part-Time Marketers to get the MOST out of their limited time.
And the key to that is… LEVERAGE.
Some people think in terms of "Getting the most bang out of your buck."
For Part-time Marketers, we think of "Getting the most bang for our TIME."
Big difference.
It's a skill (the skill of Leverage) that must be learned if you want to successfully build your home business "on the side".
It takes time to learn, but I thought I'd give you a jumpstart.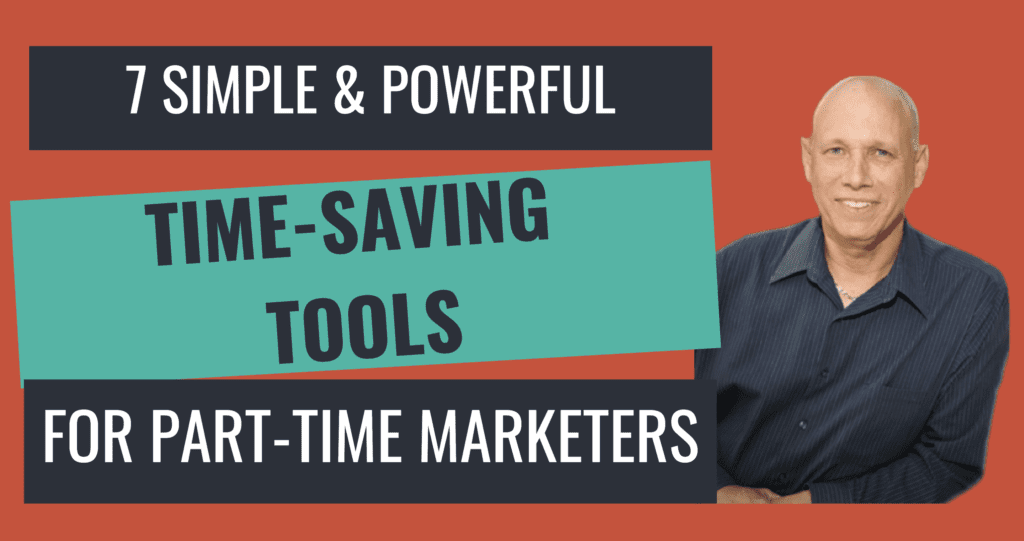 7 Simple Time-Saving Tools for Part-Time Marketers
Finding tools that will help you leverage your time is one of THE SECRETS to Part-Time Marketing Success.
Below, I've listed 7 very cool Time-Leveraging Tools that will help you get started in making the most out of your time.
I've tried to give you a range of tools to try, depending on your marketing likes.  
I've used ALL of these tools and can vouch for their effectiveness and credibility.
1. Aweber Autoresponders
If you want to build a solid, profitable home business, one of your first priorities should be to build a list.
And when you do, you'll need a way to manage that list.
That's where Aweber comes in, and it's one of the best leveraging tools in the Part-Time Marketer's tool belt.
With a single click of the mouse, you can reach out to every single person on your list.
This number may be small in the beginning, but as your list grows this is an AMAZING time saver.
Can you imagine trying to email each one of your list members individually every time you wish to communicate with them?
There are many email management services out there, but I chose AWeber for its flexibility, reliability, and terrific support.
2. Survey Monkey
It's important to understand exactly what your Target Market needs, so you can help solve their problems.
What better way than to ASK them?
That's where Survey Monkey comes in.
This tool has SAVED me hours upon hours of research time, trying to dig deep into the needs of my prospects.
Below is an example of a recent survey I sent out to my list.  They GAVE me the answers to what they needed!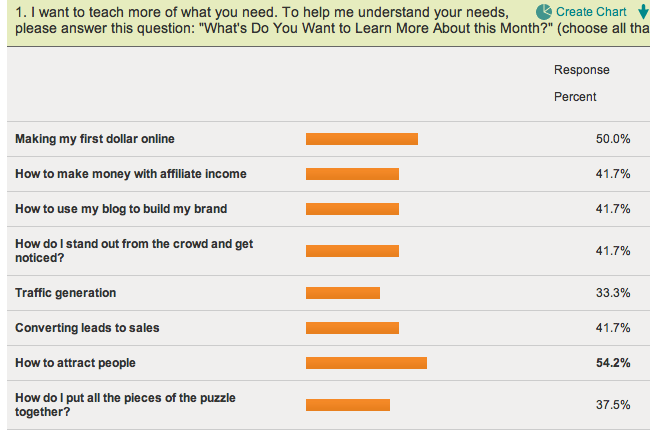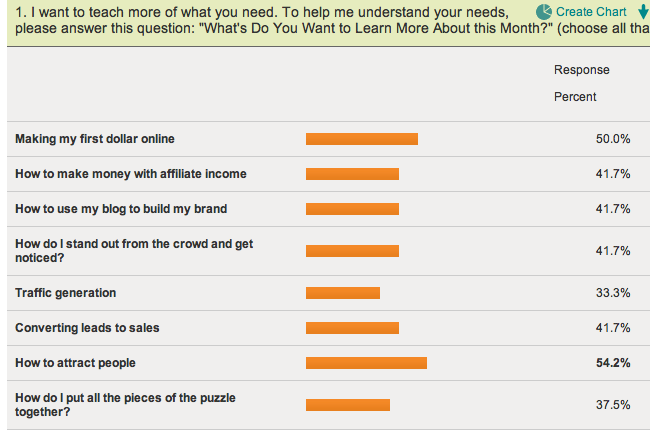 When I create a survey using Survey Monkey, I can get my answers in no time.
You can put a link to your survey in an email, on your blog, Facebook, forums… practically anywhere.
And I know the information I receive is valid because…. THEY TOLD ME SO!
I use the Free Version of Survey Monkey — I've found it's all I need. 
3. Ubersuggest
Keyword research is a basic skill that ALL marketers should learn, especially if you like Free, Targeted leads.
You can use a basic keyword tool like the Google Keyword Tool, but I prefer to leverage my time and make keyword research painless.
So I searched for a tool to help me out.
When I found Ubersuggest by Neil Patel, I knew I'd found my answer.
Using this highly leveraged tool, I can learn:
which keywords to focus on in my niche

which keywords to avoid

the level of competition for each keyword

how difficult it will be to rank high on Google for each keyword

related keywords that my competition is using

and so much more.
If you're serious about Keyword Research and work your business Part Time, this is one tool you'll seriously want to consider.
4. Hootsuite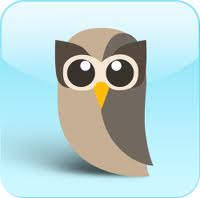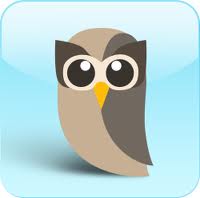 If you're a Part-Time Marketer and into social media, HootSuite can save you oodles of time.
From one Control Panel in Hootsuite, you can manage all of your Twitter accounts, Facebook profiles, pages, and groups, Instagram accounts and more.
Even more importantly for me, this tool allows me to SCHEDULE my posts and tweets to go out when I'm too busy.
Talk about LEVERAGE!
Go check out HootSuite and grab a free trial… you'll be impressed.
5.  TubeBuddy
If you're into YouTube video marketing, TubeBuddy is one tool that you should look into.
Just making videos is not enough anymore… you need to be sure you're creating the RIGHT videos to compete with others in your niche.
That's where TubeBuddy comes in.
TubeBuddy is probably the most powerful video research software on the planet, yet it's very affordable for everyone.
Can you imagine going through all the time and energy of making a great video, only to find out that nobody is watching?
It happens all the time, but with some important YouTube keyword research and analysis of your competitor's video, not only can you get more people to watch your videos… but you can show up highly ranked in the search engine and generate leads from your video for years to come.
That's why I started using TubeBuddy.  This tool does it all.
If you're serious about creating YouTube videos, consider adding TubeBuddy to your tool arsenal. 
6. Trafficonomy (Formerly SubmitYourArticle.com)
Into content marketing?
Cool, so am I.
Trafficonomy is a part-time marketer's dream.
You spend so much time creating your piece of content, but that's just the start.
Then you have to consider distribution (where can people find it) and promotion (how people find it).
In fact, it's estimated that 80% of content marketers' time should be spent on distribution and promotion, and only 20% on the actual creation process.
So it's a big deal.
Trafficonomy is a super powerful tool you need to check out if you're a serious content creator.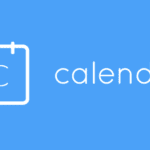 7.  Calendly

Here is a tool that most marketers undervalue — Calendly.
If you're looking for a way to schedule calls or zooms with potential clients, look no further than this powerful software.
I use it all the time for my coaching practice and I'd be lost without it.
It's extremely flexible and lets you set the times you are available and sends out reminders to your prospects and clients.
It's one of those (must-have) tools in my marketing arsenal, and I highly recommend you check it out.
BONUS TOOL
If you're a Part-Time Marketer and you're serious about leveraging your valuable time, I've saved the best tool for last.
Most people think of it as a lead generation system or a community or a training platform… and it's all of these things.
But I also consider it a TOOL, because it allows me to leverage my time by placing virtually everything I need to build a business and generate income all under one roof.
You can find out more about this ultimate time leveraging tool here.
Suggested Business Resources
Aweber - building your list has never been so important.  Grab your Free Account.
InMotion Hosting - my preferred web-hosting service
Ubersuggest - my go-to resource for keyword research and ideas
TubeBuddy - if you're doing videos, this will be your best friend
Digital Mentors (formerly My Lead System Pro) - lead generation and course creation platform for affiliate and network marketers. Earn while you learn new skills.  Get paid for what you already know.
It's Your Time to SHINE!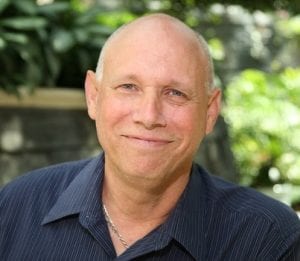 Dr. Bob Clarke
Email: Bob@BobandRosemary.com
Join our Side Hustle Facebook Group
P.S.  Need more leads for your business?  I recommend you start here and learn the fastest way to attract new prospects to YOU with timely strategies that are Working Right Now.
This post may contain affiliate links to products or services that I trust.  This means that if you make a purchase using the links included in this post, I may receive a commission at no extra cost to you.  Thank you for the support!